11 – Dr. Gayle Watkins – Nutrition of the Dam and Canine Nomographs
Dr. Gayle Watkins
Addresses the latest research on proper nutrition of the dam prior to breeding, and how the dam's nutrition affects immunity, temperament, and life-long health in our puppies.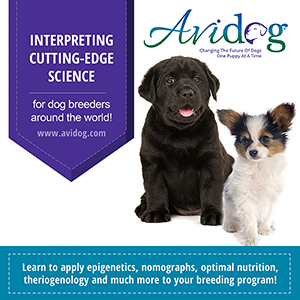 In this Episode:
The 7 Stages of Growth
Macro Nutrients:  Sources and minimum requirements at pregnancy, neonatal, lactation and weaning stages.
Protein,
Fat and
Carbohydrates - their sources and minimum requirements at stages of pregnancy, neonatal, lactation and weaning are discussed.
Micro Nutrients:
Folic Acid to enhance brain and nervous system development and to reduce cleft pallet occurences.
Probiotics for immune support and to help establish a healthy microbiome in the puppies
How the vaginal birthing process affects immune system development.
Importance of colostrum in the first 12 hours.
Canine Nomograph
Blood Test on the Dam that tells:
When maternal antibodies drop
When Puppies are vulnerable to parvovirus and distemper
Identifies when to vaccinate - when puppies can respond to vaccine
Reduces number of puppy vaccinations required for protection
Enables better socialization
About Gayle:
Dr. Gayle Watkins has been breeding and showing multipurpose golden retrievers for 38 years under the kennel name Gaylan's. Driven by a passion for science, she has taken her background as both a researcher and teacher, and applied it to breed and raise healthy, stable dogs. With the help of hundreds of wonderful Gaylan's owners, Gayle has produced nearly 70 conformation, obedience, agility, tracking, and rally champions, as well as many Qualified-All-Age field trial goldens and master hunters. She was recently recognized by the AKC as one of the 2016 Breeders of the Year for performance sports. Gayle lives in the mountains of western North Carolina with her husband and longtime breeding partner, Andy Chmar, and her beloved dogs.