458 — Dog Breeding: Back to Basics with Dr. Marty Greer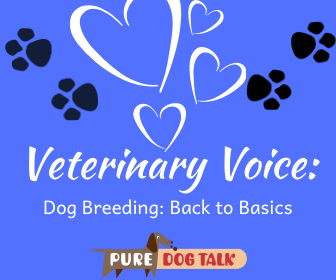 Dog Breeding: Back to Basics with Dr. Marty Greer
Dr. Marty Greer joins host Laura Reeves for a review of breeding basics for our bitches. How old? How often? How many Csections? What about an oops? We start with these basic questions and detour into deep dives on critical micronutrients, breed specific cysts, what dog bodies are most difficult for abdominal surgeries and much more of the fascinating exploration of knowledge with one of the country's pre-eminent canine reproductive specialists.
At what age should I breed my bitch for the first time?
That depends on the breed. If it's a breed that needs to have hips X rayed after the age of two, then after the age of two is appropriate. A lot of people want to wait until the bitches are older, either because they want to see what kind of health problems they have or the bitch may have a career… when we start to see people breeding when (the bitch is) six or seven years old for the first time, we struggle a lot with fertility. So my recommendation is to not wait too long. If you have a breed that you can do hips early on or don't need to do hips or you don't worry about seizures when they are five, then breeding young is fine.
I like to breed young bitches with a shiny pink healthy new unused straight off the showroom floor kind of not beat up and bedraggled when she's seven years old and now you want to use this really valuable frozen semen. Please don't do that. The higher the stress of the semen, like frozen and fresh chilled, the younger and more fertile the bitch needs to be. We can't have a subfertile male and a subfertile female and expect to have a good outcome.
I don't like breeding on the first heat cycle for a couple of reasons. One is they tend not to be a fertile cycle. Two is the bitch tends not to be mature emotionally or psychologically. And three is she tends not to be physically mature. So I think that pushing to breed on the first heat is not a great idea. That does that mean it doesn't work … plenty of bitches that plan their own breedings with their own stud dogs in their house. That may have been the breeding that you planned to do after she turned 2 and she and he decided that they would preemptively do a strike.
What happens if my bitch has an accidental breeding?
You know when you get an accidental breeding, statistically it's 62% that get pregnant 38% don't. There are methods to interrupt those, but I generally recommend against them unless it's a really strong reason, like a brother sister or something along those lines. We have a lot of people who are embarrassed in their breed club, they're worried that people are going to drum them out. If someone tells you, and they have males and females that are intact in their homes, and they tell you 'I have never had that happen to me,' either they are lying to you or it hasn't happened to them yet. Because at some point the sex drive is strong and males will chew through doors and females will crawl over kennels.
There are ways to interrupt pregnancy if it happens. You have three choices if you do have a mating that went better than you wanted it to. Most the time when we have people crying at the ultrasound it's because their bitch didn't get pregnant. Sometimes it's because their bitch did.
You can either let her have the puppies and teach her to be a good mom. #2 is you can spay her, which of course is the end of her breeding career. #3 is there is a series of injections and oral medications that can be used that are not estrogen. So please, please, please no diethylstilbestrol, no ECP. None of those drugs. They cause bone marrow suppression and can cause your bitch to die. We can see pyometras and we still see people giving those drugs. So basically, we give prostaglandin and another oral medication. If somebody gets herself into a pickle, email me I'll help you out. I'm not going to go through the whole protocol because it's not really the kind of thing that we want to talk about today but there are choices for what you can do that are safe for the bitch and will not interfere with future breeding.
How often should I breed my bitch?
We did use to say skip a cycle in between (breedings) but you're right, the uterus starts to age and progesterone is what causes the aging. So, every time she's exposed to progesterone during each cycle and not bred, you beat up the uterus little bit more. So, breeding back to back makes a lot of sense. Now I also know from the other side of things … it takes a bitch eight months nutritionally to get back to where she was before she was bred. My middle ground on that is to breed back to back, then skip a cycle, then breed back to back again. That's four litters in five cycles, if you're going to breed that many times.
Secret recipe to success?
Make sure that nutritionally you really workin' it when it comes to (nutrition). She should be on puppy food. The other information that we know is from (a) study that was done with the collaboration of Eukanuba with Canine Companions for Independence, CCI, out of Santa Rosa, CA that raises service dogs. They discovered that on a bitch's first litter, 50% of her puppies were successfully graduating as service dogs. By her fifth litter they were down to 25%. It was determined that was a DHA deficiency, based on 5800 puppies in the study.
There really isn't a published dose (for DHA) but basically if you use a reasonable number of capsules, like one capsule a day (of the human supplement) that makes a lot of sense. We have clients that have anecdotally reported that they think their puppies are smarter now.
It's a fatty acid, so I typically will give it to them between heat cycles as well as during because you don't want to wait until the very last minute to administer it. Go ahead and start it as soon as you get ahold of it. You can start it now. It's going to help the bitches and I just give it on a daily basis.
Pay attention to this kind of nutritional micronutrient that you may or may not find in adequate levels in your pet food. Supplementing it above and beyond (what is in some puppy food) is certainly not going to hurt the bitch or the puppies.
Can a bitch whelp naturally after having a c-section?
A C-Section does not interfere with her ability to have a vaginal birth at a future breeding. Just like in people, "Vbacks," OK vaginal birth after C-section, it's safe for her to have another litter born vaginally if she's had a C-section. I've done as many as five C-sections on one individual bitch and I don't have a problem with that. I do try to avoid surgical breedings if it's also a breed that's going to have a C-section.
Seventy-five percent of C-sections are maternal causes. 25% are fetal causes. Fetal causes are things like an oversized fetus, and deformed fetus, like a walrus puppy. A puppy that malpresents, in other words it comes down and it starts to come down out of one uterine horn and instead of coming down to the cervix, it makes a U turn and goes back up into the other horn. Those are all fetal causes. Those do not necessarily mean that you're going to need another C-section. So it's really a good idea to have a conversation at the time of the C-section with your veterinarian to find out if they could determine the underlying cause for the C-section.
KNOWLEDGE IS POWER — FRANCIS BACON
When you become a patron of Pure Dog Talk you'll tap into an exclusive community of experts to help you and your dog be blue-ribbon best at whatever you do with your purebred dog! Your support helps keep the MP3's rolling at Pure Dog Talk!
As a supporter, you'll immediately gain access to the weekly Pure Pep Talk SMS, Pure Pep Talk private Facebook group, and priority emails. Patrons can choose to level up to the After Dark Zoom and a Patrons Digital Badge for their website— even a private counseling session with Laura on any topic.