462 – Talk ON! Juniors and Canine Partners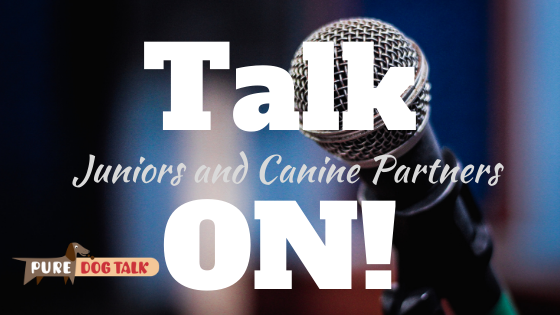 Talk ON! Juniors and Canine Partners
As part of Pure Dog Talk's commitment to engaging conversations, modeling appropriate dialogue and encouraging thoughtful discussion, we are bringing you two sides of the currently white-hot topic in the dog world: AKC's pilot program to allow junior handlers to exhibit Canine Partners in Junior Showmanship classes.
From Dog News:

At its January meeting, the American Kennel Club board of directors green-lighted a proposal from the Delegate Junior Sub-Committee and AKC staff to allow non-purebreds to be exhibited in Junior Showmanship.

The AKC pilot program is modeled after the rules used in 4-H, where mixed breeds are permitted. In order to compete, dogs must have an AKC Canine Partner number and meet the ownership eligibility criteria. Juniors will indicate the breed that the dog is being exhibited as on the entry form. So, for example, a dog entered as a Golden Retriever mix would be presented in the same way as a purebred Golden.

The rationale for allowing mixed breeds in Junior Showmanship is to provide an opportunity for a wider range of youngsters to participate in the sport of dogs, and give them an opportunity to learn, practice and improve their handling skills, as well as find mentors.

This pilot program will go into effect on July 1, 2021, and continue for 18 months before it is assessed in 2022. It is limited to all-breed shows or events holding all-breed Juniors.
Predictably, this topic has engendered heated discussion amongst the children and adults who populate this arena. Sadly, many of those conversations have devolved into the 21st century curse of ugly discourse.
As an antidote to this, we're bringing you two weeks of conversation, devil's advocate positions and insight from two perspectives in this debate. Listeners may or may not agree with one "side" or the other. But I firmly believe that until we *hear* one another, we can't make progress … in anything.
Feel free to share your thoughts on the Pure Dog Talk FB page, or here in the comments. But rest assured, ANY ugliness, name calling or other inappropriate behavior will not be tolerated. Be passionate AND polite.
Today, Jody Davidson, long time Juniors coach and advocate, along with Bevin Towell, junior showmanship exhibitor, join host and moderator Laura Reeves to make the case for their position.
Next week we are joined by 4H leader and advocate Sarah Gardner for the "rebuttal."
As always, talk ON!
KNOWLEDGE IS POWER — FRANCIS BACON
When you become a patron of Pure Dog Talk you'll tap into an exclusive community of experts to help you and your dog be blue-ribbon best at whatever you do with your purebred dog! Your support helps keep the MP3's rolling at Pure Dog Talk!
As a supporter, you'll immediately gain access to the weekly Pure Pep Talk SMS, Pure Pep Talk private Facebook group, and priority emails. Patrons can choose to level up to the After Dark Zoom and a Patrons Digital Badge for their website— even a private counseling session with Laura on any topic.