506 – Pancreatitis: Acute, Chronic and Other Diseases of the Pancreas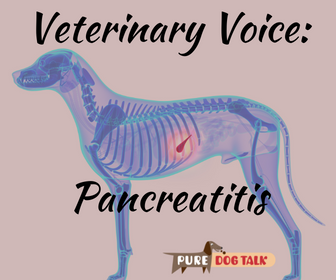 Pancreatitis: Acute, Chronic and Other Diseases of the Pancreas
Dr. Marty Greer, DVM joins host Laura Reeves for a deep dive on Pancreatitis, a common ailment in our dogs seen during the holidays, and other diseases of the pancreas in dogs.
"Pancreatitis is inflammation of the pancreas. It is always an inflammatory condition. The pancreas is a very important organ in your body. It has two sections to it and it lives right outside your stomach and intestines. It does two jobs. One is it produces enzymes to digest your food and the other is it produces insulin to control your blood sugar.
"There's a couple of different kinds of pancreatitis. There's acute and chronic pancreatitis and then there is Exocrine Pancreatic Insufficiency (EPI) and then there's diabetes. Those are the most common disorders that we see in the pancreas and the dog we can also on rare occasion see pancreatic tumors they're called insulinomas. (They're) not common … we see on average maybe one of these every couple of years … if we do see pancreatic cancer it tends to be the insulinoma kind, which causes the blood glucose to drop too low and then the dogs will come in with a seizure type of activity.
"Most pancreatitis is associated with vomiting. About 90% of the dogs with pancreatitis present with vomiting. The reports are about half will present with abdominal pain. I can tell you having had four episodes of pancreatitis, that if your dog turns around and tries to bite your veterinarian during the time that they're feeling their abdomen, palpating it to check if there's any abnormalities that they can feel like masses or foreign bodies or anything, that dog is justified in biting the veterinarian because there is nothing that hurts much worse in my experience than pancreatitis.
"(The cause) tends to be … the dog knocks over the trash and eats the drippings from the Turkey or the chicken or the ham fat or the scallop potatoes. One of those kind of fatty meals that are associated with what we do at the holidays.
"That's a fairly typical history, but even without that high fat meal, we can still see pancreatitis. We also can see some of these patients that have recurrences, so they become that low grade chronic pancreatitis patient. Those dogs have to be managed long term very carefully on low fat well managed diets so that the patient doesn't have recurrences and flare ups. Eventually too many episodes of pancreatitis we feel can probably cause scarring of the pancreas and potentially lead to diabetes."
KNOWLEDGE IS POWER — FRANCIS BACON
Pure Dog Talk is grateful to all of the mentors in our sport who support us with their knowledge, their kindness and their generosity. JOIN us today in providing access to this invaluable "watering hole" for anyone who is thirsty for knowledge. Your pledge of as little as $5/month helps guide the next generation of dog fanciers. Click the "Be My Patron on Podbean" button to join our "listener supported" team at Pure Dog Talk.