553 — In Their Honor We Must Continue Their Paths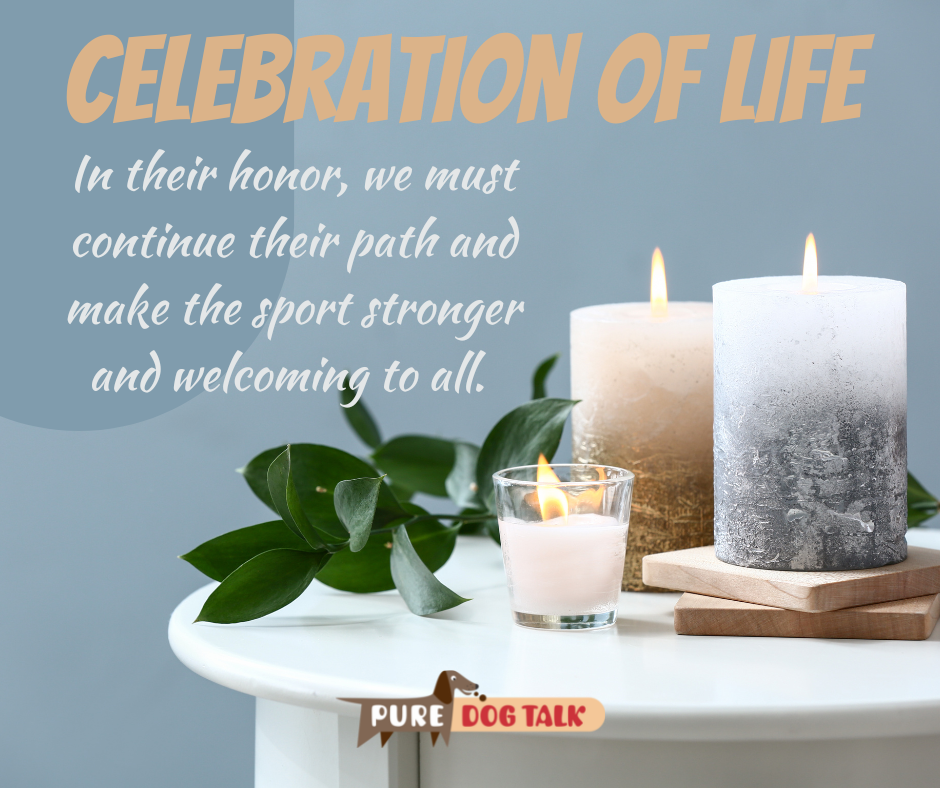 "In Their Honor We Must Continue Their Paths"
Tomorrow is All Saints' day… It's also Dia De Los Muertos … So I believe it is fitting to hold up our friends and loved ones today on All Hallows Eve….. Our tribe has lost legends, and legends in the making, just in the last few weeks, never mind during the course of the last couple years.
The days are shorter, colder and grayer today. The mottled leaves are falling. The dry grass is wilting. The winds of change heralding the season have arrived to scurry and swirl the fallen leaves in our path. The fog is settling in, the sun tilting on its axis. It feels as if the world is dying around us as the fall equinox wanes and the winter solstice creeps ever closer. When we lose friends and family this time of year, the anguish seems to seep deeper into our bones than at any other time.
Nonetheless, within our dog community, we are all, at the core, performers. The show must go on. No matter how devastated. How shattered. How destroyed our souls. So, we push through and push away and push down the heartache and angst and horror and sadness. Even as we collapse, crushed, with a dog on our chests to get through the night.
"Thinking of you and all the amazing people brought into your life through the dogs. Does not make their passing any less sad, but oh how it has enriched your life."
This small note brought me such comfort. And I wanted to share this bright spot with all of you who are hurting right now. Our lives are all immeasurably enriched by our community of fellow dog lovers. Whether you started yesterday or have spent 50 years in this sport, the camaraderie and shared love of dogs is literally a lifeline for many.
The litany of those gone in the last few years is nearly unbearable. Respected judges. Gifted breeders. Talented handlers. Beloved family. Bastions of passion and commitment to purebred dogs who are so nearly irreplaceable.
Joe Gregory
Barbara Alderman
Pat Laurans
Pat Hastings
Linda Souza
Jerry Moon
Jamie Donelson
So very many more near and far, bright stars each within their own universes.
The smiles and voices that will forever stay with us.
I will never forget literally sitting at Jerry Moon's knee while he taught me how to trim Cockers properly so I could show an ASCOB dog for a new client. Or the time Jerry went down at the old Brush Prairie show site during the Cocker specialty. He had won the variety with his beloved Fosse and would not leave in the ambulance until he was assured I would take Fosse back in for the breed. We won that day under Dale Simmons and against Don Rodgers with the ASCOB dog. That they are all gone now is hard to navigate in my mind.
Working with Pat Laurans on the GWPCA board. Even before then, picking her brain about old dogs and pedigrees. There was literally nothing Pat couldn't accomplish if she put her mind to it. She left her mark on Take the Lead, the AKC Reunite Pet Disaster Relief Trailers, the Parent Club Committee for the Delegates and so much more. She was a fierce advocate for our breed and a good friend to me over the years.
Just this spring I spent months working with Pat Hastings, Chris Levy & Nancy Martin on a presentation to vet students at OSU when they were invited to a local dog show. She was such an inspiration to me, not just in her knowledge, but her skill at wielding it to such dramatic effect.
Linda Souza's support and kindness to me as an Irish Wolfhound handler back in the day… in a breed where professional handlers are not the norm … was such a gift to my young self.
Barbara Alderman's kilowatt smile and the mind-bending opportunity to join her for dinner as a fellow judge. Joe Gregory's dance moves. Talking Spinone with Gloria Geringer and Wirehairs with Roger Hartinger. Watching from afar as Jamie Donelson beautifully showed a dog we raised here. These are memories stored carefully away in the heart.
I've talked often about our tribe. The people who find their place here in our big tent. We really are all branches of the family tree, with DOG as our common denominator. But a lot of these folks, they were roots and trunks and giant limbs on that tree. And their loss is deeply felt.
One Pure Dog Talk Patron sent me this note and it has re-kindled the fire in my soul…
"This is very sad news. Irreplaceable loss for the dog community. In their honor we must continue their path and make the sport stronger and welcoming to all. It does not honor those we lose if we sit around in sadness. We must take their teachings to the next level."
So, with that my friends, I challenge you. If any of the people we have lost meant something to you, even tangentially, take their mantle. Lift their spirit. Wear their colors and then take it further. Wear their hearts as yours.
What stands out about the losses we've suffered recently is that many of these folks didn't just "do their thing." They gave. And gave and gave and gave and gave. Of themselves, their passion, their commitment, their devotion. Their time, their money, their blood, sweat and tears. Their joy. Their humor and creativity.
We can all do more. Give more. Be more. For the people we love and treasure and honor and grieve. We can give them a gift that WILL keep on giving if we can emulate even 10 percent of their dedication and love and kindness and mentoring.
Let their passing break you. Let it smash you to the ground. And then build yourself again in their images.
Here are a few ideas. No matter your role in our sport, from newbie to lifer, from owner handler to all breeds judge, club president to chief of poop patrol. You can incorporate these or use them as a springboard for your own plans. Let's call it Giving Grace.
BE NICE! I mean literally, just be friendly and polite. We're dog people. We're mostly natural introverts. I'm not suggesting you blow up the walls you've so carefully constructed. But, you know, maybe open a door, or even a window… Say please and thank you… I've mentioned before, say congratulations, and mean it, even to your most bitter rival. Chances are good that the next time you have a crisis, they'll be there offering you a helping hand.
BE SUPPORTIVE! New folks are not the enemy. In fact, they are the only way we all have a sport in which to participate going forward. Offer a hand, a suggestion, an atta boy. If you can't be supportive in your breed, or find support there, find friends in other breeds. It is a competitive sport and sometimes it's a challenge. If your circle doesn't clap for you, find a new circle – it really is a thing. Find the courage to build a happy and supportive group. Offer to bring someone else IN to the circle you have built. This is a two-way street. On that note, if you haven't already, seriously consider joining our Pure Dog Talk Patrons. I cannot tell you what pure joy it is to have a strong, committed group always available to help with questions, cheering success and consoling in loss. Invest in your circle and you will be amply rewarded with support, mentorship and friendship in an amazing community.
REACH OUT! How many times during these hard losses have we kicked ourselves for not making that call, writing that note, sending that message. And not just to the famous and influential. Extend it to your circle outside of dogs. Call a cousin or classmate you haven't seen in years and just talk about old times. Volunteer to organize a letter writing campaign at your kennel club to send cards to all the judges on your panel this year, thanking them for their time. Offer your club's members to judge local 4H or fun matches. Join up with the AKC's Fit Dog Turkey Trot and invite someone you think could use a morale boost.
IF YOU BUILD IT, they will come… Take that gamble. Do the hard thing. Live within your means. All of these are insipid truisms and throw away phrases, right up until they're actual hard truths. Right now, what is that one thing for you? Run for president of your national club or your city council. Start a local handling class or a cooking class for new moms. Go back to school and start a new career. Whatever your dreams are, push them. Get that new puppy in a new breed. Stretch your boundaries and push your limits. Have a story to tell? Write that article or book or podcast. What's the worst thing that happens? Nobody reads it? I can assure you, from vast personal experience, rejection – of an idea, a dog or you personally — is not the very worst thing that will ever happen.
EMBRACE Serendipity… I know this one is a little woowoo, but I'm going to tell y'all a story. 2015 was my year from hell. I lost puppies and old dogs and old friends and dreamed of wins and my mom…. All too much, too close, too hard… I stumbled through the end of the year and much of 2016 in a very rough place mentally, physically and emotionally. In the midst of that, I met a new person with new ideas who didn't know I was a walking train wreck. Serendipity do. Or maybe it was mom working her magic … We'll never know. But Mary Albee asked me to host this podcast, and I said no, I don't talk, I write. And she said no, I want you to be the host…. Well, it's history now, but a vaguely formed idea in the back of my head of offering an education platform that was sorely lacking in our community came to fruition. I worked my ass off. I invested my money, my skills and a new-found laser focus into helping other people. When we get outside of our own heads. When we focus on others. When we give instead of take. There is literally no limit to what we can achieve.
TEACH! Mentor, coach, guide, share the knowledge you have. LEARN! None of us knows everything. The very greatest thing about my job is the opportunity to learn something new every day. The following is a fitting aspiration …
I offer this toast in closing:
…. To all we have been, to all we have lost, to all we will become….
Let's celebrate All Hallows Eve tonight and raise a glass to All Saints Day tomorrow. May our memories of them be blessings.
Give more grace. Wag more, bark less. Wage peace.
Namaste.
KNOWLEDGE IS POWER — FRANCIS BACON
When you become a patron of Pure Dog Talk you'll tap into an exclusive community of experts to help you and your dog be blue-ribbon best at whatever you do with your purebred dog! Your support helps keep the MP3's rolling at Pure Dog Talk!
As a supporter, you'll immediately gain access to the weekly Pure Pep Talk SMS, Pure Pep Talk private Facebook group, and priority emails. Patrons can choose to level up to the After Dark Zoom and a Patrons Digital Badge for their website— even a private counseling session with Laura on any topic.