564 – Owner Handler Winner: "These Dogs Are Worthy"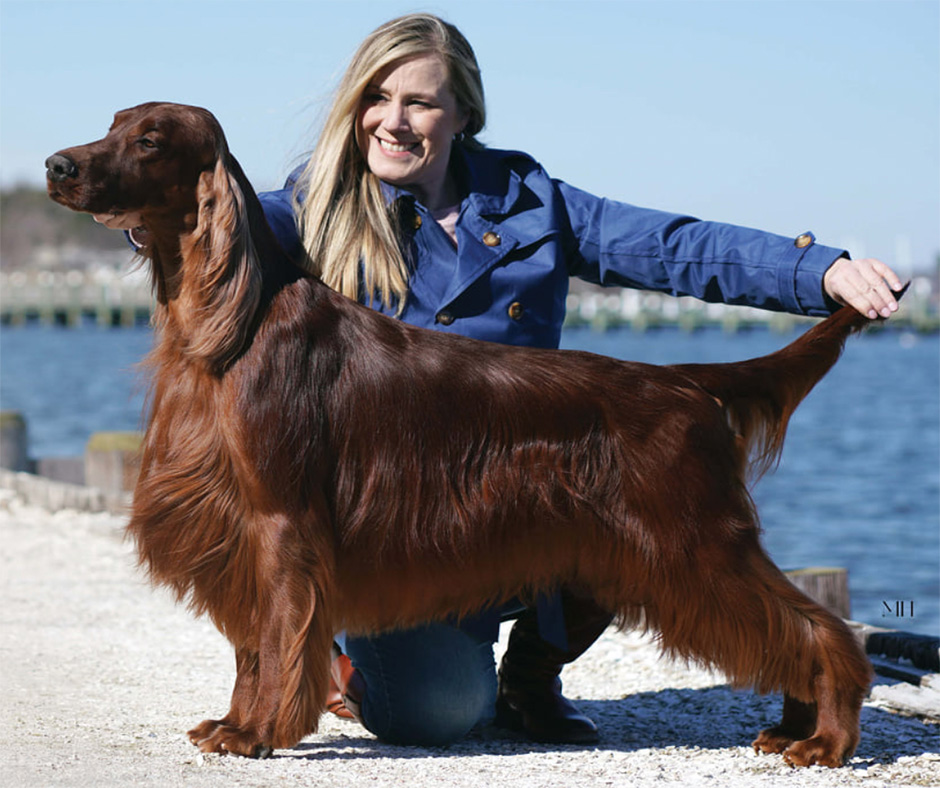 Owner Handler Winner: "These Dogs Are Worthy"
Dr. Cheryl Stiehl, DVM joins host Laura Reeves to discuss the journey that brought her to the pinnacle of the Owner Handled Series with her breeder-owner-handled Irish Setter.
Stiehl and Declan, GCHS Bramblebush Piper At The Gates Of Dawn, topped more than 825 entries in the National Owner Handled Series finals in Orlando, FL in December.
A practicing veterinarian in Maryland, Stiehl offers her life hacks for succeeding as an owner handler while working a full-time job. And she shares the love — of her dog and the sport.
"I think one of the neatest things about this dog is who he is," Stiehl said. "His nickname is 'The Dude.' He's just good for purebred dogs, if you know what I mean. He's funny and ridiculous and silly and he loves kids and loves cats and thinks everything's an adventure. Declan has friends and friends he has not met yet. That's just kind of who he is. He's a bit of a party animal. The other thing and the way I describe him when people say, 'well, what's an Irish Setter like, what's this dog like?' I say, you know the guy at the tailgate pouring shots? That's Declan.
"I think that owner handled for me is that there was one more thing I could do with my dog. I can walk in this ring and that ring, I can do it twice. If I get nervous, I can try to work through it.
"I can take out a spleen in the OR with an animal that has a really potentially dangerous or scary prognosis and barely break a sweat. But you know, sometimes I think we all get nervous. Is the dog going to behave? Is he stacked right? Does he look OK? Am I giving him his due?
"On the other side of it too, I think the interesting part of it is your dog's doing double duty and your dog's going into that group ring and hopefully going into another best in show ring. So, if you were lucky to win both breed and best of breed owner handled that day, you show your dog a whole bunch and your dog has to perform a whole lot more really. I've actually had a few judges say that to me. You know, 'I watched your dog today and you didn't give up once.' So, he is a piece of work. He's the dude.
"The (NOHS) competition is keen. The dogs are beautiful. They are multiple best in show dogs. They are best in show dogs, they are reserve best in show dogs. They're group placers, group and specialty winners, sires and dams of beautiful animals. These dogs are worthy. I think that one nice thing is, is it's the connections you make. I also will say to you that I love the sportsmanship that I have experienced in those ranks. We are really happy for one another."
Listen to the full episode for more of Stiehl's insights on the NOHS, dog shows in general, her favorite grooming products and more.
KNOWLEDGE IS POWER — FRANCIS BACON
When you become a patron of Pure Dog Talk you'll tap into an exclusive community of experts to help you and your dog be blue-ribbon best at whatever you do with your purebred dog! Your support helps keep the MP3's rolling at Pure Dog Talk!
As a supporter, you'll immediately gain access to the weekly Pure Pep Talk SMS, Pure Pep Talk private Facebook group, and priority emails. Patrons can choose to level up to the After Dark Zoom and a Patrons Digital Badge for their website— even a private counseling session with Laura on any topic.