565 – Bumble's Story: Behind the Scenes with Donna Beadle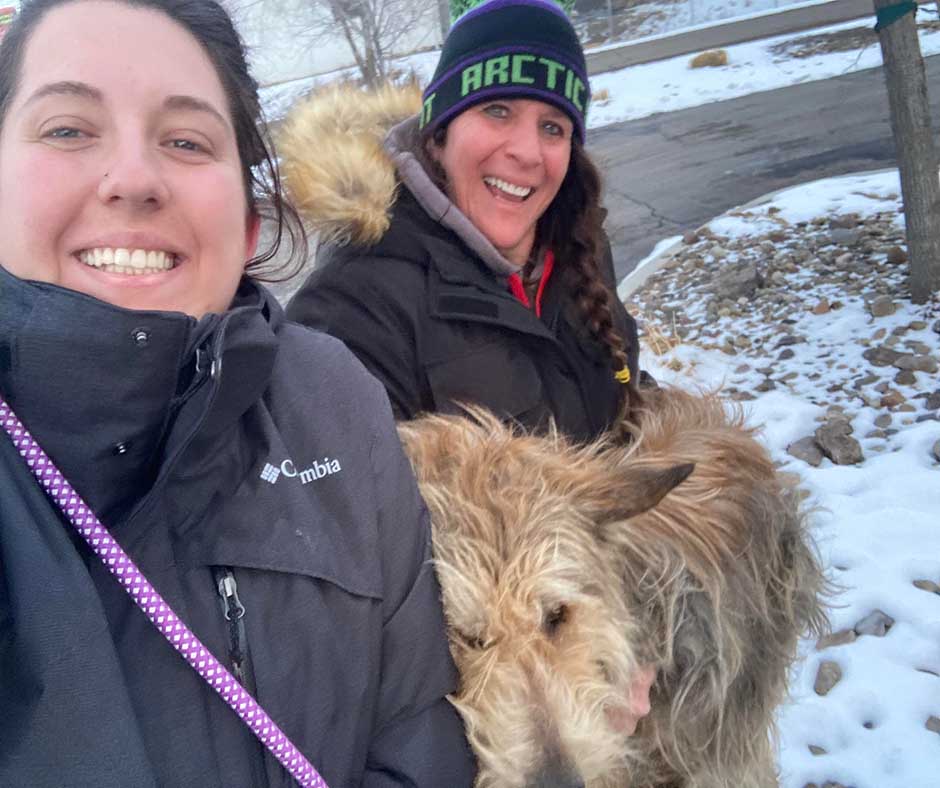 Bumble's Story: Behind the Scenes with Donna Beadle
Donna Beadle joins host Laura Reeves to share the epic, joyous and eventually tragic story of Bumble the Berger Picard.
Bumble was lost for 10 days in the high desert of Wells, Nevada. Donna shares the lessons she learned, the emotions, the hardships, the dark humor, the kindness of strangers as well as her heartache, hope and second guessing, tips and suggestions for others in similar situations.
"If you are looking for a lost pet, especially in an area you don't know, hire a professional," Donna said. "They are a wealth of information. I know a lot about dogs, but I don't know anything about lost dogs. They came they brought their trap, advised me about getting stuff out in the community. Not everybody is on social media, lost dog signs are hugely important.
"There were sightings on and around I80, which was terrifying, but that's where we were focusing our efforts. I had to drive that interstate every day looking for my dog's body…"
Donna traveled from Minnesota to Nevada at the first news of Bumble's loss. She and a team of trackers, trappers, local residents, co-owners and dog community spent almost a week hunting for Bumble. After losing hope with no sightings and the tracker hitting a dead end on the trail, she returned home.
A sighting by a ranch worker the next day brought her flying back for three more days of searching in a new area.
"Why signage and flyers are so important, the ranch owner and the ranch worker's daughter both called because Juan saw 'the dog in the picture,'" Donna said.
More traps, trappers and local folks restarted the search a mile back on the ranch land.
It was like looking for a needle in a haystack
Strapped into unfamiliar snowshoes, Donna traipsed through sagebrush and waist-high snow drifts in an area that they'd found new tracks in the snow. Juan, the ranch worker, came out on his day off to help with the search.
By a miracle, Donna glanced up to see her dog huddled under a small sagebrush.
Donna said, "OMG, I've stumbled upon Bumble."
She was able to get a hand on him through a careful approach. He was so weak she had to carry him out. While a bodybuilder, Donna isn't accustomed to the 6000+-foot elevation of the high desert and struggled through snow drifts until a vehicle was able to reach them.
Bumble was raced to the veterinarian, and given emergency treatment, care, and love. The extreme stress on his body caused him to crash four days later and, tragically, he couldn't fight any longer.
KNOWLEDGE IS POWER — FRANCIS BACON
When you become a patron of Pure Dog Talk you'll tap into an exclusive community of experts to help you and your dog be blue-ribbon best at whatever you do with your purebred dog! Your support helps keep the MP3's rolling at Pure Dog Talk!
As a supporter, you'll immediately gain access to the weekly Pure Pep Talk SMS, Pure Pep Talk private Facebook group, and priority emails. Patrons can choose to level up to the After Dark Zoom and a Patrons Digital Badge for their website— even a private counseling session with Laura on any topic.