93 – Versatile Companion Champion Dog – What It Took To Be The First with Andrea Ford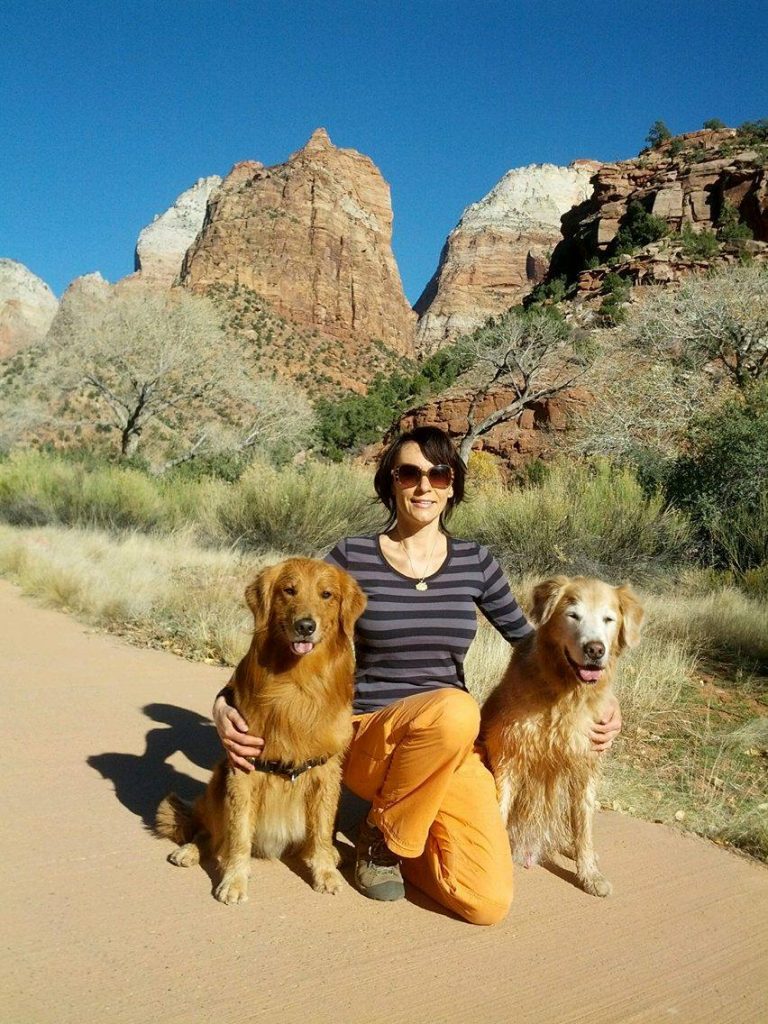 Versatile Companion Champion – VCCH
Andrea (Kyllarova) Ford, newly immigrated from the Czech Republic, acquired a backyard bred Golden Retriever in 2000 as a companion. From those humble beginnings grew the very first AKC Versatile Companion Champion Dog team.
Versatile Companion Champion Jakki
Jakki introduced me to dog sports," Andrea says. "Golden Retrievers have been my breed since then." She adds that she's learned along the way to research breeders to acquire her following three dogs.
I really enjoy training and showing dogs, attending seminars and learning more from different sources," Andrea adds. "I am a member of the Golden Retriever Club of America, Huntsville Obedience Training Club and the Tracking Association of North Alabama.
Andrea says the key to success in earning the VCCH, a goal she achieved almost by accident, is the intense bond between handler and dog.
What is a VCCH?
VCCH is a title awarded by the American Kennel Club for dogs who have achieved the highest level titles in all of the companion events: obedience, agility and tracking.
Andrea and Jakki attended their very first AKC event together in February 2003. Six years later they made history with AKC's newest championship title.
It took us three years from Novice A agility to his victory lap Master Agility Champion (MACH) run on February 26, 2006," Andrea says. "He earned his UD title two weeks after his MACH title. All three UD legs were first placements with one of them at the Golden Retriever National Specialty in a class of more than 30 dogs.
Andrea says, "Our first time in Utility B was two weeks after finishing his UD and he won the class to earn his first 6 OTCH points. On the way to his OTCH, he earned 4 firsts in Utility, 5 firsts in Open, and 3 High Combined wins. In November, 2007, he completed the requirements for UDX and in June 21, 2008 he became an Obedience Trial Champion (OTCH)."
The PhD of Dogs
The AKC says the Obedience Trial Champion (OTCH) title is often referred to as the "PhD" for dogs, and is the highest obedience title a dog can receive. To obtain an OTCH title, a dog and handler team must receive 100 points by placing first, second, third or fourth in the Open B or Utility B classes and a first place in Utility B, and first place in Open B and an additional first place from either class. In 2015, only 88 OTCH titles were earned in the entire country.
The VCD program was introduced in 2001. While hundreds of dogs of all different breeds have been awarded VCD titles, it would be eight years before the first team achieved the impressive Versatile Companion Champion (VCCH) title.
Obedience, Tracking and Agility
According to the AKC, "The Versatile Companion Dog titles are titles that are designed to acknowledge and reward owners of all breeds that compete in Obedience, Agility, and Tracking events. The VCD titles are a way to showcase their tremendous talent in so many areas."
Listen as Andrea tells the powerful story of the journey on which she and Jakki embarked. You can learn more about the tracking component of the VCCH in Episode 92.
http://www.akc.org/events/vcd-titles/first-vcch/
http://www.akc.org/events/vcd-titles/
http://www.akc.org/events/obedience/what-is-obedience/
http://www.akc.org/events/agility/what-is-agility/
KNOWLEDGE IS POWER — FRANCIS BACON
Pure Dog Talk is grateful to all of the mentors in our sport who support us with their knowledge, their kindness and their generosity. JOIN us today in providing access to this invaluable "watering hole" for anyone who is thirsty for knowledge. Your pledge of as little as $5/month helps guide the next generation of dog fanciers. Click the "Be My Patron on Podbean" button to join our "listener supported" team at Pure Dog Talk.