95 – Generic Dogs and Common Faults: Green Room Conversation with David Frei, Patty Keenan and Shawn Nichols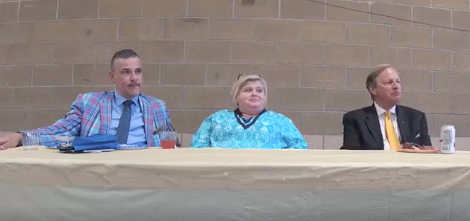 Generic Dogs and Common Faults – 2 Recordings
Today's podcast on Generic Dogs was recorded prior to the Saturday Symposium held on Saturday, July 8, in Puyallup, Washington.  Patty Keenan and Shawn Nichols are both AKC Judges and David Frei is our beloved "face and voice of the dog world".
Listen as our guests and Laura Reeves discuss the topic in the green room, and read Shawn Nichols blog on the evening.
David, Patti, Laura and myself met prior to the start of the evening event to have a green room discussion on the topic "Generic Dogs & Common Faults". Patti spoke up at the beginning and stated her concern that she felt this negative approach was not constructive and would not be her approach and that we should be looking for merit in what we judge and not focus on the negative, we all quickly agreed. When we all went through our history in the sport it was apparent we had all traveled different paths ending up at the same place as judges and passionate about what we do and the sport of purebred dogs.  Shawn James Nichols
Pure Dog Talk Saturday Symposium – Recording 2
Below is the video of the Generic Dogs panel discussion.  Thanks to BlueDog Northwest for the livestream!
Pure Dog Talk Symposium: Laura Reeves, David Frei, Patty Keenan and Shawn Nichols

KNOWLEDGE IS POWER — FRANCIS BACON
Pure Dog Talk is grateful to all of the mentors in our sport who support us with their knowledge, their kindness and their generosity. JOIN us today in providing access to this invaluable "watering hole" for anyone who is thirsty for knowledge. Your pledge of as little as $5/month helps guide the next generation of dog fanciers. Click the "Be My Patron on Podbean" button to join our "listener supported" team at Pure Dog Talk.