201 – Exhibitor Education Courses Come Online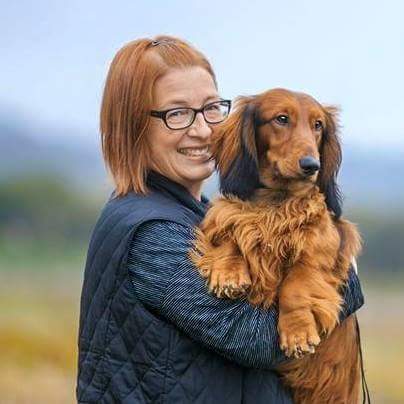 "Crowdsourcing" Knowledge for Exhibitor Education
Vicki Ronchette, author of "From Shy to Showy," has created a new exhibitor education resource with online college-type classes available on a wide variety of topics.
New owners, exhibitors who want to improve their performance and experienced members of the fancy who want to hone their skills will all find a topic of interest.
"A lot of people don't have access to training classes near them," Ronchette said. "Or the classes are more socialization and don't offer a lot of information for training the dog or the handler."
Listeners who missed Ronchette's previous podcasts, can check out some of her outstanding positive training tips here and here.
Variety of courses available
Show Dog Prep School Courses include everything from training nail trims, to using Tellington TTouch for better results, to Safe Travel with dogs.
Full disclosure, your host, Laura Reeves, is an instructor for SDPS. Her first offering is: Canine Structure 101 and Applying the Breed Standard.
Courses are available with coaching from instructor, as well as a mentoring program with Ronchette, webinars, forums and more. The school is designed to offer easy navigation and a user-friendly platform.
Learn on YOUR schedule
"In today's society, people don't have a lot of time," Ronchette said. "Show Dog Prep School  allows people to learn on their own schedule. Virtual education is really helpful for folks to learn and get up to speed when they are just getting started."
Ronchette is dedicated to the positive reinforcement system of dog training. And she applies it to her students.
"Positive reinforcement for people is so important," Ronchette said. "We are creating a community of helping and support."
People AND animals deserve to have an education so they can go in to a dog show with confidence and actually enjoy the sport and stay with it, Ronchette noted.
"We can help you understand the reason a dog didn't win. It could actually be that your dog didn't look as good. Let's work on that," Ronchette said.
Don't miss Allison Foley's Tip of the Week from the Leading Edge Dog Show Academy. Allison brings us *boggling* information about how to do up a coated breed beautifully – without power! Seriously, water and a bristle brush. What? Check it out.
KNOWLEDGE IS POWER — FRANCIS BACON
When you become a patron of Pure Dog Talk you'll tap into an exclusive community of experts to help you and your dog be blue-ribbon best at whatever you do with your purebred dog! Your support helps keep the MP3's rolling at Pure Dog Talk!
As a supporter, you'll immediately gain access to the weekly Pure Pep Talk SMS, Pure Pep Talk private Facebook group, and priority emails. Patrons can choose to level up to the After Dark Zoom and a Patrons Digital Badge for their website— even a private counseling session with Laura on any topic.