186 — Canalizo: Ghosts of the Past and Breeding for the Future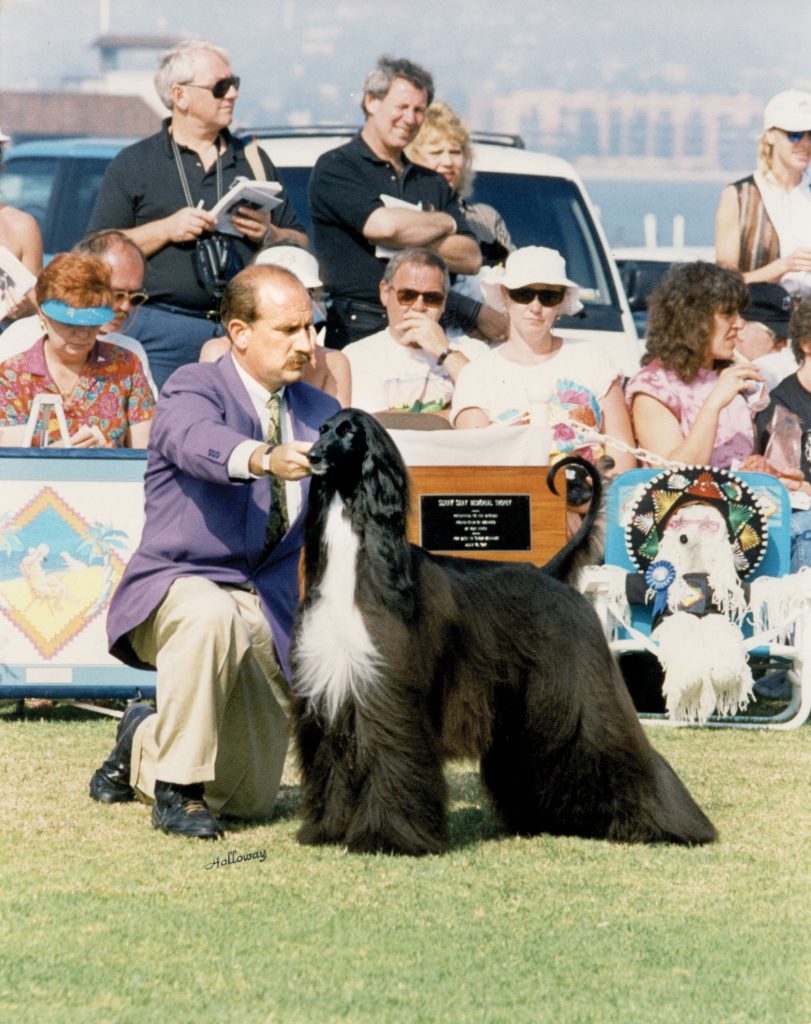 Ghosts of the Past and Breeding for the Future
Legendary breeder, handler, and dog man, Michael Canalizo is most associated with the Afghan Hounds of Grandeur. He handled the iconic Afghan bitch, Ch. Tryst of Grandeur, to the pinnacle of all-time top-winning hound. He spoke with PureDogTalk about breeding, handling, history, and the wave of the future.
"You'll See the World"
His mother is Lee Canalizo, also now an AKC judge. When Michael was young, his self-described middle-class family wanted a companion dog. They sought out Sunny Shay, who had just won Best in Show at Westminster Kennel Club with Ch. Shirkhan of Grandeur in 1957.
When Michael's father asked which puppy Shay recommended they buy, her response was, "Honey, take the show dog, you'll see the world." And, Canalizo said, they have.
They first attended match shows with their dog, which Canalizo noted, were significantly different events in that era.
"Match shows were huge in the '60s," Canalizo said. "They'd have 1,000 dogs on a weekend."
"Kid Vicious"
The very focused and determined young Canalizo was given the nickname "Kid Vicious," not because he was mean, he noted, but due to his intense concentration. "I was this little guy in a suit and tie." His handling career started early, winning his first regular group with a class bitch when he was about 13 years old.
The Canalizos maintained a life-long relationship with Shay, becoming close friends. When she formed a business partnership with successful real estate developer Roger Rechler, Michael was hired to show the Grandeur Afghans.
This flourishing partnership was haunted by the devastation. On the 20th anniversary of Shirkhan's WKC win, while Shay and friends attended a gala party at Rechler's home, her kennel was burned down. Many dogs died in the arson fire, started, according to Canalizo, by neighbors who objected to the kennel in what had become a residential area.
Fortunately, many of the best of the Grandeur hounds were at the Rechler home to be showcased during the party. Shay eventually died in the ring, showing Ch. Boy Blu of Grandeur. Lee Canalizo was with Shay at the show that day. In those pre-cel phone days, Canalizo of course had no idea what had happened. He said he came home from a match judging assignment to the phone ringing off the hook.
"She brought me 40 years in the dog sport in the five years I was with her," Canalizo said. "Sunny didn't do anything by the book. She was haphazard. When Shirkhan died, at 17, she went scrambling to breed to his sons."
After Shay died, Rechler closed the kennel to public stud. Shay was proud to have developed what she called, "A pure strain within the breed." Canalizo noted that Shay's first litter, born in 1941, went back to the breed's first imports to this country.
Breeding Better Dogs
The Grandeur breeding program followed closely the "thoroughbred" formula described by Lloyd Brackett in a series of articles published in book form by Dog World Magazine in 1961. In this principle, Canalizo said, you breed a bitch to a male whose sire is the same as the mother's sire.
Canalizo strongly advocates this line breeding theory, but he adds that breeders today have significant advantages.
"Frozen semen," Canalizo said. "We're in position to rewrite the probability of how to breed dogs. In those days we inbred because we couldn't breed to a dog 20 years after it was viable. You bred to what was alive, viable and accessible. You had a very short shelf life. I'm not so sure we aren't on the cusp of creating a new way to breed dogs."
Ghosts and Magic
Canalizo's "Dream BIS Lineup" came with fabulous, intimate stories about each of the dogs he selected — from eye contact across the Morris & Essex ring with Mick, the Kerry Blue Terrier, to a flash of sun on a gloomy day that spotlit his own dog in a Best In Show lineup of all black dogs near Sunny Shay's final resting place.
Listen to Canalizo's descriptions of these amazing dogs of the past, and which one wins Best in Show in his mind. And why! For more insight and conversation with Canalizo, read this excellent interview with Bo Bengston.
http://sighthoundreview.com/images/SR_10Wi_Michael_Canalizo_interview_9_.pdf
For additional information about "Brackett's Formula", read this detailed article from Carmen Battaglia.
KNOWLEDGE IS POWER — FRANCIS BACON
When you become a patron of Pure Dog Talk you'll tap into an exclusive community of experts to help you and your dog be blue-ribbon best at whatever you do with your purebred dog! Your support helps keep the MP3's rolling at Pure Dog Talk!
As a supporter, you'll immediately gain access to the weekly Pure Pep Talk SMS, Pure Pep Talk private Facebook group, and priority emails. Patrons can choose to level up to the After Dark Zoom and a Patrons Digital Badge for their website— even a private counseling session with Laura on any topic.