270 – David Fitzpatrick on Pekingese, the Palace Dogs of Peking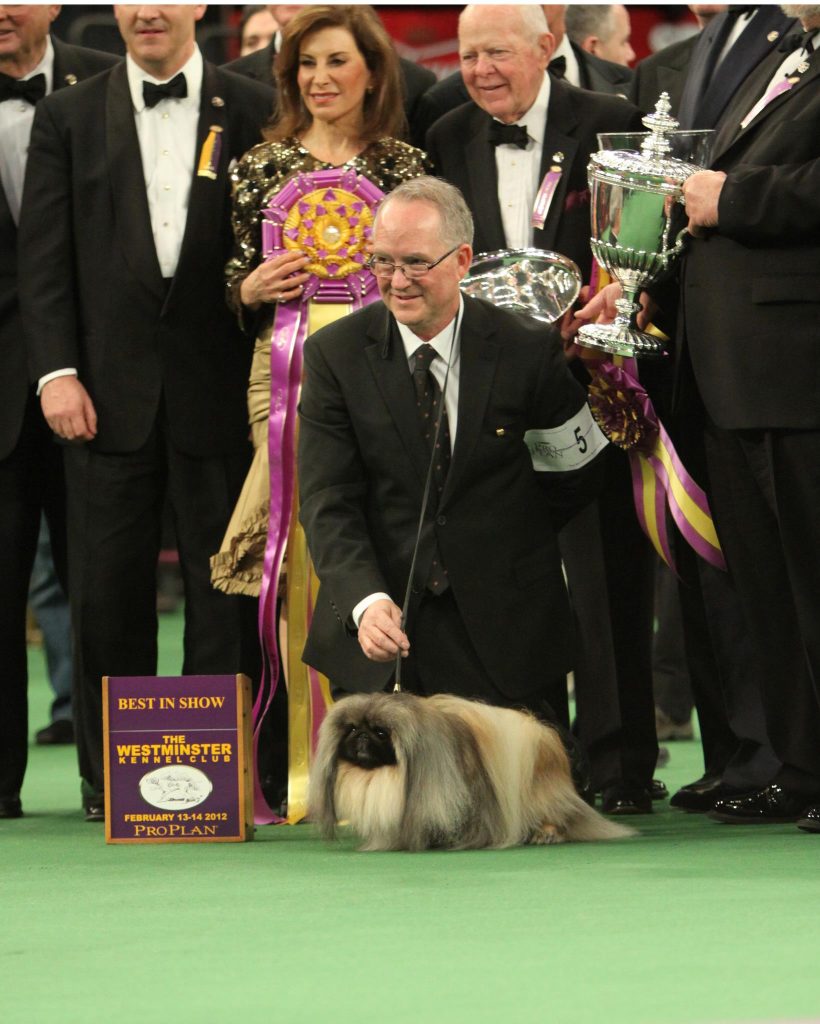 David Fitzpatrick on Pekingese, the Palace Dogs of Peking
David Fitzpatrick, 2012 Westminster Kennel Club BIS winner with the Pekingese, Malachy, was obsessed with dogs as a child. Although his parents wouldn't let him own a dog, he found ways to be involved  with them by walking and housesitting dogs in the neighborhood.
His passion took off around 1970 when he wrote a letter to a local handler to see if she needed help. Before he knew it, he was being picked up after school, earning $5/day helping her with Pekingese and other toy breeds.
"It could have been pretty much any breed," Fitzpatrick said. "I fell into the lap of the Pekingese and loved them from the start. It was fate really."
"Speak to anyone who is remotely involved with the Pekingese breed and the mention of David Fitzpatrick's name will result in a degree of awe and reverence, for this American gentleman is acknowledged as being as fine a handler and presenter of a Pekingese as has ever been seen," says noted British author Andrew Brace.
What is it about Pekingese?
The dogs of royalty in China, the first Pekingese specialty show was held in the US around 1908, Fitzpatrick said. "The breed attracted the pillars of society. They were the status symbol dog of the day and were the most popular toy breed into the '60s."
"It is a detail oriented breed," Fitzpatrick noted, "with their pear shaped body, rectangular head, features spread out and not crowded, heavy bone, crooked legs, level back and high tail set."
Pekingese should have an intelligent expression, one that is almost arrogant and disdainful.
"Their true temperament is snooty," Fitzpatrick said. "They were developed as palace dogs in China. They were royalty and had their own servants. They are generally waiting for you to do for them. It's not a breed that really wants to please their humans."
Pekes as pets
Fitzpatrick said the breed is great to live with. "They blend into the household," he noted. "They get their loves and then go entertain themselves. They're not constantly clawing at you like some dogs. They're more independent."
Pekingese have a great deal of personality, Fitzpatrick added. While they are at a show they are performing, showing their regal and aristocratic nature. At home, they're like any other dogs, they chase squirrels and his dogs even dug out a nest of baby bunnies.
Breed specific presentation
"It's up to us to show our dogs in a proper manner, not succumb to this crazy show biz of dogs chasing bait around the ring… an aristocratic breed really should not be begging for food, should they?"
KNOWLEDGE IS POWER — FRANCIS BACON
When you become a patron of Pure Dog Talk you'll tap into an exclusive community of experts to help you and your dog be blue-ribbon best at whatever you do with your purebred dog! Your support helps keep the MP3's rolling at Pure Dog Talk!
As a supporter, you'll immediately gain access to the weekly Pure Pep Talk SMS, Pure Pep Talk private Facebook group, and priority emails. Patrons can choose to level up to the After Dark Zoom and a Patrons Digital Badge for their website— even a private counseling session with Laura on any topic.