87 – Dual Champions: Melissa Newman – Laverack vs Llewellin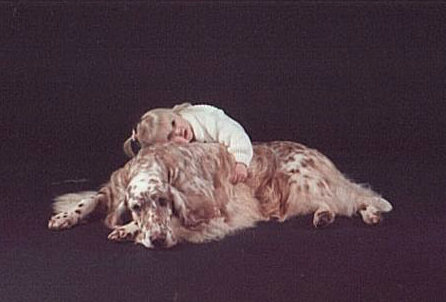 Dual Champions: Melissa Newman – Laverack vs Llewellin
Continuing our conversation on the challenges of creating dual champions, Melissa Newman talks with us about her journey to build a family of dogs that meet this exacting goal.  From a childhood spent hunting with her family through the trial and error of acquiring a good foundation for her breeding program, her story is inspiring as to what can be accomplished with single minded dedication and focus. The Set'r Ridge dogs are iconic and can be found in many pedigrees of the top dogs in the breed.
Read more here http://www.englishsetter.com
In a breed which most would consider "split" between shown and field, to the point Melissa describes them as two separate breeds, competing with a "Laverack" or show type English Setter in Field Trials is an uphill battle as the dogs' running and pointing style are radically different than those of it's "Llewellin" cousins. Just as the field dogs would not meet the standard of the dogs shown in the ring, the show dogs often don't meet the judges' unwritten but iron clad "picture" of a dog in the field.
Read here http://www.esaa.com/Gazette/LaverackLlewellin.html for more on the history of this development in the breed.
Enjoy this "talk" with one of the master breeders working to bridge that "great divide."
Dual Champion Hadji – Melissa Newman
Setter Ridge is the home of Hadji (Dual Ch Can Ch Set'r Ridge's Solid Gold CDX MH HDX CGC), who passed on in February 2000. Hadji produced 129 American Champions including 16 all breed Best in Show dogs out of 12 different dams. He was the winner of the 1993 National Specialty, a field trial champion, and the 8th Dual Champions in the breed's history.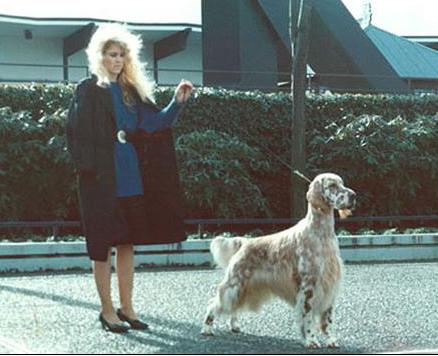 KNOWLEDGE IS POWER — FRANCIS BACON
Pure Dog Talk is grateful to all of the mentors in our sport who support us with their knowledge, their kindness and their generosity. JOIN us today in providing access to this invaluable "watering hole" for anyone who is thirsty for knowledge. Your pledge of as little as $5/month helps guide the next generation of dog fanciers. Click the "Be My Patron on Podbean" button to join our "listener supported" team at Pure Dog Talk.