257 – The Ancient Breed Believed to Predate all European Hunting Dogs | Pure Dog Talk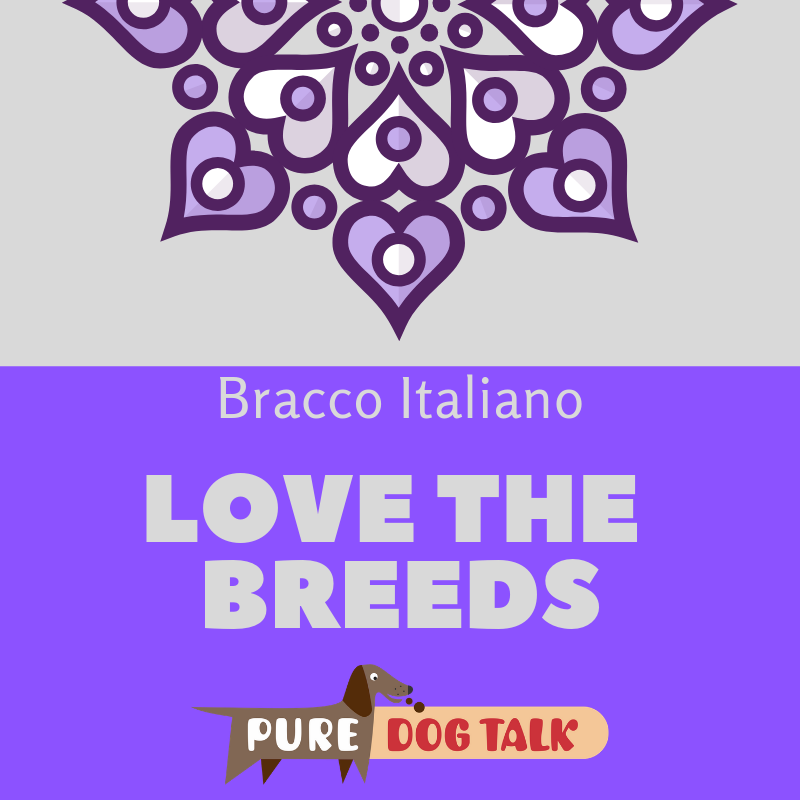 The Ancient Breed Believed to Predate all European Hunting Dogs
Dating back 2500 years, the Bracco Italiano is one of the world's oldest hunting dogs. Host Laura Reeves is joined by Bracco Italiano Club of America member Marilyn Vinson to learn more.
Braccos are frequently compared to the Spinone Italiano, but Vinson said the similarities are more in country of origin than in appearance.
"The Bracco is a breed of angles," Vinson said, "the Spinone a breed of curves."
And while the Bracco may have a very houndy look, Vinson said, they are a versatile hunting dog, designed to hunt, point and retrieve.
Hot Knife Through Butter
Vinson said the breed's characteristic trot is one of its most identifying features. While the Bracco may sometimes appear to be "put together with rubber bands," Vinson said the trot "is like a hot knife through butter, so smooth." The breed's enormous 10- to 12-foot long stride is designed to keep them working efficiently all day in the hunting field.
Braccos came to the attention of enthusiasts in the US in the late 1990s, with the first dog registered with AKC's Foundation Stock Service in 2001. According to Vinson a teenager in the Midwest formed original club, with help from other fanciers.
Dual Dogs a Must
The priority for the Bracco is to be a dual dog, Vinson said. The standard is the description of dog best able to hunt all day.
"I don't care how well your dog hunts, if it doesn't look like a Bracco I don't want it," Vinson said. "And I don't care how pretty my dog is, if it doesn't hunt I don't want it."
Currently working its way from FSS to Miscellaneous, and eventually regular group status, the Bracco has become popular with exhibitors for their easy-going disposition and "Gumby-like" properties, Vinson said. The breed currently competes in AKC pointing breed hunt tests, agility and more, as well as in FSS/Open conformation shows.
Health Considerations
The breed is generally long-lived, but can encounter issues with skin allergies, kidney problems caused by amyloidosis and is affected by bloat.
For more information, visit: https://www.thebraccoclub.org/
KNOWLEDGE IS POWER — FRANCIS BACON
Pure Dog Talk is grateful to all of the mentors in our sport who support us with their knowledge, their kindness and their generosity. JOIN us today in providing access to this invaluable "watering hole" for anyone who is thirsty for knowledge. Your pledge of as little as $5/month helps guide the next generation of dog fanciers. Click the "Be My Patron on Podbean" button to join our "listener supported" team at Pure Dog Talk.