258 — Mari-Beth O'Neill: AKC's Own Guardian of the Galaxy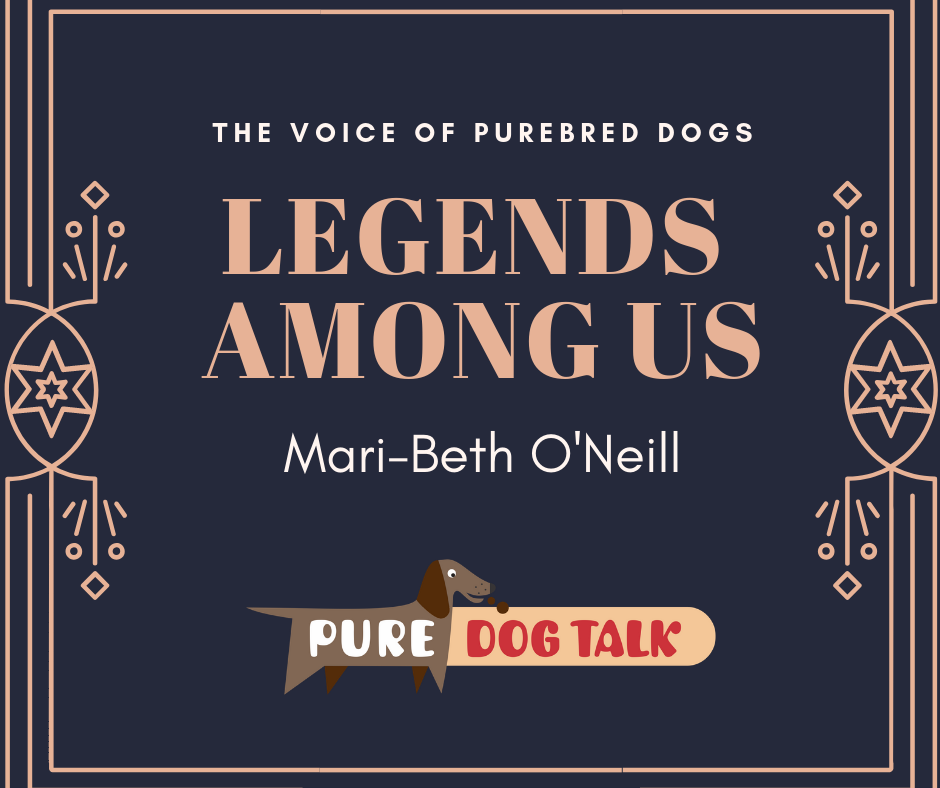 Mari-Beth O'Neill: "Guardian of the Galaxy"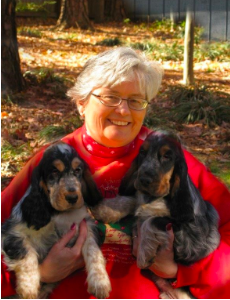 American Kennel Club Vice President of Sport Services, Mari-Beth O'Neill, is the walking, talking institutional memory of the organization. One of the longest serving current staff members, O'Neill is also a second-generation AKC employee. Her father was Executive Vice President of the organization and show chair of the AKC Centennial Show.
"I attended dog shows in utero," O'Neill said. "My parents had Dobermans, but the rule was I had to have a dog I could pick up and carry out of a situation. That led to Manchester terriers."
O'Neill owned and showed the top winning Toy Manchester Terrier of the time period, winning the toy group brace at the Garden in 1968 and the toy group in 1969 with Ch. Renreh Lorelei of Charmara.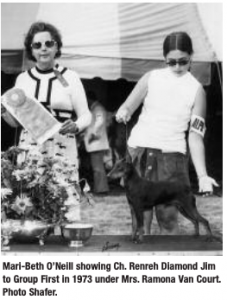 No Gypsy Caravan
Her parents insisted she couldn't "just be a gypsy," so she went to college and worked as a classroom teacher, along with working as an assistant for then-handler (Theresa) Terry Hundt.
"It was held over my head when I was growing up, if I didn't maintain my grades, I didn't play," O'Neill said. That upbringing is what shapes the requirements of today's Junior Showmanship contestants at AKC National Championship presented by Royal Canin.
In December, 160 juniors, the largest entry at the show, competed for Best Junior. All of them had won first place in an open class at least five times and maintained a 3.0 GPA during the year. The winner of the competition, Claire Ctibor, was interviewed on PureDogTalk last year.
Chipping Away at the Iceberg
Juniors have always been a passion for O'Neill. As she moved through the ranks and roles at AKC, she eventually wound up in a position to make a difference. In 1995 she helped establish the national junior organization for AKC. Since then she has continued to work to support the youth and future of the sport.
"Judging juniors is the hardest thing you will ever judge," O'Neill said. "It's a subjective sport. And it's hard for new people to understand how subjective it is."
An expanded coordination with 4H clubs, Junior showcase events, Junior scholarship programs and more are all the direct result of O'Neill's passion for the program.
"I have this ice pick and there's this big iceberg out there… I just keep chipping away at it…"
"We need to wake up and smell the coffee," O'Neill said. "This ain't my father's AKC anymore. We have a lot more events, a whole different society to address. In many cases people love dogs but they've never been around them."
"The greatest joy for me is meeting these young people, seeing how wonderful they are. What great careers they are pursuing, how they are maintaining their passion and involvement with dogs.
KNOWLEDGE IS POWER — FRANCIS BACON
When you become a patron of Pure Dog Talk you'll tap into an exclusive community of experts to help you and your dog be blue-ribbon best at whatever you do with your purebred dog! Your support helps keep the MP3's rolling at Pure Dog Talk!
As a supporter, you'll immediately gain access to the weekly Pure Pep Talk SMS, Pure Pep Talk private Facebook group, and priority emails. Patrons can choose to level up to the After Dark Zoom and a Patrons Digital Badge for their website— even a private counseling session with Laura on any topic.