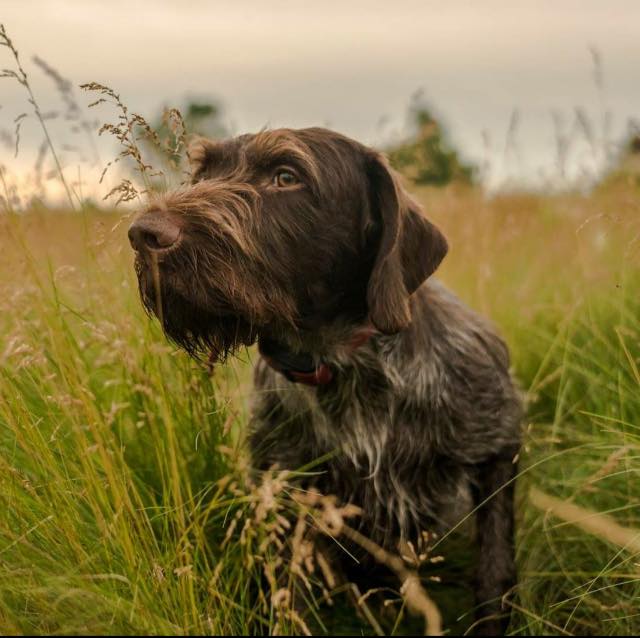 The Uber Dog Needs a Job: German Wirehaired Pointer
The German Wirehaired Pointer is generally the smartest dog in the room, according to panelists at the GWPCA national specialty show.
"They'd rather break in to your house than out of your house. They want to be with you. They want lots of attention and want to be part of the family. I want to sell a dog to someone who is active, does a lot, tries new things. You need to do something with the dog." — Breeder and Judges Education Coordinator, Judy Cheshire
"They do require a tremendous amount of time. You have to be with them. You cannot not have a plan regarding all the events you do with them and commit to that from day one. I can't even imagine not crate training a wirehair. I love how they learn, I love how they think. They're people in their previous lives." — Veterinarian and GWP owner, Robin Nelson
"Owners with small, furry, edible pets are screened out from the beginning. They're incredibly smart loyal and manipulative. To successfully live with GWP, you need structure. Left without structure they are sort of like Dennis the Menace crossed with Home Alone. It's not enough to just exercise the dog. They enjoy doing things. But they tend to thrive in a benevolent dictatorship." — Breeder, Conformation, Hunt Test and Field Trial Judge, Laura Myles
Versatile hunting dogs, versatile performance dogs
"The Germans in the late 1800s wanted a dog that could do everything. Hunt fur and feather, retrieve on land and in water, track wounded game, dispatch small predators, guard hearth and home," Cheshire said.
"A lot of breeds were being developed at that time. This splinter group broke off  who decided performance was most important. The early GWP motto was 'Breed as you like, be honest, tell what you're breeding to, make progress,'" Cheshire added.
"They don't quit. They go til they're dead. I love their drive. I truly believe you can teach them anything," Nelson observed.
"If you can break it into the steps, there is nothing you can't teach them. They get bored easily and they rewrite the lesson plan for you. The dog needs to buy in to the lesson plan with you. You have to be prepared. And always stop on a positive," Myles noted.
For more information, visit: https://gwpca.com/