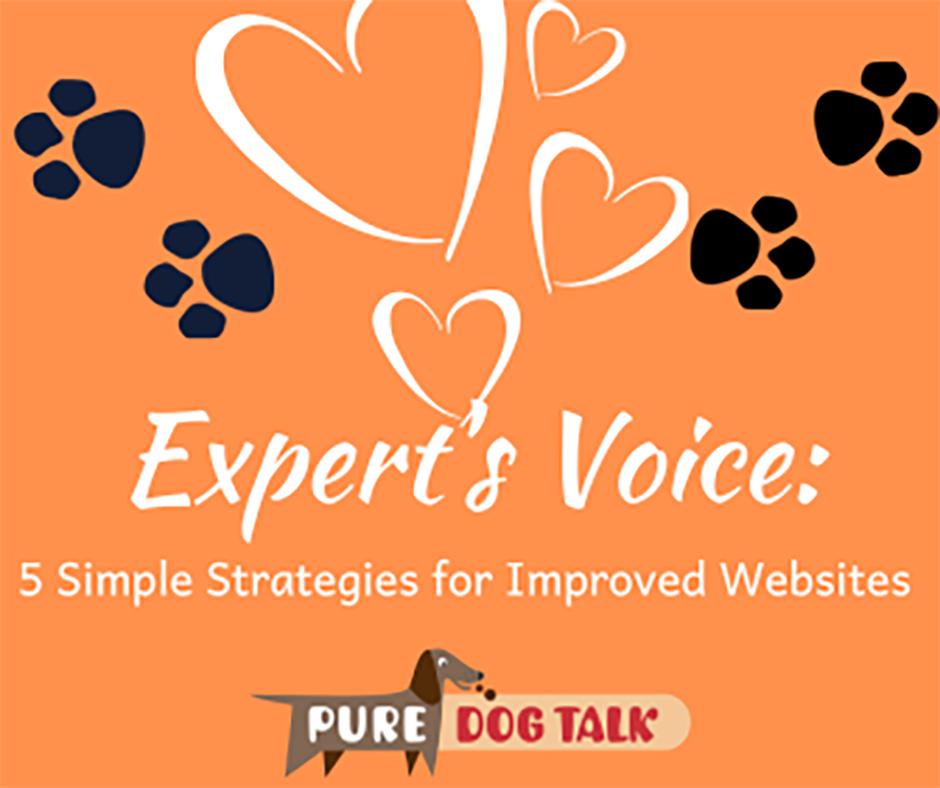 5 Simple Strategies for Improved Websites
Ecommerce and technology specialist Jo Stern joins host Laura Reeves with five simple strategies to improve your website, reach potential new homes and make the first page on Google.
"Search engine optimization (SEO) is essentially what you are building into your website to make you more findable on the Internet when you are talking about thousands upon thousands of people searching for you as a breeder or your puppies," Stern said.
"Or they're just looking into information about breeds. You want to make sure that your website is easy to find, especially if you've got litters on the ground and you're trying to sell puppies, or you're trying to advertise your studs, or you know you want to connect with other people in the same breed. You want to get your name out there.
"It's your ability to make yourself appear on the first page of Google. That's the end goal is when somebody searches your name, your breed, your state, you show up first, and that's the end goal of what you're doing.
"(There's) a little bit of reluctance because technology is scary. But I think it's also not exactly their fault because it's very difficult. It's very convoluted. Google makes it difficult on purpose because they don't want people to game the system.
"There are different pieces of this puzzle that is SEO. It seems a lot of breeders are missing pieces of the puzzle because that technology is so hard and that education just really isn't out there. There's not a lot of layman's terms education on how to build your website effectively. How you get your name out there. So there's a lot of guesswork. But I think there's a lot of things, a lot of strategies that breeders can employ.
"The first thing, is they need to Google themselves. They just need to pull their kennel name. Just go search yourself and see where you show up on Google. See how hard it is to find yourself in Google. If you can't type in your kennel name, your breed or your state and find yourself, that's a problem.
"If you've got a website that you've built and you have not maintained, you haven't gotten any up-to-date content or you haven't made any changes, how people can find you? Google likes addresses, they like locations.
"As a pet buyer, I'm not talking about show buyers and people who are very savvy, they're going to be searching their town, they're going to be searching their state, they're going to be searching literally "golden retrievers near me," as that's a search function of Google.
LINKS:
Easy Website Builders:
– Wix.com
– WordPress.com
– Squarespace.com
– Weebly.com
Important Social Media Platforms:
– Instagram
– Facebook (Business Pages)
– Pinterest
– Twitter
Listen to the full episode for more of Jo's great suggestions. Or contact her at Joannahstern@gmail.com for consultation.

New Resource Launched for Worldwide Dog Community
Third generation dog breeder Cheryl Krajcar has created a fascinating new community on the information super highway, just for dog people. Her fledgling start-up has "great bones" and tremendous potential for dog people everywhere.
On the chain gang
"I remember, as a little girl, being drug to FT, winding up on the "chain gang" (stake outs for field trial dogs) after getting in trouble for turning dogs loose," Krajcar said with a laugh. "I decided I wanted nothing to do with that and went to dog shows with my aunt."
After years handling dogs for others, living with a rough Collie, Flat Coated Retrievers and more, Krajcar found herself full-circle, back at horseback field trials. Today she is a licensed field trial judge, owns Shelties and is using her computer programming skills to create this in-depth resource, Showdogz.org.
"It's time to bring people together as a community," Krajcar said. "I love what the kennel clubs around the world do… AKC, CKC, FCI, The Kennel Club. They all have tremendous resources. But there is no place where the entire sport can come, get together, and be involved. This website allows the worldwide community of dog people to come together to support the efforts of their kennel clubs."
Avoid the drama
There are plenty of groups on social media, Krajcar noted, but they don't meet the needs of the fanciers because there is too much unpleasantness. And not everyone is on Facebook.
"The cattiness is out there. Let's make it friendly, let's build the community that people want to be a part of," Krajcar said. "There's something for everyone."
"I really want to focus on the owners," Krajcar said. "There are no good dogs without good owners. Owners are the ones breaking their backs, putting dogs out in the community. They are the ones supporting the events."
Fully translatable chat rooms for worldwide conversation on Showdogz.org allows people around the world to visit, find mentors, find dogs or reach out to rescue and more.
People buy the dogs they can find
"We have all these doodles, mixes, being advertised in the newspaper and on Craigslist," Krajcar said. "That's the only thing people can find when they're looking for a dog. What are they going to buy? They're gonna buy what's available."
The site also includes an emphasis on juniors and mentors.
"Juniors are the backbone of the sport. They are the next generation," Krajcar said. "I made my own way, but I had a lot of people that came along to support me. Participating in juniors gives kids such advantage in the world."
Advertising opportunities on the site for breeders, show dogs, artists and more are priced to keep them at a realistic price point.
"It's not about money," Krajcar noted. "It's about what I want to do for the sport, which is bring everybody back together. Social media is tearing us apart. I want to provide a resource for everyone."
Stick around to listen to Allison Foley's Tip of the Week from the Leading Edge Dog Show Academy. Allison gives us a run down on Dry Shampoo and its many uses prepping for the show ring.