416 – Neonates: 6 Danger Signs to Watch for in Your New Litter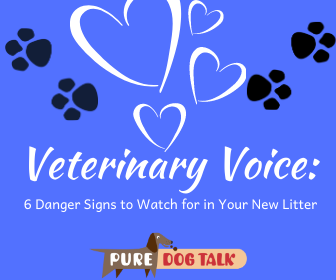 Neonates: 6 Danger Signs to Watch for in Your New Litter
Doctor Marty Greer joins Host Laura Reeves to talk about a topic that is near and dear to both of them. Troubleshooting guidelines for neonates and baby puppies.
"About the time you think you know it all is when somebody puts their thumb on you and says ha just kidding," Greer said.
Greer's four "Hs" for newborn puppies are:
Hydration
Hypoxia
Hypothermia
Hypoglycemia
"We need to start with making sure that the puppies get delivered quickly enough that they can get out of the birth canal, out of the sack, out of the C-section, whatever direction they come out, get the sac off the face, airway cleared and oxygen delivered as quickly as possible. That's really critical to good health, good brain development and the whole rest of the cascade starts with that," Greer said.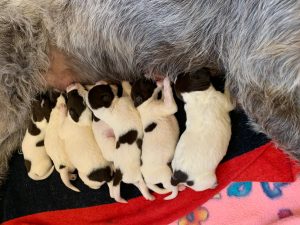 "Hydration goes along with food," Greer observed. "With a puppy, if they're not nursing, they're going to dehydrate and if they're gonna not nurse, they're going to have low blood sugar. These all intertwine.
"It's really important that we keep the puppies nursing. If they're not adequately nursing then the way to assess that is going to be if they're not gaining weight and if their urine color isn't a pale, pale yellow. Puppies should not have a dark colored urine after the first time that they urinate. So it should be pale yellow. The puppy should be gaining weight. You can't really assess hydration on a puppy the way you do an adult dog or cat where you pinch the skin on the back of their neck and see if it seems tacky or sticky because puppies don't have enough body fat to have that work the way it does another ages of animal. So we really have to look at urine color and weight gain.
Danger Signs
"You'll see a puppy that seems weak, seems lethargic, seems listless. It may be really quiet or it may be crying. It just depends on the puppy and what stage in which they are.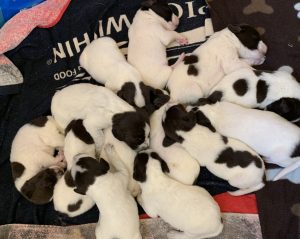 "I see a puppy off by itself, it may not be that the bitch pushed the puppy away. It may simply be that that puppy needs to be warmed, needs to be hydrated, need some oxygen. You do those three things — you feed it, you hydrate it, you warm it up, you get oxygen. And boom. All of a sudden, that puppy regains its strength and it starts to compete and be back with the rest of the group very quickly.
Listen to today's episode for more tips from Dr. Greer.
For more information in previous episodes, check out some of these links.
https://puredogtalk.com/podcast/127canine-herpes-and-puppy-fatalitiesdr-jean-doddspure-dog-talk-2/
https://puredogtalk.com/podcast/14-dr-gayle-watkins-2-breeders-guide-to-neonatal-puppies-2/
KNOWLEDGE IS POWER — FRANCIS BACON
Pure Dog Talk is grateful to all of the mentors in our sport who support us with their knowledge, their kindness and their generosity. JOIN us today in providing access to this invaluable "watering hole" for anyone who is thirsty for knowledge. Your pledge of as little as $5/month helps guide the next generation of dog fanciers. Click the "Be My Patron on Podbean" button to join our "listener supported" team at Pure Dog Talk.