356 – Soul Dog: Investigative Journalist's Poodle Journey | Pure Dog Talk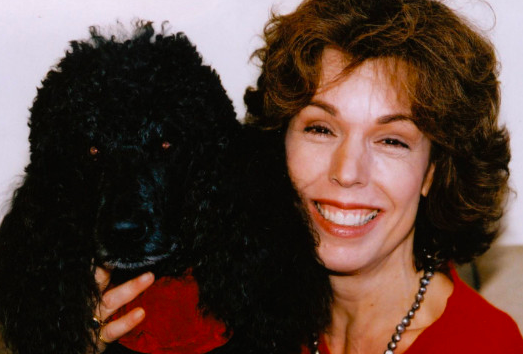 Soul Dog: Investigative Journalist's Poodle Journey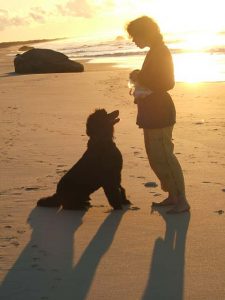 Emmy award-winning investigative journalist Elena Mannes shares her story of the journey on which she embarked with her first dog, a Standard Poodle.
Soul Dog – A Journey into the Spiritual Life of Animals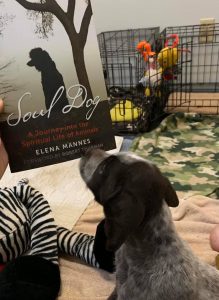 chronicles Mannes' determined quest to harness her inner dog whisperer by learning to decipher the unspoken language present in every animal-human relationship.
"I brought Brio home… and it wasn't really going according to plan. I really just thought I would get trainers and support and it wouldn't really change my life to have a puppy," Mannes said with a rueful chuckle.
"One time, I had him in Central Park. I had started to have him off leash… he would take off and not come back when I called. I was walking backward, screaming at him to come. All of the sudden, there was no ground under me… I stepped off the edge of the boat pond and fell in…. Brio eventually came back and just stared at me."
Skeptic to believer
"I felt sort of desperate. I didn't talk dog. I heard about animal communicators, but I was a real skeptic. I'm a TV journalist, I don't like woowoo things.
"(Brio) changed me in so many ways as the years went by and the connection became so deep and really life changing for me," Mannes said.
Mannes also addressed her decision to choose a purebred dog.
"I respect people who rescue, but in my situation at the time I really didn't know enough. I had a sense of Standard Poodles that they were so smart. I was scared to death (of adding a dog to my life)," Mannes said, adding that the predictability of a purebred dog helped provide some comfort in this decision.
***
Elena Mannes is a multi-award-winning independent documentary director/writer/producer as well as an author. Her first book, The Power of Music: Pioneering Discoveries in the New Science of Song, is published by Walker Books/Bloomsbury USA (May 31, 2011).
Her work has appeared on both public and commercial television. Her honors include six national Emmys, a George Foster Peabody Award, two Directors Guild of America Awards, and nine Cine Golden Eagles.
Mannes developed and created a primetime PBS special, The Music Instinct: Science and Song,a co-production with WNET/Thirteen.
Mannes productions include the feature documentary film Amazing Grace with Bill Moyers (PBS) which won the Directors Guild Award as well as an Emmy for directing. For ABC, Mannes has produced a special with Diane Sawyer The Amazing Animal Mind, exploring the intelligence and emotions of dogs and other animals, as well as other ABC hours including Ground Zero with Peter Jennings which won an Emmy for best Historical Program.
Mannes has also produced and directed documentaries for CBS REPORTS and segments for 60 MINUTES and PRIME TIME LIVE (ABC).She worked with George Lucas to develop a television project incorporating documentary and dramatic sequences.
Mannes is a member of one of the first families of American music. Her grandparents founded the Mannes College of Music in New York City; and her great uncle, Walter Damrosch conducted the Metropolitan Opera and instigated the building of Carnegie Hall.
Pure Dog Talk is sponsored by:
KNOWLEDGE IS POWER — FRANCIS BACON
Pure Dog Talk is grateful to all of the mentors in our sport who support us with their knowledge, their kindness and their generosity. JOIN us today in providing access to this invaluable "watering hole" for anyone who is thirsty for knowledge. Your pledge of as little as $5/month helps guide the next generation of dog fanciers. Click the "Be My Patron on Podbean" button to join our "listener supported" team at Pure Dog Talk.