396 – "Doggedly" Pursuing Preservation of Purebred Dogs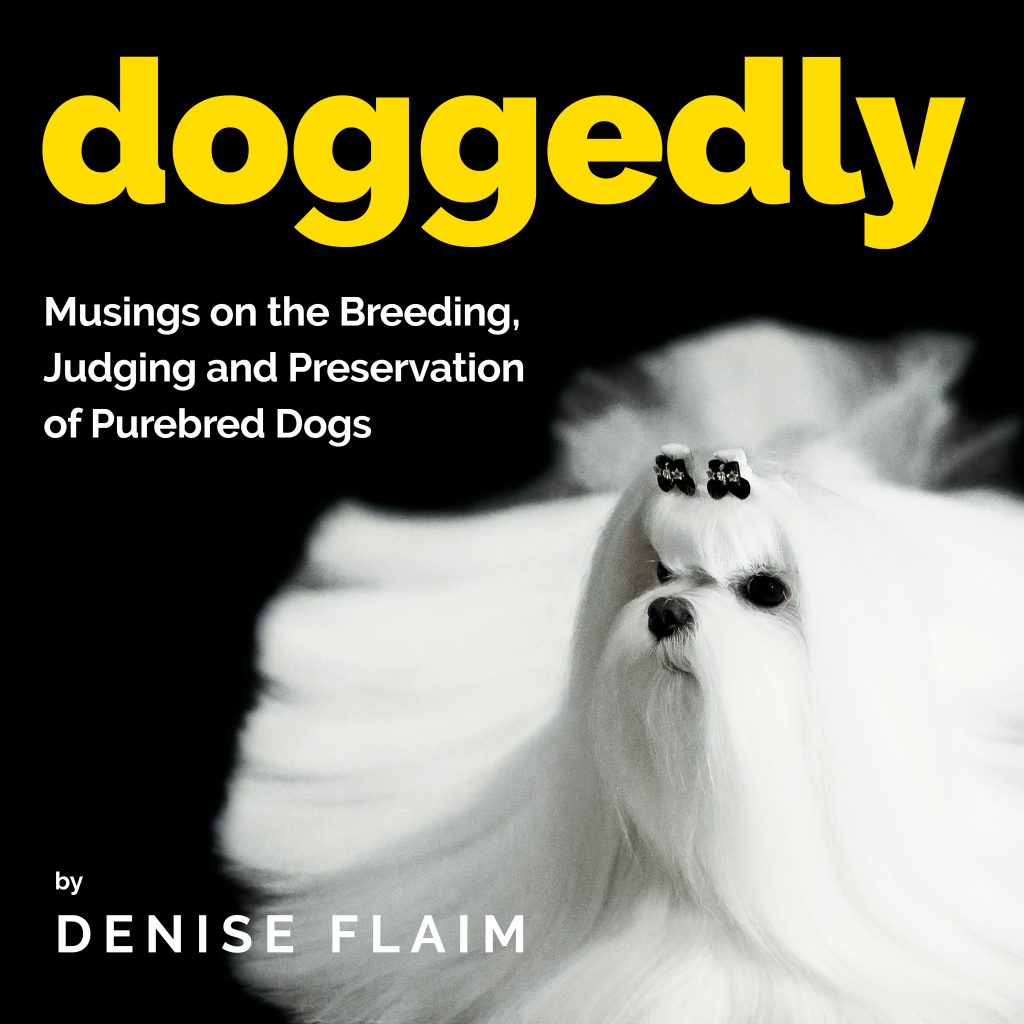 "Doggedly" Pursuing Preservation of Purebred Dogs
Host Laura Reeves and Denise Flaim, author of "Doggedly: Musings on the Breeding, Judging and Preservation of Purebred Dogs," cover a lot of ground in their own musings on these topics.
What do respect, breed standards, judging, cooking, jazz music, period furniture and museums have in common? Listen in to this wide-ranging and challenging discussion for the answers.
"I think the way you learn a new breed is a three part process: head, heart, gut," Flaim said. "First you see the breed. You know it exists. You start to study it. You read the standard. You go to seminars. It's in your head.
"You have all those pieces, but there has to be something that you connect with with that breed. Maybe you met one and just sort of fell in love. Maybe it's closely related to the breed you started with or breed that you really like. There's got to be something that moves that breed from your head into your heart so that you genuinely like it.
"Then you've got that motivation to learn more about it. Slowly, as you get more exposure and you get more depth, and you talk to breeders and you talk about the stuff that the standard doesn't say but that you as a judge need to know, it goes into your gut.
"That's, I think, a big part of judging that people don't talk about is instinct. Your gut feeling. It's not just like some muse descends on you from out of nowhere that gut feeling comes from the drip drip drip of knowledge that you've gotten an exposure and then suddenly you don't have to think."
"Doggedly" reading
"It's a real kind of buffet of ideas about dogs," Flaim said. "A lot of times we talk about individual dogs and a lot of times we talk about very specific surface things but not as often as I would like do we talk about the ideas and the thoughts behind them.
"The thing I really am most proud about this book is, if you're somebody who really is into dogs in more than a surface way, Pat Trotter said that she read it, she's up all night. So I think of it as the book that keeps Pat Trotter awake at night."
"Doggedly" is available at www.revodanapublishing.com. Use the code PUREDOGTALK for $5 off on any book.
Learn more:
223 — Rhodesian Ridgeback: Power and Elegance | Pure Dog Talk
294 – Veterinary Voice: Brachycephalic Breeds' Health and Legislation | Pure Dog Talk
KNOWLEDGE IS POWER — FRANCIS BACON
When you become a patron of Pure Dog Talk you'll tap into an exclusive community of experts to help you and your dog be blue-ribbon best at whatever you do with your purebred dog! Your support helps keep the MP3's rolling at Pure Dog Talk!
As a supporter, you'll immediately gain access to the weekly Pure Pep Talk SMS, Pure Pep Talk private Facebook group, and priority emails. Patrons can choose to level up to the After Dark Zoom and a Patrons Digital Badge for their website— even a private counseling session with Laura on any topic.