464 – Autoimmune Disorders: Thyroid Disease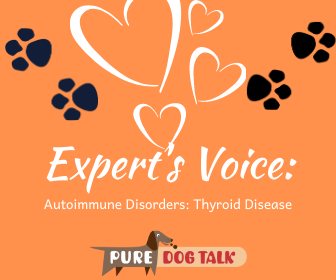 Autoimmune Disorders: Thyroid Disease
Dr. Robin Nelson, DVM joins host Laura Reeves for a deep dive into the impacts of autoimmune mediated thyroiditis, both on individual animals and on breeding programs in general.
"The thyroid gland is a little gland on either side of the windpipe in all dogs," Nelson said. "It is behind metabolism, so it affects nerves, organs, the brain… it is in charge of a lot of things, so presentation can vary. When I first graduated (Iowa State University, College of Veterinary Medicine), if you didn't have a morbidly obese patient, thyroid didn't cross your mind. It just wasn't a concern.
"Certainly, obesity or weight gain without an explanation, without caloric intake increase (is a symptom) but even alopecia across the nose, unexplained lameness, chronic skin conditions, chronic ear conditions, vestibular disease… the list is long. Seizures, I mean if we have a dog with seizures (in the clinic), we look at thyroid function.
"The important piece of the equation, when we're talking about thyroid, is how many different bodily systems it impacts … if your gut feeling is — 'I've treated my dog skin appropriately or I'm not feeding my dog that much food that it should be overweight or here's my dog that has loved to train, its young still, why is it all of a sudden selecting to sleep in the sunshine not firing up to do its job' — those are all subtle (clues)… thyroid disease can also mimic all sorts of medical conditions, so trying to confirm that it's thyroid disease is a whole 'nother process.
"I just think if we don't look for it, we don't see it. It is common. As a practicing veterinarian, it is out there. There's nothing better than diagnosing it and having your patient respond because it is so treatable and the majority of the symptoms disappear with synthetic thyroid hormone (which is) inexpensive.
"(Owners should) look for a lab that actively searches for the different numbers that you need to confirm a diagnosis. You need to make sure that the free T4 is measured by equilibrium dialysis that will allow that number not to be affected by medication, not to be affected by most other systemic disorders.
"Just as a veterinarian, I worry more about the numbers of people that don't test at all. There are a lot of breeds with thyroid disease. I will tell you that there's even a range, for me, looking at equivocal… I have told people, if you have an equivocal profile and everything else about your dog is so fantastic you can't hardly stand to think that it won't be in the gene pool, then minimally you need to really do a lot of vertical and horizontal pedigree research on both sides of the pedigree.
"There are lots of equivocals that go on to produce and I think there are lots of people who have equivocals that everything else is looking good, they just breed. But at some point, equivocal can turn into autoimmune mediated thyroiditis.
"Hypothyroidism is a process that occurs over years. A dog is not hypothyroid until about 70% of its thyroid gland is destroyed. So, you have a list of numbers that you've used to assess thyroid function and it's such a gradual process … Technically, people should be testing dogs in a breeding program annually, not just taking the two year old result."
For additional insight on thyroid disease, listen to Dr. Jean Dodds here.
KNOWLEDGE IS POWER — FRANCIS BACON
Pure Dog Talk is grateful to all of the mentors in our sport who support us with their knowledge, their kindness and their generosity. JOIN us today in providing access to this invaluable "watering hole" for anyone who is thirsty for knowledge. Your pledge of as little as $5/month helps guide the next generation of dog fanciers. Click the "Be My Patron on Podbean" button to join our "listener supported" team at Pure Dog Talk.