476 – Research Study Seeks to Predict Hip Dysplasia Early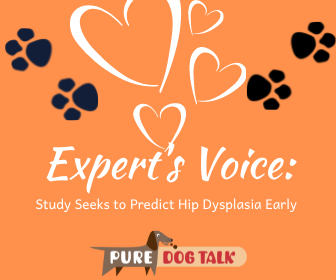 Research Study Seeks to Predict Hip Dysplasia Early
Dr. James Cook, director at University of Missouri Thompson Laboratory for Regenerative Orthopedics and OFA chief operating officer Eddie Dziuk, join host Laura Reeves to talk about a study into biomarkers for hip dysplasia that can be identified in puppies at five months old.
Dr. Cook and his team released the results of a pilot study in 2019.
"(The) pilot study showed that specifically in male dogs … with over 90% accuracy, at five months of age, with a urine sample, we were able to predict hip dysplasia status at two years of age. So, it really is a crystal ball," Cook said.
"This is the Holy Grail for us," Cook noted. "We're super excited about it. The pilot study involved 14 dogs. The coolest part is that it can help both (dogs and people) at the same time. Which makes the research progress more quickly because dogs are such a good representation of people and vice versa.
"People get hip dysplasia as well. In fact, we're understanding that that is a primary cause of what we thought was just aging arthritis in the past. So, the cool thing is, so far, the biomarkers that work for dogs, work for people. That's really both given us more validity and sped up the process a bit as well."
Cook is working with OFA (Orthopedic Foundation for Animals) to gather volunteer dogs for the study.
"We're targeting approximately 500 dogs," Dziuk said. "This is to carry out and basically extend the information that they got from that pilot study. This is a very long-term study. It's going to take two years until we get the final output of this, but that'll give us some great information going forward after that."
ENROLL HERE!
"A dog can be younger than six months of age at the time of enrollment," Dziuk said, "but that first set of samples that we're looking to collect has to be done in that four to six month window.
"We are looking for serum, urine and then whole blood. The serum and the urine samples go to Doctor Cook's lab. Separately, that whole blood sample will become part of the CHIC DNA repository. So basically, when dogs enroll in the program, they're participating in the ongoing study that Doctor Cook is doing and they're also making DNA available for other future studies."
"A biomarker is anything we can measure in the body," Cook said, "that tells us something that can be either diagnostic, prognostic, treatment decision-making or screening…. The proteins that (we are) measuring are from inflammation and deterioration of the cartilage.
Listen to hear more about this absolutely fascinating study and how you can enroll your puppies.
KNOWLEDGE IS POWER — FRANCIS BACON
When you become a patron of Pure Dog Talk you'll tap into an exclusive community of experts to help you and your dog be blue-ribbon best at whatever you do with your purebred dog! Your support helps keep the MP3's rolling at Pure Dog Talk!
As a supporter, you'll immediately gain access to the weekly Pure Pep Talk SMS, Pure Pep Talk private Facebook group, and priority emails. Patrons can choose to level up to the After Dark Zoom and a Patrons Digital Badge for their website— even a private counseling session with Laura on any topic.