496 — Owner Handlers: Make a Plan, Manage Expectations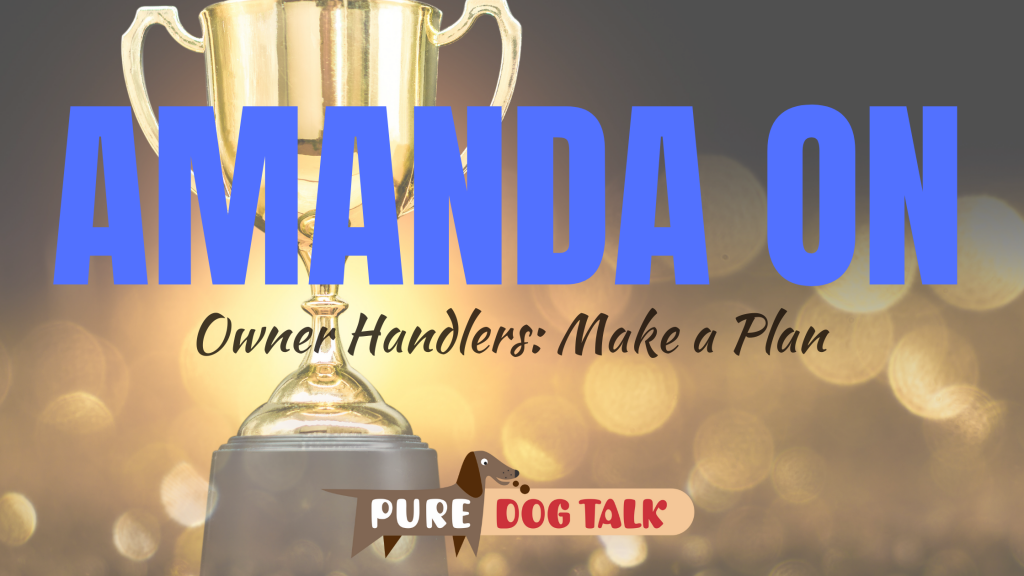 Owner Handlers: Make a Plan, Manage Expectations
Amanda Kelly of Fwaggle Toy Manchester Terriers joins host Laura Reeves for some final thoughts on Owner Handlers and how they can earn the advantage in the ring.
Have Fun
"There is nothing more eye catching than looking in the ring and seeing a dog that is having a good time and a handler having a good time. Maybe the dog isn't standing perfectly. Maybe it's got one foot out in the wrong place or whatever. I guarantee you that if that dog is having a good time it has better posture, he has better expression, it's holding its shape and its outline regardless of whether every foot is where it needs to be it is a more attractive dog to look at then the perfect statue at the end of the line.
Take a Video
"It is so imperative that you see yourself, because showing dogs is just about making pictures. That's all that we do when we go in the ring. We make a picture on this mat and then we make a hopefully nice picture as we move around the ring and then we get on the table and we make another picture and then we do the down back we make another picture. And in all those photos the handler's job is to frame the artwork that is the dog but you don't know what that picture looks like if no one's ever shown you.
Make the Picture
"I think that one of the best ways of figuring out what picture you want to make in the ring is to choose handlers who present dogs in a way that you appreciate. You can do that really easily. Start with Westminster videos or maybe your national video. Watch it. Pick out someone who you think is the whole package and then look at what they're doing, what are the little detailed pieces that make the difference in your mind.
Make it Muscle Memory
"The entirety of learning how to handle (is to move) from worrying about one thing to worrying about the next thing, because you've mastered the other thing that you used to worry about. Now you don't think about it anymore. I can tell you I've shown my breed 35 years. I still have a thought process when I'm in there, but I'm not thinking about my lead. I'm thinking about things like when is the judge watching the dogs in the lineup and how do I stand so that I have the right angle, showing the profile that I want to show or how do I get this dog to stop shivering because it's so cold.
YOU Can Do It
"Every single day at every show across America, across the world, people like me, people like you, people like those who are listening, are successful. You just have to make a plan. Learn manage your expectations so that you're picking goals that work and are realistic. I would encourage you to go one step further and make sure that the goals that you set for yourself are achievable goals that have nothing to do with who the judge points to. If your only measure of success is whether or not you won a point or whatever, you're doomed. You are doomed. If your measure of success is 'I want to go in that ring and I want my dog to do X or I want to remember to hold my elbow in against my body and not have it flail around, whatever it may be. It needs to be something that's within your control. I guarantee you that if you go at it with that attitude and you adjust your idea of winning and losing, you will have more fun. And if you have more fun you will win more.
KNOWLEDGE IS POWER — FRANCIS BACON
Pure Dog Talk is grateful to all of the mentors in our sport who support us with their knowledge, their kindness and their generosity. JOIN us today in providing access to this invaluable "watering hole" for anyone who is thirsty for knowledge. Your pledge of as little as $5/month helps guide the next generation of dog fanciers. Click the "Be My Patron on Podbean" button to join our "listener supported" team at Pure Dog Talk.