497 – Vet Voice: OTC and Home Remedies for Common Ailments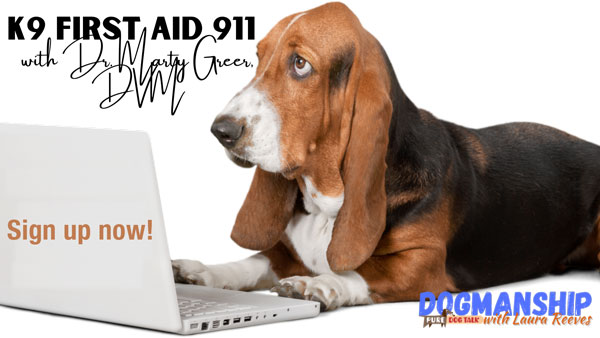 Vet Voice: OTC and Home Remedies for Common Ailments
Dr. Marty Greer, DVM joins host Laura Reeves for a prequel to our upcoming 6-week K9 First Aid 911 course. Greer covers what you CAN use, what you CANNOT use, when and how to use what.
Greer's first reminder is that yes, vets are as swamped and over-booked as they claim. Be nice to the people in the practice! A little grace goes a long way.
"Often our staff isn't getting lunch. They may not be leaving on time for dinner. So they are stressed, they're overworked, they're tired. And it may be as much emotional as it is physical stress and exhaustion. So be super nice to them, because they are wearing themselves out trying to make sure that no dog gets left behind."
Secondly, "Dr. Google" is not always your friend.
"I think there's a lot of misconceptions," Greer said. "People look online and they read things and "Dr Google" and all the other places and sometimes those aren't really reliable sources."
Greer works her way through over the counter medicines that are safe and those that aren't.
Safe and NOT Safe
Not safe includes any product containing xylitol, ibuprofen and Tylenol. Safe includes Benadryl, Robitussin DM, Pepcid, Bonine (motion sickness) and GasX.
Foxtails and managing dogs that swallowed sharp objects are topics we revisit from an earlier PureDogTalk episode here.
Anyone interested in learning more from Dr. Greer on these topics visit www.puredogtalk.com and sign up directly on the webpage for the webinar series "K9 First Aid 911."
K9 First Aid 911
We all know that the pandemic and unending strain of hundreds of thousands of new pets has brought veterinarians and their staff to the breaking point.
Dr. Marty Greer, DVM and I wanted to do something to help.
Pure Dog Talk is THRILLED to host a series of six first aid courses taught by Marty Greer. She'll cover what you can do at home, what you should have on hand and what YOU can do for your dog's health. She'll also talk about how to identify life-threatening emergencies and how to communicate those to your veterinarians.
And we're doing our part to support all veterinarians by donating 50 percent of the proceeds of these courses to Not One More Vet to support the veterinary professionals who help our pets every day.
KNOWLEDGE IS POWER — FRANCIS BACON
Pure Dog Talk is grateful to all of the mentors in our sport who support us with their knowledge, their kindness and their generosity. JOIN us today in providing access to this invaluable "watering hole" for anyone who is thirsty for knowledge. Your pledge of as little as $5/month helps guide the next generation of dog fanciers. Click the "Be My Patron on Podbean" button to join our "listener supported" team at Pure Dog Talk.