508 – Breeding, Training and Socializing Decisions for High Drive Dogs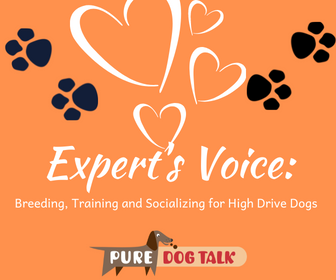 Breeding, Training and Socializing Decisions for High Drive Dogs
Denise Fenzi and host Laura Reeves take a deep dive into the breeding, training and socializing decisions we make with high drive dogs. Are we removing "hard" dogs from our gene pool in favor of "twitchy," flashy high arousal dogs?
"So, drive always requires arousal," Fenzi noted. "Arousal does not require drive. That is a good base. I like to recognize that and to recognize that arousal can hinder the dog's ability to see the world clearly, so your socialization goes to hell, as the dog is so busy moving, they're not actually taking it in.
"Then, when they're three, they take it in and that's a problem. 'Cause for the first time they just saw a garbage can on wheels. It's been there the whole time, they just never slowed down enough to see it. In training, we actually perpetuate that. What we do with these high arousal dogs is we work them. We get the toys and play, we focus on really early and they go for it, because they're high arousal dogs, they need something to attach it to and so we actually undermine our socialization."
This in-depth, experience-based discussion between industry leaders asks important questions and offers insight for breeders who want to learn more about breeding high drive dogs in any performance venue.
Laura Reeves: "I think it's so important, when we talk about these things from the perspective of purebred dogs and doing events and doing sports and doing show, if that's part of our consideration, all of those things it all is breed specific."
Denise Fenzi: Absolutely
Laura Reeves: Starting at that instinct piece that you were talking about, the instinct has to be there and then you layer on all the rest of it.
Denise Fenzi: Yes. And then you've got your focus and all kinds of other things that are going to come into play. Even the definition. How do you define drive? My definition is "stays in the game under adversity." So, it doesn't matter what your game is and it doesn't matter what the adversity is. It could be weather, could be bad training. There are dogs who are out there in crappy weather, under crappy training and I mean I don't know how they do it, but they figure out what the trainer wants and they just flat on go forward. To me that's drive … with a good dose of hardness
Defining and understanding drive, considering the inheritance patterns of drive and arousal, addressing anxiety as a corollary, Denise and Laura dig in to the hard topics, the difficult conversations and the implications of our breeding decisions.
Listen to part one here.
KNOWLEDGE IS POWER — FRANCIS BACON
When you become a patron of Pure Dog Talk you'll tap into an exclusive community of experts to help you and your dog be blue-ribbon best at whatever you do with your purebred dog! Your support helps keep the MP3's rolling at Pure Dog Talk!
As a supporter, you'll immediately gain access to the weekly Pure Pep Talk SMS, Pure Pep Talk private Facebook group, and priority emails. Patrons can choose to level up to the After Dark Zoom and a Patrons Digital Badge for their website— even a private counseling session with Laura on any topic.