523 – Special Reproductive Considerations for Rare Breeds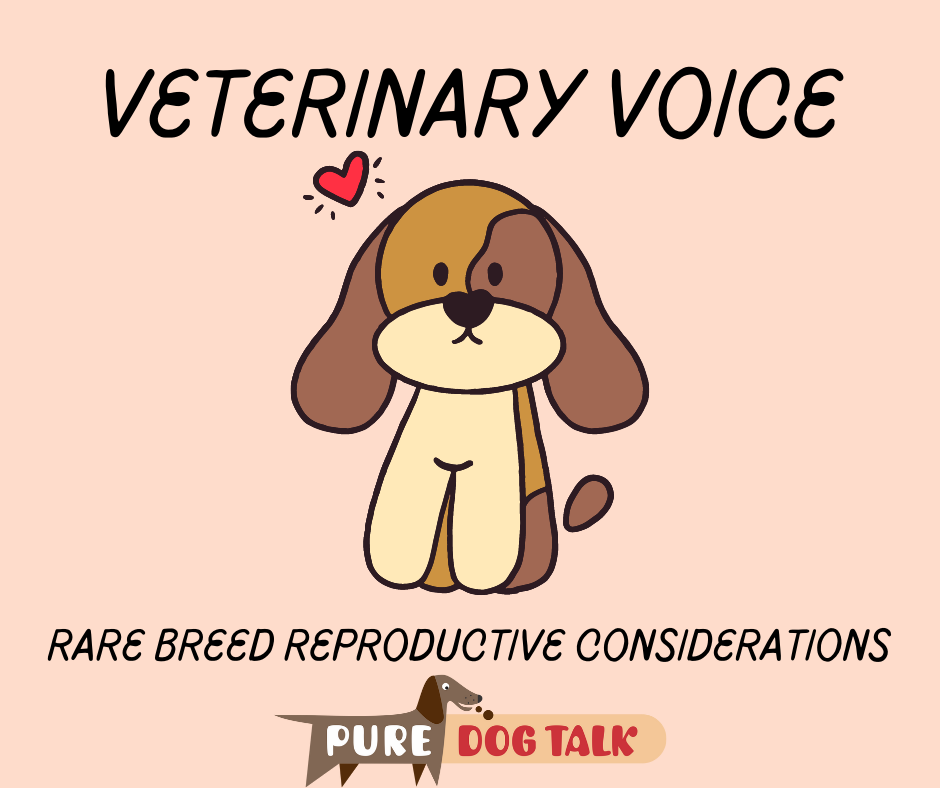 Special Reproductive Considerations for Rare Breeds
Dr. Marty Greer, DVM joins host Laura Reeves to discuss some of the special reproductive considerations for rare breeds. Rare dog breeds offer specific challenges for their breeders including health concerns, limited gene pools, DNA testing mazes and infertility issues.
April is Rare Breeds month here at Pure Dog Talk! Watch for upcoming episodes with deep dives into Norrbottenspets, Chinooks and Nederlandse Kooikerhondje.
"Pick one thing a year that you're going to try to work through in your breed," Greer said, quoting from Dr. Ian Dunbar. "Pick what your priorities are. You have to pick. I can't pick for you. You know your breed. You know your genes. At some point we have to really say this is what I'm going to focus on, this is what I'm going to try to breed for or away from, and try to take those incremental steps. You're not gonna get it all in one generation."
How do you eat an elephant…
"I think that's so important in the rare breed community to emphasize the you eat the elephant one bite at a time," Reeves added. "It's really important to recognize that and not get discouraged because you're trying to swallow a whole elephant. Be committed to that long term process. From a rare breed perspective, that's one of the things I always emphasize, this is not a fly by night operation. It's a process, something you're going to dedicate your entire life to."
"You work with other people and you're honest with other people," Greer emphasized. "So we need to stop hiding things. We need to stop backbiting. We need to stop saying bad things about other people and we need to be really honest with each other and with ourselves so that when you look in the mirror you can say 'I'm breeding the best dog that I possibly can.'
Full disclosure
"Nobody goes out and deliberately breeds a bad dog but there's so many aspects to how you have to make these decisions. Without full disclosure you really can't get there. So we have to be honest with each other. No breeder deliberately produced a dog with a genetic problem, but you've got to tell people if you have it because if you double up on it you're going to have surprises in your litter.
"Longevity, I think, is seriously under-appreciated. I love breeding females that can still have puppies when they're older. I love breeding old males that still produce sperm. Now that doesn't mean you can't freeze semen when he's young, and you should because then you'll have access to him, but if he lives to be 16 years old and he was fertile till he was 14, you rock man! That means he didn't die of orthopedic disease, he didn't die of bad temperament, he didn't die because he ran away from home and got hit by a car. He didn't die from 1,000 things that he could have died from.
Longevity for the win
"Don't forget about those old guys and their genetics. Go back to the old publications of your breed. Go back to the old pedigrees and take a look and where are those dogs and what are they doing and how long did they live and what was their lifestyle like and what did they die from."
Greer also strongly recommends purchasing Dr. Jerold Bell, DVM's book for learning more information on genetic diseases in specific breeds.
KNOWLEDGE IS POWER — FRANCIS BACON
When you become a patron of Pure Dog Talk you'll tap into an exclusive community of experts to help you and your dog be blue-ribbon best at whatever you do with your purebred dog! Your support helps keep the MP3's rolling at Pure Dog Talk!
As a supporter, you'll immediately gain access to the weekly Pure Pep Talk SMS, Pure Pep Talk private Facebook group, and priority emails. Patrons can choose to level up to the After Dark Zoom and a Patrons Digital Badge for their website— even a private counseling session with Laura on any topic.