556 – Building Trust with Your Puppy During Socialization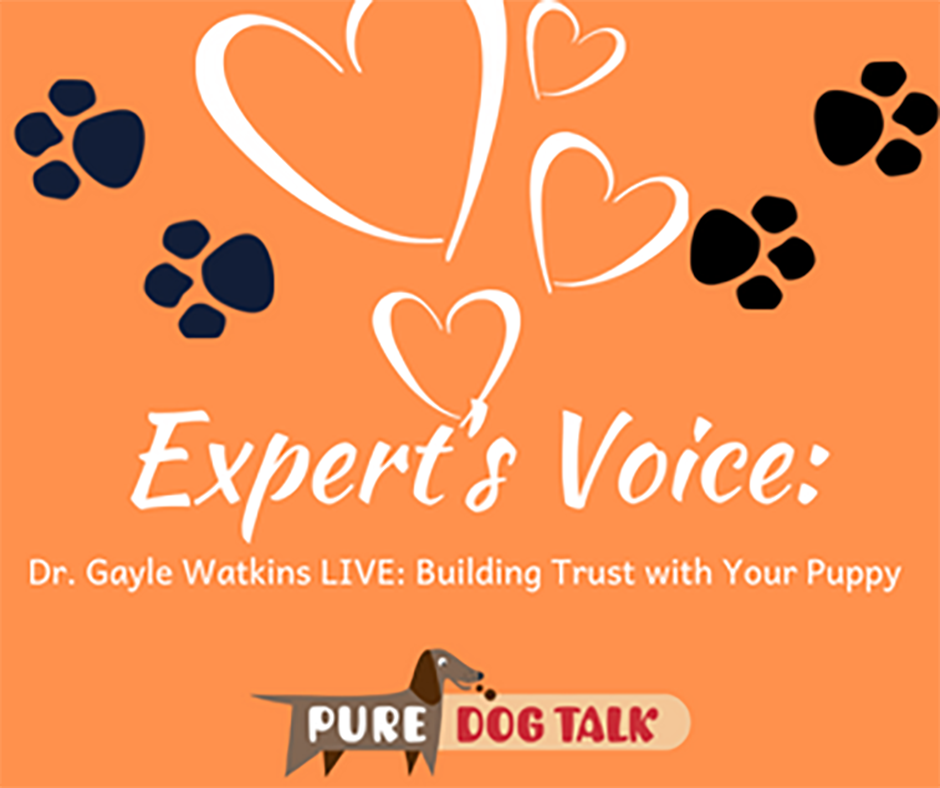 Building Trust with Your Puppy During Socialization
Dr. Gayle Watkins is back with part two of her presentation on proper socialization steps for raising competitive dogs.
Watkins emphasizes the need for the owner and puppy to build trust during early socialization. This means being a "control freak" about safe-guarding your puppy's interactions with people, places and other pets.
"We are responsible for creating trust," Watkins said. "We do it by being trustworthy and reliable. We are often not trustworthy with our dogs. Teach your puppy they can rely on you.
"Civility is the appropriateness of behavior around people and dogs," Watkins added. "It is keeping your mouth shut, not biting anyone, not climbing on anyone. Not assaulting other dog or people as you are meeting. Civility is not the same as friendly. It does not require physical interaction. More important to teach our dogs indirect interaction, when they see a person or dog and do not interact."
Getting puppies "out" to see urban centers, hear different noises and so forth does not also necessarily mean *meeting* other people and pets right away, Watkins noted. She also advocates for supervised puppy classes long before training classes begin.
Puppies handle stress best if we give them cues they can fall back on, Watkins said. If a situation is causing stress for the puppy, have them offer a sit and watch behavior, for example. She adds that forcing a puppy in to a situation that is clearly uncomfortable or scary for them can cause you to break the trust you are hoping to build with the puppy.
Watkins also discusses acquired fear or aggression in dogs that can actually be passed on in the whelping box – epigenetics is the name of this phenomena. Her emphasis on raising stable and trusting dogs springs from studies that indicate 80 percent of aggression is genetically based.
The bottom line, Watkins said, is that raising confident, stable puppies takes time, effort and commitment.
KNOWLEDGE IS POWER — FRANCIS BACON
When you become a patron of Pure Dog Talk you'll tap into an exclusive community of experts to help you and your dog be blue-ribbon best at whatever you do with your purebred dog! Your support helps keep the MP3's rolling at Pure Dog Talk!
As a supporter, you'll immediately gain access to the weekly Pure Pep Talk SMS, Pure Pep Talk private Facebook group, and priority emails. Patrons can choose to level up to the After Dark Zoom and a Patrons Digital Badge for their website— even a private counseling session with Laura on any topic.