561 – 4Ever15: Choose Kindness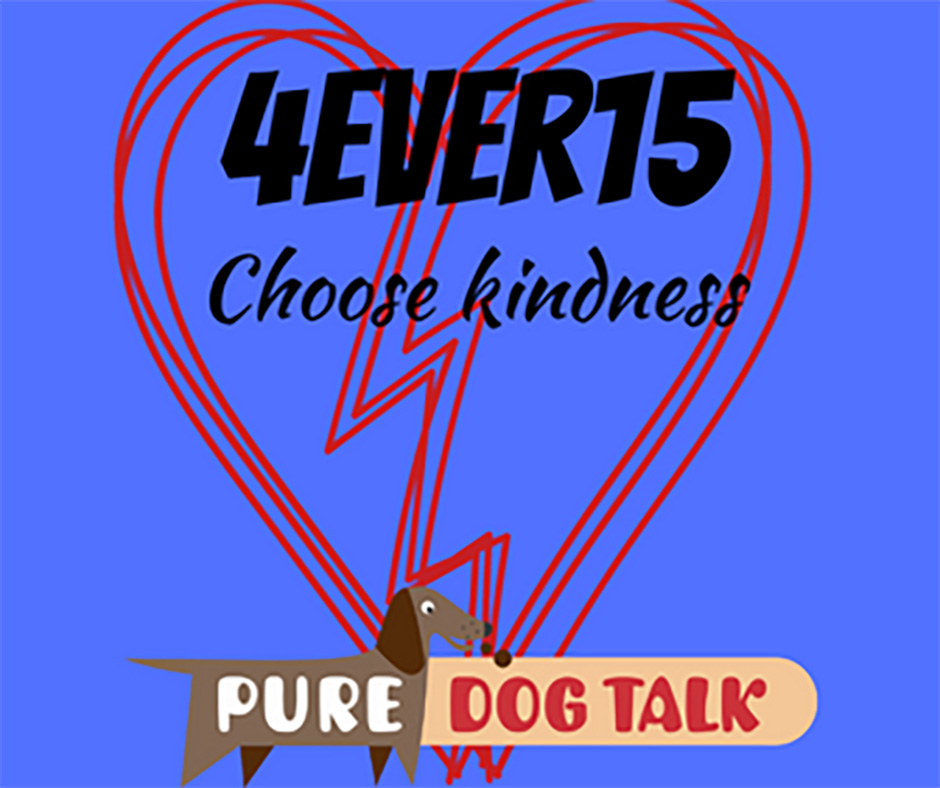 4Ever15: Choose Kindness
Denise Carroll joins host Laura Reeves to share her story of how the twin epidemics of school bullying and teen suicide affected her, after her son, Nick, took his life last month.
Nick Carroll was Denise's adopted son whose happiest place was dog shows. He had friends and projects and felt safe, showing Great Danes in the breed ring and Juniors.
"It didn't matter who was competing," Denise said. "He would cheer you on no matter what. If he lost in juniors he'd still cheer on his friends. The friendships he made at dog shows were really close ones. He maintained some really good friendships."
But his school life was another matter. Denise said that Nick was routinely bullied at school, including additional attacks around his service dog.
The 2019 School Crime Supplement to the National Crime Victimization Survey (National Center for Education Statistics and Bureau of Justice) indicates that, nationwide, about 22% of students ages 12–18 experienced bullying.
"What I feel is, when Nick started taking the dog to school is what made him an easy target. School was the biggest issue for him," Denise said.
How to avoid costing someone their life
"The biggest thing is to realize what we're all struggling with something," Denise said. "You never know what someone is going through at the time. So, you should try to be kind. In today's society, people can hide behind their phone, be anonymous and say things and not have consequences for their actions."
More survival tips from Denise:
Today's kids have gone through a lot more trauma than kids did when I was growing up.
Walk a mile in someone else's shoes
Parents need to talk to their kids, that a difference in someone else isn't a bad thing
Parents don't communicate with kids. Kids have electronics that are their parents. They don't talk with mom and dad or sit down and have meals together.
Statistics from the Suicide & Crisis Center of North Texas:
Suicide is the third leading cause of death of young people between the ages of 15 and 24.

5,000 young people complete suicide in the U.S. each year.

Each year, there are approximately 10 youth suicides for every 100,000 youth.

Each day, there are approximately 12 youth suicides.

Every 2 hours and 11 minutes, a person under the age of 25 completes suicide.

In the past 60 years, the suicide rate has quadrupled for males 15 to 24 years old, and has doubled for females of the same age.

For every completed suicide by youth, it is estimated that 100 to 200 attempts are made.
"We went to Orlando (for the AKC National Championship)," Denise said. "It was bittersweet because Nick was supposed to be with us. I took some friends of Nick's and his sister to Sea World. We'd laugh for a while and somebody would say Nick would have loved this. At one point, the four of us just hugged each other and cried. It was special because they loved him just like we did.
"Christmas has been hard," Denise said. "I put off wrapping presents because I had presents for him that he'll never open…."
Nick's Message:
Be helpful and kind.
"His shining moments were when he was helping people," Denise said. "I want more people to be like that. To give to others. And not be takers and just do what's best for you. We could all take a page from Nick's playbook."
To offer condolences or support, contact Denise directly.
KNOWLEDGE IS POWER — FRANCIS BACON
When you become a patron of Pure Dog Talk you'll tap into an exclusive community of experts to help you and your dog be blue-ribbon best at whatever you do with your purebred dog! Your support helps keep the MP3's rolling at Pure Dog Talk!
As a supporter, you'll immediately gain access to the weekly Pure Pep Talk SMS, Pure Pep Talk private Facebook group, and priority emails. Patrons can choose to level up to the After Dark Zoom and a Patrons Digital Badge for their website— even a private counseling session with Laura on any topic.