562 – Applied Structure and Anatomy LIVE in Utah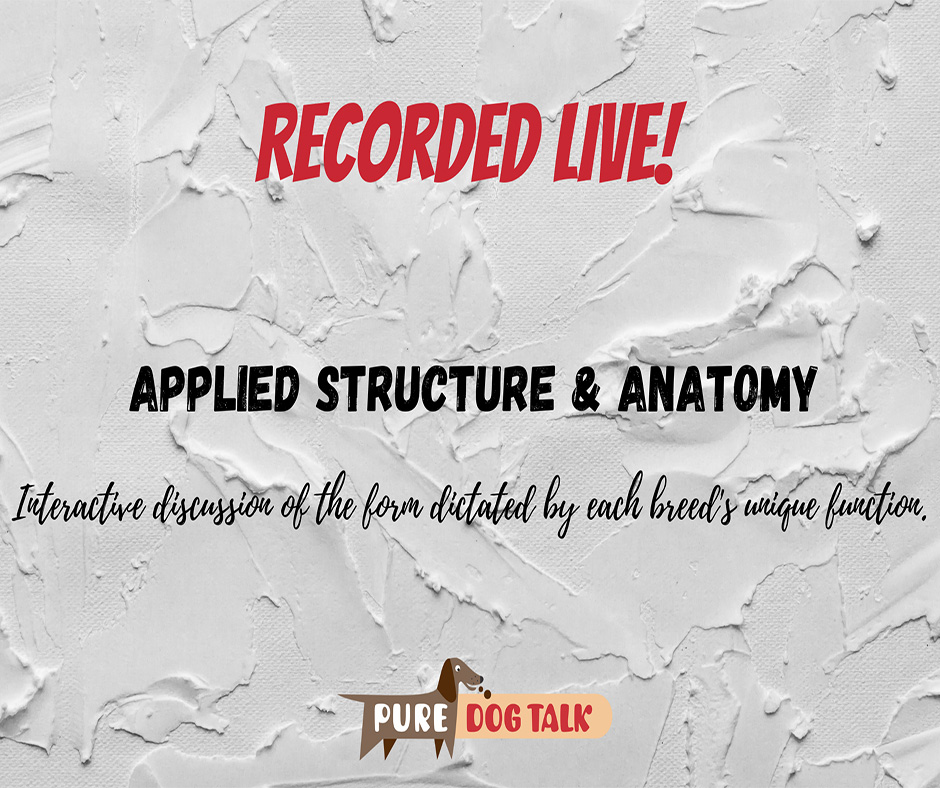 Applied Structure and Anatomy LIVE
Join the live studio audience with host Laura Reeves at Bonneville Basin Kennel Association to discuss why our dogs are built the way they're built. Laura and members of the audience address structure and why our dogs are built the way they're built.
Form and Function go together
There are a lot of differences between herding dogs, depending on the type of herding they did, according to AKC judge and Pumi breeder Chris Levy.
Tonia Holibaugh Cruz
A lot of people think "oh it's a toy dog, structure doesn't matter." What happens is that as companions, these dogs need to be able to live to 10 or 11 years old and still be able to make it to the food bowl. Your expectations of a Pekingese cannot be the same as your expectations of an Italian Greyhound. Even though they're all toy breeds, their purpose is completely different. The construction is different, therefore their abilities (are different.)
Linda Culver
A properly constructed Italian Greyhound can be just as sturdy as a Whippet
Carma Ewer
I love to see a beautiful schnauzer moving around the ring with great reach and drive, but you don't have to have great reach and drive to kill a rate. We are starting to lose some of our other qualities. We have to have strong teeth, muzzle and head to be able to do the job. You need to have good bone, muscle tone, don't want the rat pulling your dog in the hole because it's so weedy.
Lydia Hovanski Lyon
Tail placement on these terriers is so important. My Fox Terrier, when it goes to ground, and it's pulling out a fox, I have to be able to grab it by the tail and pull it out, to help it. If we can't grab onto those tails, that dog is useless and going to die. With the dogs that are going to ground, it is essential to pick them up by their tail. It's showing they can do the job.
Hear more on this topic when host Laura Reeves presents on Form and Function at Breedercon this weekend at the IKC show in Schaumburg, IL. Sign up for the seminars HERE.
KNOWLEDGE IS POWER — FRANCIS BACON
When you become a patron of Pure Dog Talk you'll tap into an exclusive community of experts to help you and your dog be blue-ribbon best at whatever you do with your purebred dog! Your support helps keep the MP3's rolling at Pure Dog Talk!
As a supporter, you'll immediately gain access to the weekly Pure Pep Talk SMS, Pure Pep Talk private Facebook group, and priority emails. Patrons can choose to level up to the After Dark Zoom and a Patrons Digital Badge for their website— even a private counseling session with Laura on any topic.