599 – Norwegian Elkhounds: The OG GPS Tracking System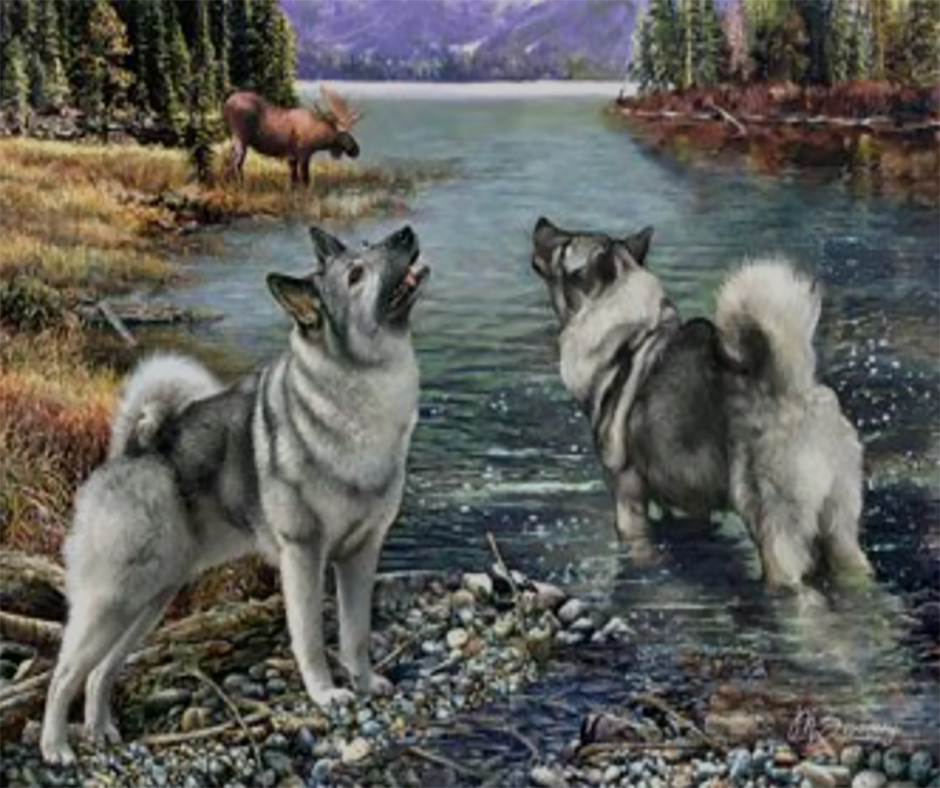 Norwegian Elkhounds: The OG GPS Tracking System
Kamilla Engen, Norwegian Elkhound breeder, judge and moose hunter in Norway, joins host Laura Reeves for a Love the Breeds discussion of this ancient hunting breed. Engen judged the breed's US National Specialty in May.
Per the Norwegian Elkhound Club of America, The Norwegian Elkhound is bold and energetic, a hardy gray hunting dog known for his lush silver-gray coat and dignified but friendly demeanor.
In appearance, a typical northern dog of medium size and substance, square in profile, close coupled and balanced in proportions. The head is broad with prick ears, and the tail is tightly curled and carried over the back. The distinctive gray coat is dense and smooth lying.
As a hunter, the Norwegian Elkhound has the courage, agility and stamina to hold moose and other big game at bay by barking and dodging attack, and the endurance to track for long hours in all weather over rough and varied terrain.
The durable Elkhound is among Europe's oldest dogs. They sailed with the Vikings and figure in Norse art and legend.
You Get the Dog You Deserve
"(These are) excellent family dogs," Engen said. "We also enjoy our nature. And it's the perfect companionship if you are hiking, going in the mountain. I always walk my dogs and so they are good off leash. I always said that you get the dog that you deserve. If you want the dog to get back to you, you have to start with that. It's a training. Of course. But if you start early and make it positive to come back to you, yeah, of course (they come when called). Because the ability that makes it an enormously great hunter is the ability to cooperate with the hunter.
"We have two kinds of forums of hunting that use these dogs. The one is the most usual is loose. You let the dog loose and you have a GPS tracker on it so you can see where it is and you can also see when it stands still and you can hear the barking. Then you have contact with a moose.
"The other one is with a very long leash, 5-6 meters. And let me just explain a little bit why we do that in Norway. Norway is a tiny country compared to the United States and we have distinct areas that we are allowed to hunt. In these areas you can hunt a certain number of mooses. OK and these dogs? They run far. And the and a moose doesn't always stop (in the confined area). So, if you have small areas, it's very helpful to have a leash because then you can control it a lot more and you can search a whole area.
"They locate the moose from a quite a long distance. They are incredible, their ability to do this. Then they located, they run over to it and hopefully they are able to get the moose to turn around towards them. To defend themselves. This is an old, old instinct that moose have from wolves and bears. And then the dog barks. From old times before the GPS trackers, the hunter hears that noise. And that was their GPS."
KNOWLEDGE IS POWER — FRANCIS BACON
When you become a patron of Pure Dog Talk you'll tap into an exclusive community of experts to help you and your dog be blue-ribbon best at whatever you do with your purebred dog! Your support helps keep the MP3's rolling at Pure Dog Talk!
As a supporter, you'll immediately gain access to the weekly Pure Pep Talk SMS, Pure Pep Talk private Facebook group, and priority emails. Patrons can choose to level up to the After Dark Zoom and a Patrons Digital Badge for their website— even a private counseling session with Laura on any topic.