194 — Andrew Brace "Totally Obsessed with Dogs"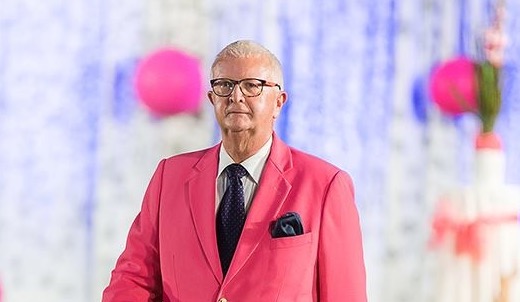 "Totally Obsessed with Dogs" and Finding Quality
Born to a long tradition of dogmen from Wales, Andrew Brace acquired his first Boxer in 1963 and began judging in the UK while still a young man. A strong voice in the international purebred dog community today, Brace is a long-time breeder, Best in Show judge and author.
"I was totally obsessed with dogs ever since I can remember," Brace said.
As a child he was immersed in the purebred dog scene, stewarding, traveling, reading dog books and joining dog clubs. One of his favorite early memories, after learning his beloved Bruce the Boxer was monorchid and couldn't be shown, is being given the job of "Honorary Veterinary Steward" — holding the towel for the veterinarian who was checking dogs in for the ring.
Match shows create community
The UK today, Brace said, has 27 all-breeds championship shows, with only five have championship points available for every recognized breed. Many more matches and open shows, where championship points are not awarded, are available. Brace noted that these shows offer a "social exercise" for the exhibitors where they can enjoy a day out and meet up with their friends.
Mentors offer a step up
"If people are honest," Brace said, "they all will admit they had help, from their elders and betters. People who gave them a step up. I'm very conscious to try and help young people I see who have a spart, as other people helped me."
Brace counts fellow Welshman and famed Pekingese breeder Nigel Aubrey Jones as the guiding influence in his life.
"Nigel was a genius. He was my idol and my mentor," Brace said. "I learned so much from him. He was my biggest critic and greatest supporter. He and Bill Taylor were remarkable gentlemen. Their quest for perfection in breeding Pekingese changed the breed worldwide. To be honest there isn't a day goes by I don't miss Nigel."
An eye for a dog
Things were not very scientific in becoming a judge, Brace noted. "It was very much about being identified as having an eye for a dog and then refining it through careful study and experience," Brace said.
The UK had many large kennels in those days, Brace added. "I would ask breeders if I could visit to learn about breed. People were always welcoming and keen to share their knowledge, being ruthlessly honest about (the dogs') faults and virtues."
"Quality is the difference between pottery and porcelain"
"Nigel drummed in to me the need to have quality in the dogs we reward," Brace said. "You won't find the word quality in any breed standard, but it is the one vital ingredient that we all need in our top winning dogs."
Brace's judging advice:
Always look at the overall picture when assessing a dog, rather than dissecting and evaluating individual details.
The secret is to find virtues.
Always stand back from a lineup of dogs and study silhouettes.
Join us next week when Mr. Brace shares his knowledge on successful dog breeding.
KNOWLEDGE IS POWER — FRANCIS BACON
When you become a patron of Pure Dog Talk you'll tap into an exclusive community of experts to help you and your dog be blue-ribbon best at whatever you do with your purebred dog! Your support helps keep the MP3's rolling at Pure Dog Talk!
As a supporter, you'll immediately gain access to the weekly Pure Pep Talk SMS, Pure Pep Talk private Facebook group, and priority emails. Patrons can choose to level up to the After Dark Zoom and a Patrons Digital Badge for their website— even a private counseling session with Laura on any topic.