195 – "Brace Yourself" for a Peek at the Masters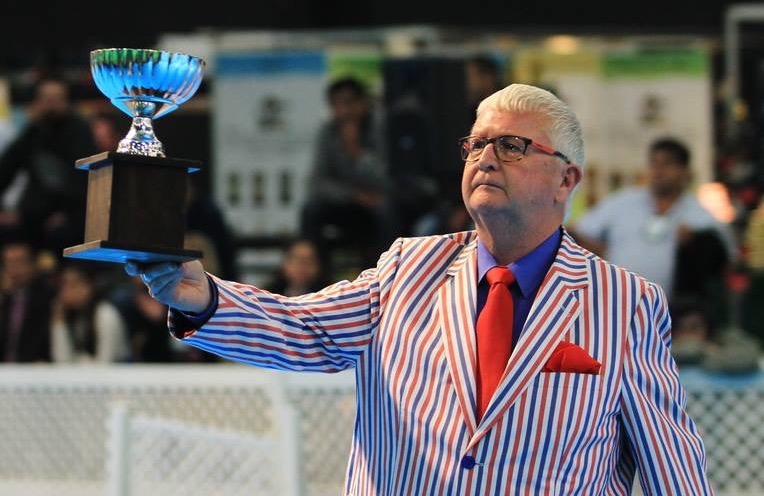 Behind the Scenes Peek at the Masters
In the second installment of my interview with international dogman Andrew Brace, he shares his personal memories of masters in the sport. His observations and interactions with Anne Rogers Clark, Pat Trotter, Jason Lynn, Frank Sabella, Michael Canalizo, Mary Dukes and more are legend unto themselves.
Brace wrote for top dog magazines from an early age. He had a weekly column in the UK's Dog World for more than 30 years and later a column in DogNews. He was co-author with Clark of the International Encyclopedia of Dogs, authored several books on his own, hosted television programs and has interviewed world-renowned legends in the sport.
Memories of legends
He offers a particularly intimate portrait of his work with Mrs. Clark, interviewing her and writing the Enclyopedia.
"She was extremely frank about all her doubts and fears," Brace said. "She explained that it was her husband Jim who really created the image everyone got to see. Jim built her up to be a much more self-confident woman who stood tall and proud and eventually got to the stage that everyone wanted to be Annie's gang. Annie was without doubt the most complex person I've ever met. A total one-off."
In his many media gigs, Brace interviewed top members of the sport, including Mrs. Trotter.
"Pat is such a charismatic lady with infinite knowledge," Brace said. "One of those people who can just articulate her thoughts so perfectly. Pearls of wisdom just drop from her lips one after the other."
He also moderated a series of Master Classes, including one with Mr. Lynn and Mr. Sabella.
"Jason was always kind of the quiet guy in the background," Brace noted. "I was totally amazed. People were just spellbound."
"When I was a teenager, my friends had posters of pop stars or footballers on their bedroom walls," Brace recalled. "I, of course, had the famous photo of Frank (Sabella) in a tight white vest on Malibu Beach with Command Performance the white standard poodle in midair. At that time, little did I think I would ever meet this legend, much less become one of his closest friends."
Currently on a hiatus from judging while taking care of his aging mother, Brace said he misses the chance to "find" a great dog, often as a youngster. He partially makes up for it with the occasional litter evaluation.
"I just adore looking at puppies. I like to see them at 8 weeks as they tend to be in proportion. I want to see them just stroll around yard. In this way, you can see overall shape, how the puppy carries itself, where it puts its feet down. You can see how it interacts with its littermates. So really those qualities we look for in a show dog are there from the start. Every once a while you see something strutting around the yard that just has that extra something, you think yeah…. And then you watch it blossom. That is the future."
Join us Thursday for our final installment in this wonderful series. I've included links to a few of Brace's books below. You can also check out the YouTube video teaser for the DVD of the Master Class series with Jason Lynn and Frank Sabella. And don't forget to listen to my interview with Jason here on PureDogTalk if you haven't already!
Be sure to listen to the end of the show for Allison Foley's Tip of the Week from the Leading Edge Dog Show Academy about "making your own brand with your trimming."
KNOWLEDGE IS POWER — FRANCIS BACON
When you become a patron of Pure Dog Talk you'll tap into an exclusive community of experts to help you and your dog be blue-ribbon best at whatever you do with your purebred dog! Your support helps keep the MP3's rolling at Pure Dog Talk!
As a supporter, you'll immediately gain access to the weekly Pure Pep Talk SMS, Pure Pep Talk private Facebook group, and priority emails. Patrons can choose to level up to the After Dark Zoom and a Patrons Digital Badge for their website— even a private counseling session with Laura on any topic.