279 – Brian Cordova on Poodles, PCA and the Definition of "Poodly" | Pure Dog Talk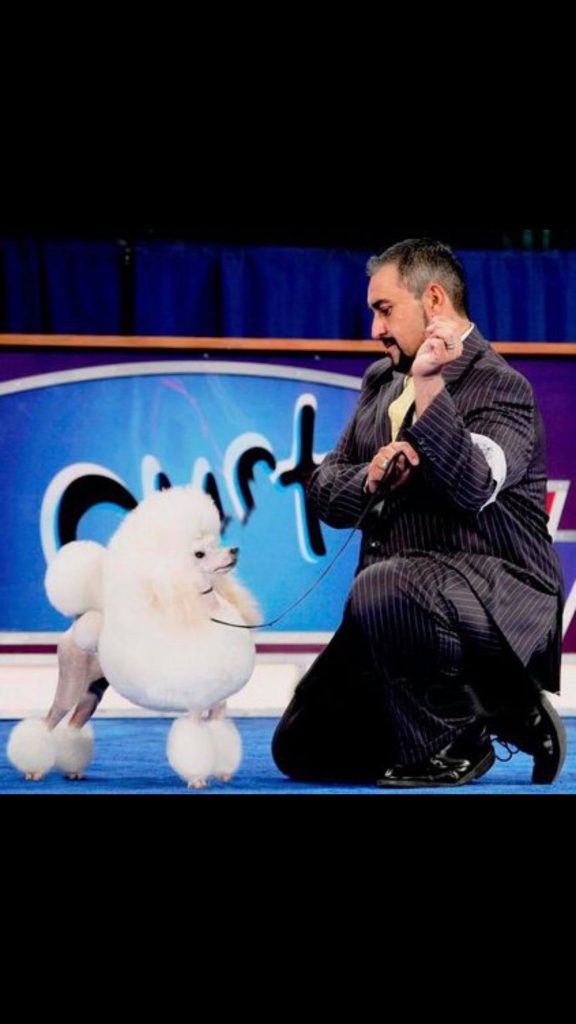 Brian Cordova on Poodles, PCA and the Definition of "Poodly"
Miniature Poodle breeder Brian Cordova visits with host Laura Reeves about all things "poodly," PCA (hint, Christmas in April!) and meeting "god."
Poodle Club of America, currently hosted at Purina Farms in Missouri, in the early days was an outdoor event on the East Coast, for many years in Maryland. Cordova said the decorations at Purina Farms will make it seem like the dogs are being shown at a park, but with the convenience of being indoors.
Poodles, while attracting luminaries of purebred dogs, can be controversial, Cordova said, because of the trim. The continental clip, which served a function for the breed when retrieving waterfowl, is just window dressing he added.
"Ignore the trim and look at the legs and bones and what you'd judge on any other dog," Cordova said. "The dog has to be sound. The rest of it is just fancy. When you say 'poodly,' people know what that means. It's carriage and distinction."
Cordova remembers his singular visit to the home of Anne Rogers Clark, while he was an apprentice for legendary handler Tim Brazier. The team was showing Clark's Poodles at the time. There, on "god's" refrigerator, was a picture of Cordova with Mrs. Clark's dog.
"It was spine tingling," Cordova said.
Much of the excitement in Poodles today surrounds the Standard variety, but Cordova said miniatures used to be the popular variety.
"There would be hundreds of (miniatures) entered everywhere," Cordova said. "But PRA blindness decimated the variety. They really took a tough turn." Fortunately, he said miniatures had largely separate gene pools for black/brown and white colors. Breeders were able to cross the color gene pools to help clear the problems and build back. When testing for PRA became available, Cordova said that made a huge difference for the variety.
Cordova shared PCA memories going back 30 years of dogs and people. He vividly describes a memory of standing on a field dripping in sweat, watching miniatures, while the judge ran two outstanding bitches of the day against each other.
KNOWLEDGE IS POWER — FRANCIS BACON
Pure Dog Talk is grateful to all of the mentors in our sport who support us with their knowledge, their kindness and their generosity. JOIN us today in providing access to this invaluable "watering hole" for anyone who is thirsty for knowledge. Your pledge of as little as $5/month helps guide the next generation of dog fanciers. Click the "Be My Patron on Podbean" button to join our "listener supported" team at Pure Dog Talk.