208 – Dr. Carmen Battaglia – Breeding SUPER Dogs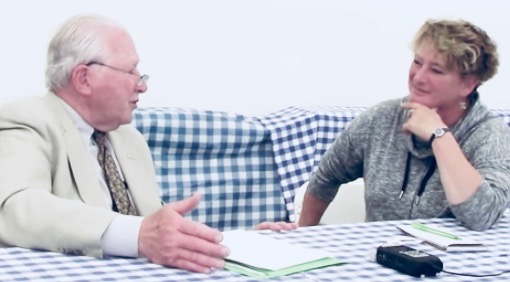 Carmen Battaglia's Recipe for Breeding SUPER Dogs
Dr. Carmen Battaglia, AKC Board member, judge and author joined Pure Dog Talk host Laura Reeves for a LIVE seminar sponsored by Del Monte Kennel Club. Battaglia shared information about his SUPER dog breeding program featuring pedigree research, supplements, early stimulation and socialization.
"I can't teach everything you need to know on this subject in an hour," Battaglia chuckled. "Do your homework!" His deep and resource-rich website, Breeding Better Dogs, is an impressive place to start.
Battaglia's SUPER dog program is designed to produce dogs which are mentally and physiologically superior to their competitors, with great stress tolerance and disease resistance.
"Anybody who's willing to do the work can breed these dogs," Battaglia said.
Pedigree research
Breeding these outstanding dogs starts with selecting the right sire and dam. The 28 ancestors shown on a typical three generation pedigree tell us nothing heritable, Battaglia observed.
"You need to understand the strengths and weaknesses in a pedigree," Battaglia said. "The conformation, health and behavior traits we want don't show up in names, titles and certifications."
He recommended incorporating the stick dog and symbols pedigree systems in order to identify conformation, health and specific behavioral traits to make an ideal pairing. The symbols pedigree, Battaglia said, is designed to enable breeders to manage the "dreaded diseases" – those that kill, cripple, cause early death or blindness.
Breeding systems such as line-breeding, formula breeding and "breeding up" are all useful tools for producing superior dogs, Battaglia said.
Once the pedigree plan is established and the breeder is ready to move forward, Battaglia offers an extended program to build on the pedigree.
Supplement, stimulate, socialize
He recommends supplementing the dam with DHA from the first day she is bred to the day she weans the puppies. And supplementing the puppies from the day they are weaned until 14 weeks old. DHA supplement enhances the brain of the fetus, he added, noting that by 14 weeks old the puppy's brain is 90 percent developed. Research shows these puppies will test 50 percent smarter than puppies fed a lower amount or not supplemented at all.
The next step in the SUPER dog program is early neurological stimulation. This program involves touching the puppies toes, rotating their body positions and placing them on a cold surface daily from the third to the 16th days of life. This system produces notable improvement in cardiovascular development, but Battaglia strongly cautions that too much of a good thing is a fatal error.
As the puppies grow in these carefully designed and developed litters, other important steps include allowing the puppy to watch its dam perform a specific desired task; socializing them to new places, sounds and smells; and, "enrichment" exercises to teach the dog to focus in a new environment.
The SUPER dogs program is being used to help breeders in the US produce the explosives detection dogs at home that are in demand for protecting our military and civilian installations. AKC is hosting a conference to bring together stakeholders, Battaglia said, to advance this important project.
Enjoy this tremendous opportunity from one of the legends in our purebred dog community.
KNOWLEDGE IS POWER — FRANCIS BACON
When you become a patron of Pure Dog Talk you'll tap into an exclusive community of experts to help you and your dog be blue-ribbon best at whatever you do with your purebred dog! Your support helps keep the MP3's rolling at Pure Dog Talk!
As a supporter, you'll immediately gain access to the weekly Pure Pep Talk SMS, Pure Pep Talk private Facebook group, and priority emails. Patrons can choose to level up to the After Dark Zoom and a Patrons Digital Badge for their website— even a private counseling session with Laura on any topic.