557 – From Chasing to Pacing: Troubleshooting In-Ring Movement Issues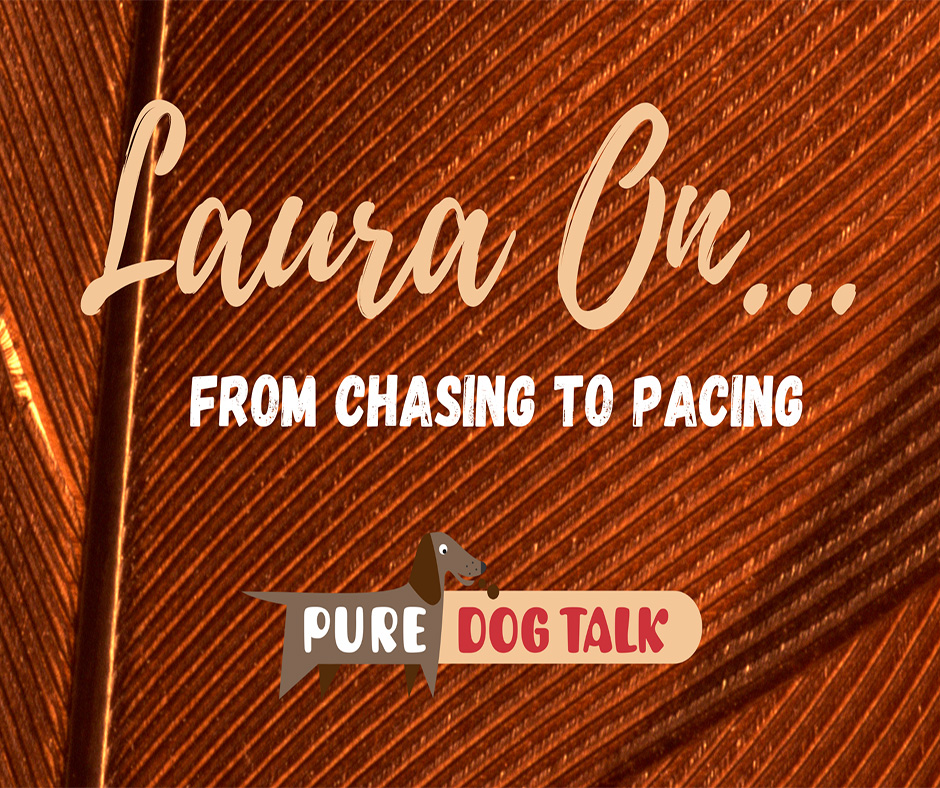 From Chasing to Pacing: Troubleshooting In Ring Movement Issues
Laura's monthly LIVE@5 podcasts offer an interactive opportunity for listeners to ask questions and get personal insight. This particular topic revolved around questions regarding movement. Laura provides techniques to deal with dogs that pull, lunge, lack focus or pace in the ring.
Q: (My dog) has this new thing where, on the go round, he pulls very hard toward the center of the ring and starts to gallop.
A: Our dogs don't communicate with us, and we don't communicate with them, with our words. What they hear is our tone of voice. Our body language and our energy. So, like our nervous energy, or our negative energy, or our very positive energy, or most importantly our Zen.
If the situation happens when going around with a group of dogs, instead of standing there facing the back end of those dogs as they start to run away, I turn the dog. I put him fully perpendicular to that line of dogs running away. I keep him completely focused on me and on a watch me until it is our time to go. We give the dog in front of us three full strides before I start. And then we go and then the dog is going to be more collected, more together.
Q: When gaiting, (my dog) always wants to be looking at me instead of straight ahead where we're going, which I feel throws off his gait.
A: Don't look at the dog. It seems kind of silly and sort of simple, but we get so worried about what the dog is doing that we're constantly looking at them. And the dog's reaction of course because again, they don't respond to words, they respond to body language. If we're giving them eye contact, they're going to give it back.
Laura covers everything from chasing to pacing in this great interactive conversation.
Don't forget to check out the next LIVE@5 on the first Tuesday of every month.
KNOWLEDGE IS POWER — FRANCIS BACON
When you become a patron of Pure Dog Talk you'll tap into an exclusive community of experts to help you and your dog be blue-ribbon best at whatever you do with your purebred dog! Your support helps keep the MP3's rolling at Pure Dog Talk!
As a supporter, you'll immediately gain access to the weekly Pure Pep Talk SMS, Pure Pep Talk private Facebook group, and priority emails. Patrons can choose to level up to the After Dark Zoom and a Patrons Digital Badge for their website— even a private counseling session with Laura on any topic.