273 — Herding Dogs: "Eye," Competition and Genetic Instinct | Pure Dog Talk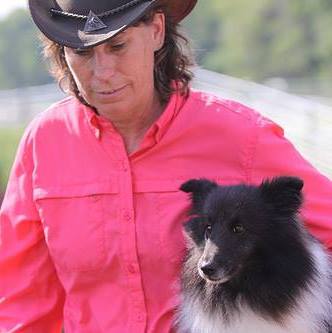 Herding Dogs: "Eye," Competition and Genetic Instinct
Herding dog trainer and Shetland Sheepdog breeder Tammy Van Deusen joins host Laura Reeves to share her knowledge.
"Give 'em the Eye"
We talk about "eye" contact, the way Border Collies and Kelpies control stock, versus "loose eye" breeds such as Shelties and the Belgian breeds, that control the stock with their movement.  Van Deusen takes us through all of the testing options, what they are and how to train for them. And most importantly, she talks about the loss of genetic instinct in herding breeds.
Van Deusen's first advice is to find a good instructor. Check out the facility before you sign up, she said. She works with clients who want to see if their dog has herding instinct. She'll often give them three to four lessons with her "school sheep" to see if the dog will "turn on" to stock.
If the dog doesn't have a lot of drive on stock, Van Deusen said, it can still be successful in other performance sports like agility and obedience.
One of the characteristics Van Deusen is looking for in the dogs is whether they are just chasing versus herding the stock to turn and bring it to you. "Too much prey drive won't make a good herding dog," she noted.
Start proving natural instinct
Different breeds work stock differently, Van Deusen said. Certain breeds, like Rottweilers and Corgis, are considered "drovers" – driving the stock forward. Border Collies and Kelpies, with their intense "eye" and low bodies were developed for working huge fields of stock to gather and bring *toward* the handler. The basic farm dog breeds, like Shelties, Tervuren and others, were developed to serve a more multi-purpose function.
"Herding judging should be about the sheep," Van Deusen said. "They're looking at the path the sheep are taking, are the sheep calm, more so than the dog. How the stock is moving is what the dog is doing. A good herding run is like watching paint dry. Running stock is running meat off the animals and stressing them out. A dog that works too fast, too intense, loses the rancher money."
Genetic loss of performance skills and inherited instinct
Border Collies have been bred for one thing for thousands of years, Van Deusen noted. As such, the breed's basic instinct remains strong.
"A lot of breeds, people don't care anymore about the herding piece," Van Deusen said. "In two generations, you can lose instinct. I don't think people realize that."
KNOWLEDGE IS POWER — FRANCIS BACON
Pure Dog Talk is grateful to all of the mentors in our sport who support us with their knowledge, their kindness and their generosity. JOIN us today in providing access to this invaluable "watering hole" for anyone who is thirsty for knowledge. Your pledge of as little as $5/month helps guide the next generation of dog fanciers. Click the "Be My Patron on Podbean" button to join our "listener supported" team at Pure Dog Talk.