231 – Researching Connections Between Ticks and Cancer, Other Disease | Pure Dog Talk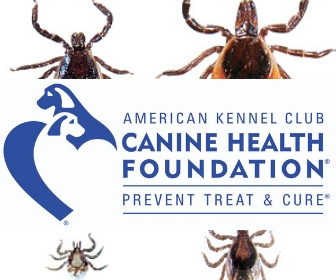 Research shows growing problem with ticks
Ticks are creepy crawly creatures we all love to hate. But they are also dangerous disease vectors transmitting deadly organisms. Dr. Diane Brown, CEO of the AKC Canine Health Foundation, shared incredibly
valuable information about what her organization is doing to lead the fight against these diseases.
CHF funded research has identified a class of tick-borne organisms, called Bartonella. Bartonella invades the host's blood vessels and can cause inflammation in the heart.
"What if that (bartonella infection) is the early trigger that leads to chronic inflammation in the blood vessels," Brown posits, "potentially leading to the development of cancer."
Current CHF funded research is looking at bartonella in association with hemangiosarcoma, literally cancer of the blood vessels.
"It's a little controversial," Brown said "but there's a lot of impetus driving the research in this direction."
Tick-borne organisms associated with deadly disease
The Foundation's research also has shown immune mediated hemolytic anemia can be associated with tick borne disease.
"It's critical to test these dogs for an underlying tick borne infection before treating them with steroids that can just exacerbate the problem," Brown said.
The CHF initiatives are working on broad spectrum of vectors that impact the health of dogs, Brown noted. She added that new tick species and diseases are discovered every year.
"Tick preventives are key to keeping your dog healthy," Brown said. With the rising number of "co-infections" she noted that testing for more than one disease is imperative.
CHF has a three-prong approach to this burgeoning crisis. The non-profit funds research focused on diagnosis, new therapies for treatment and prevention.
Hear more on this topic with CHF Board Member Susan Hamil:
https://puredogtalk.com/64-bloodhound-mantrailing-and-canine-health-foundation-tick-program-with-susan-hamil-2/
Additional Resources from CHF:
CHF Tick-Borne Disease Research Initiative landing page; includes grants, research publications, webinars, podcast, news, other resources
White paper:
http://www.akcchf.org/canine-health/sporting-field-dogs/Tick-borne-Disease.pdf
Lyme Disease Fact Sheet:
http://www.akcchf.org/canine-health/top-health-concerns/current-topics-in-infectious-disease/AKC-CHF-Lyme-Disease-Fact-Sheet.pdf
Ticks and Zoonotic Disease Webinar with Dr. Ed Breitschwerdt:
https://www.vetvine.com/article/274/akcchf-tick-borne-diseases-event
Diane Brown, DVM, PhD, Dipl. ACVP, is the Chief Executive Officer and Chief Scientific Officer for the AKC Canine Health Foundation (CHF). She joined CHF in August 2015, and oversees operations and scientific programs from its Raleigh, NC headquarters. Her role is to cultivate and execute the Foundation's research and education strategy in collaboration with its Board of Directors, Scientific Review Committee, external collaborators, principal investigators and staff to ensure strategic, responsible, and innovative application of donor funds to uphold the Foundation's Mission to advance canine health.
Dr. Brown is a board-certified veterinary clinical pathologist who holds a DVM and PhD in pathology from Colorado State University. As an independent investigator and comparative pathologist, Dr. Brown served as a member of the faculty at Harvard Medical School, as director of the Comparative Clinical Pathology Laboratory at Massachusetts General Hospital, and as consulting pathologist at the University of Colorado. She previously served as Chief Scientific Officer for Morris Animal Foundation, and currently holds an affiliate faculty position in the Department of Molecular and Comparative Pathobiology at Johns Hopkins University School of Medicine. She has held prior affiliate faculty appointments in the veterinary schools at Tufts Cummings School of Veterinary Medicine, Colorado State University and Purdue University.
KNOWLEDGE IS POWER — FRANCIS BACON
Pure Dog Talk is grateful to all of the mentors in our sport who support us with their knowledge, their kindness and their generosity. JOIN us today in providing access to this invaluable "watering hole" for anyone who is thirsty for knowledge. Your pledge of as little as $5/month helps guide the next generation of dog fanciers. Click the "Be My Patron on Podbean" button to join our "listener supported" team at Pure Dog Talk.