569 – OFA Launches New Testing for Brachycephalic Breeds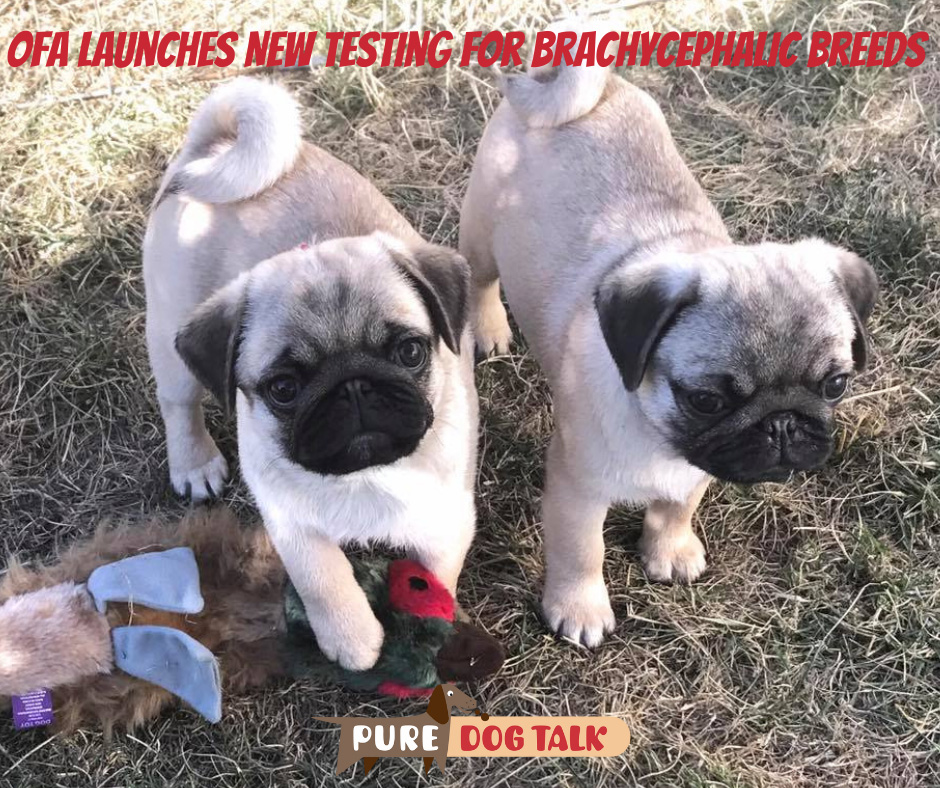 OFA Launches New Testing for Brachycephalic Breeds
Eddie Dziuk, Chief Operating Officer at the Orthopedic Foundation for Animals, and Dr. Kathleen Smiler, DVM, Health Committee Representative from the Pug Dog Club of America, join host Laura Reeves to introduce the new BOAS testing program.
"Brachycephalic Obstructive Airway Syndrome (BOAS) is a condition which may cause breathing difficulties in breeds such as Bulldogs, French Bulldogs and Pugs," according to the OFA. "BOAS is caused when the soft tissue in the nose and throat are excessive for the airway, partially obstructing the airway and making it difficult for them breathe normally.
"BOAS is a progressive disorder and can impair a dog's ability to exercise, play, eat and even sleep. Clinical signs of BOAS are variable and may include noisy breathing, exercise and heat intolerance, regurgitation and dysphagia. Unfortunately, many owners are unaware of the disease, and often interpret breathing noises or difficulties as simply normal for the breed.
"In an effort to learn more about the condition, increase awareness, and ultimately reduce the incidence of BOAS, researchers at the University of Cambridge in the UK developed the Respiratory Function Grading Scheme (RFGS). The goal of the RFGS was to develop an objective test to measure the clinical diagnosis and severity of BOAS. The OFA has joined this international effort and has licensed the RFGS for use in the US and Canada.
"The exam is conducted by a specially trained and approved veterinarian and consists of 4 steps:
A short health survey regarding the dog's breathing history
A brief physical exam while the dog is calm including auscultation where the assessor listens to the dog's breathing with a stethoscope gently positioned on the side of the neck. This establishes a baseline for any clinical signs of BOAS.
A short exercise test consisting of a brisk three minute walk. This is designed to expose clinical signs of the disease in an otherwise calm and asymptomatic dog. It is not designed to assess cardiovascular fitness.
A post exercise auscultation after increased airway activity to compare to the pre-exercise baseline."
"I think the veterinarians were extremely enthusiastic," Smiler said of the veterinarians participating  at a recent event in Portland, Oregon. "And I think the participants were quite pleased too, I think. I went and sat in the meet the breeds box with the pug people in Portland and everybody was quite satisfied. I think our club in general was very satisfied."
"We examined 54 dogs (at the rollout in Portland)," Dziuk said. "We actually did 60 where we had a couple breeds that weren't on the official breed participant list yet. So, we had 54 between Bulldogs, Frenchies and Pugs and we also had a couple of Bostons and Pekes.
"Overwhelmingly (we had) pretty good results. We had 10 Grade 0. So, the grade zeros are basically everything was good. These dogs were good breathers, they had nice wide open nostrils. There were no sounds of turbulence or anything during the auscultation, so everything was looking pretty good. We had 18 grade 1, which is also good. It means that in general, nothing could be heard without a stethoscope and you could only hear some of the minor issues with the stethoscope, but the dogs are basically still found to be clinically unaffected by BOAS. We did have 25 grade twos and we had one lone grade three.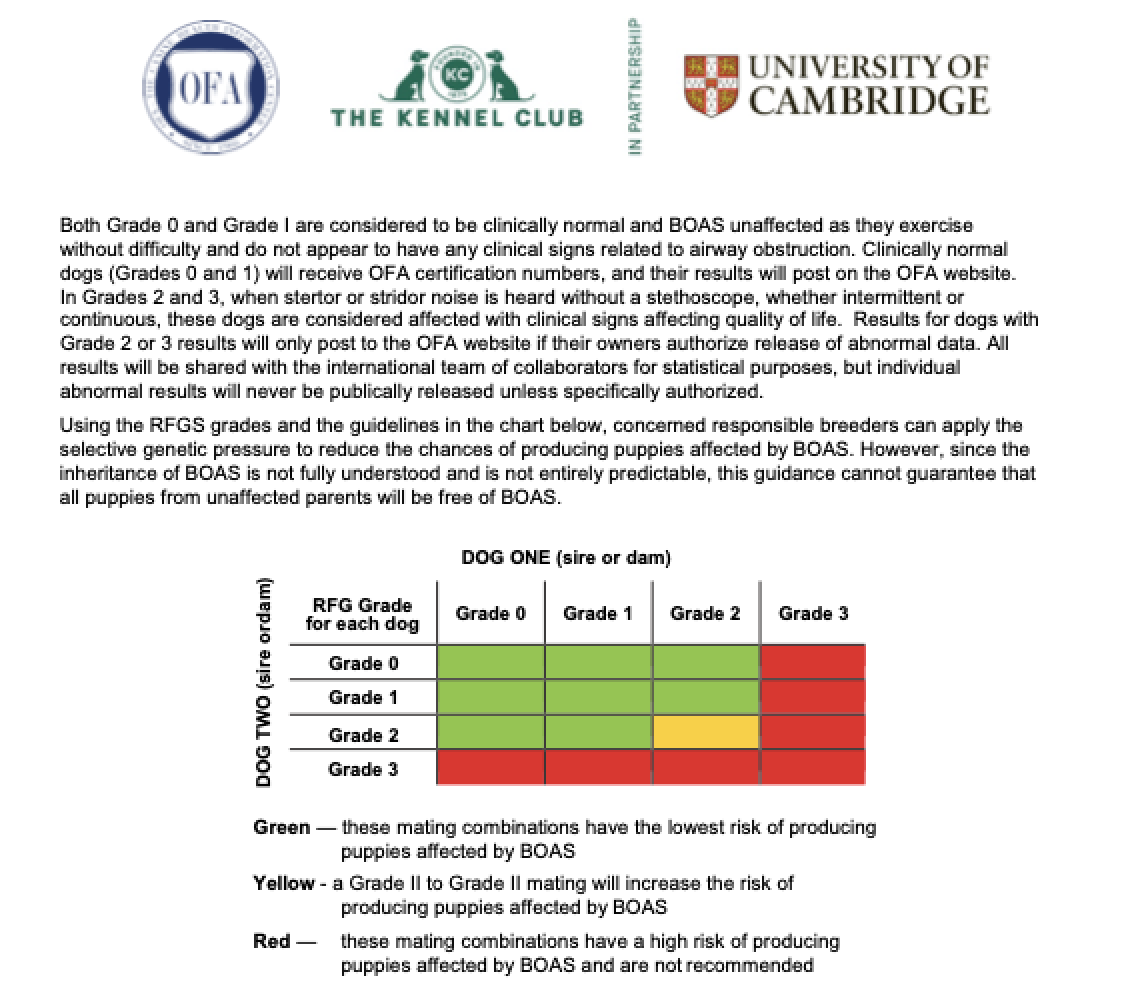 "I think that goes to prove the point that not all Bulldogs suffer breathing difficulties, not all Frenchies suffer breathing difficulties, and not all pugs do either. That there is a large group in all three of those breeds where they're good healthy dogs that breathe fine, that don't show signs of exercise intolerance, and we can work with those dogs and breed them and hopefully breed lots of future generations of good, healthy Frenchies, Pugs and Bulldogs."
"We're certainly very sensitive to the criticism that's been directed toward brachycephalic breeds," Smiler said. "I think we're fortunate here in the US, where (breeding) isn't a regulated activity, nor has the Veterinary Association attacked the breeds as they did in Europe. We're going to make this information available to our members and highly encourage them (to participate). Then eventually I'd love to educate the puppy buyers. I think it'll be very positive across the board."
Listen in to the full episode for more details.
KNOWLEDGE IS POWER — FRANCIS BACON
When you become a patron of Pure Dog Talk you'll tap into an exclusive community of experts to help you and your dog be blue-ribbon best at whatever you do with your purebred dog! Your support helps keep the MP3's rolling at Pure Dog Talk!
As a supporter, you'll immediately gain access to the weekly Pure Pep Talk SMS, Pure Pep Talk private Facebook group, and priority emails. Patrons can choose to level up to the After Dark Zoom and a Patrons Digital Badge for their website— even a private counseling session with Laura on any topic.