262 — Will Alexander on Grooming, Handling and Heroes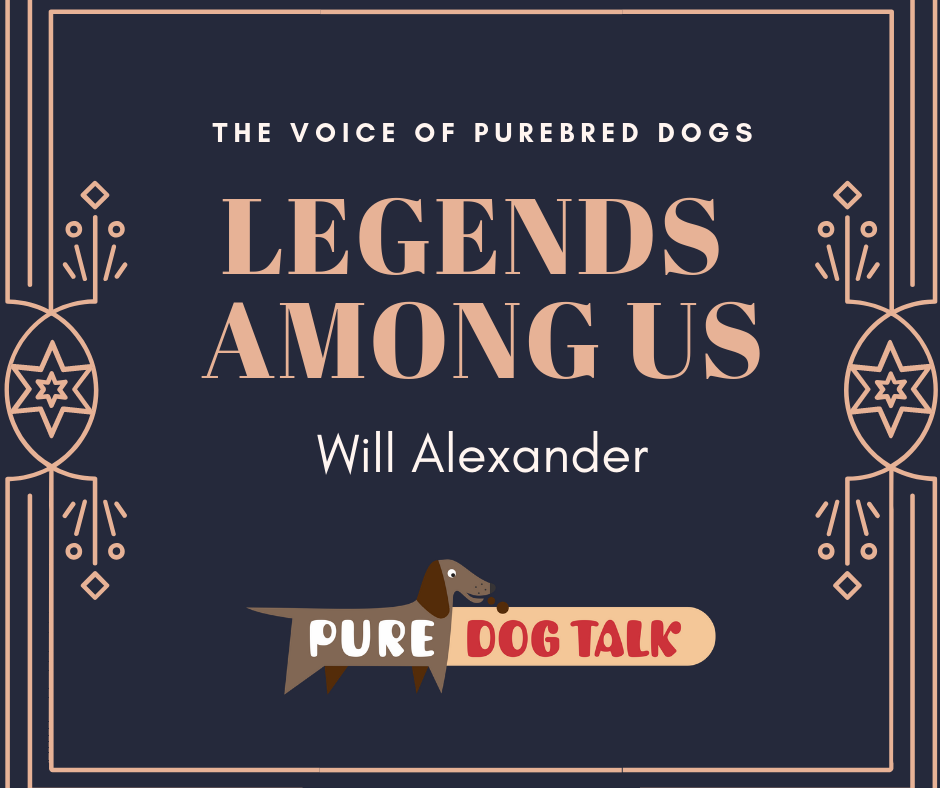 Will Alexander on Grooming, Handling and Heroes
Canadian dog handling legend, Will Alexander, shares his memories, his handling tips and grooming tools that have brought him significant success in the last 25 years.
"My heroes were people like George Alston," Alexander said. "He basically taught me to trim Irish Setters over the phone."
"I always wanted to be a handler, but before embarking on a handling career I worked for Garry MacDonald in Canada, and for Bobby Stebbins in the States," Alexander said.
Carving the picture
Grooming is not a recipe, Alexander noted. Every dog is different. Famous for his meticulous grooming of setters particularly, Alexander describes a process to "build a shell around the dog" when trimming the back coat. He works with a stripping knife, his fingers, a grooming stone and, the most important piece, a bristle brush to bring up the oils in the coat.
Attention to detail
"I hate it when I hear "Oh, they won because they are so and so… well, they didn't just grow up and they were so and so… they had to work hard to become so and so," Alexander said. "It's hard work. For every 15 minutes of fame there are 23 hrs 45 minutes working on your dog. It's not age, it's mileage."
Tips of the trade
Think in slow motion. In real time you're doing exactly the right speed.
"When Miss P won the group at the Garden, George Alston called and yelled at me that I had gone too fast on the down and back.  It was terrifying!"
"I like to sit and watch the ring, pretend I'm in there already, making my mistakes in my head so I don't make them in the ring."
"Old fashioned" isn't bad
"I have a mind's eye picture of the dogs. So much of type is in how they move, how they carry themselves," Alexander said. "We need to be preserving the breeds not 'improving' them."
Dream Best in Show Lineup
English Springer Spaniel Ch. Salilyn's Condor
Borzoi Ch. Kishniga's Desert Song
Doberman Pinscher Ch. Brunswig's Cryptonite
Wire Fox Terrer ch galsul excellence
Pekingese Ch. Wendessa Crown Prince
Standard Poodle Ch. Rimskittle Ruffian
German Shepherd Dog Ch Altana's Mystique
BIS to Robert the Springer
For more information, videos, the book and more, visit http://www.doghandlingtips.com/
KNOWLEDGE IS POWER — FRANCIS BACON
When you become a patron of Pure Dog Talk you'll tap into an exclusive community of experts to help you and your dog be blue-ribbon best at whatever you do with your purebred dog! Your support helps keep the MP3's rolling at Pure Dog Talk!
As a supporter, you'll immediately gain access to the weekly Pure Pep Talk SMS, Pure Pep Talk private Facebook group, and priority emails. Patrons can choose to level up to the After Dark Zoom and a Patrons Digital Badge for their website— even a private counseling session with Laura on any topic.