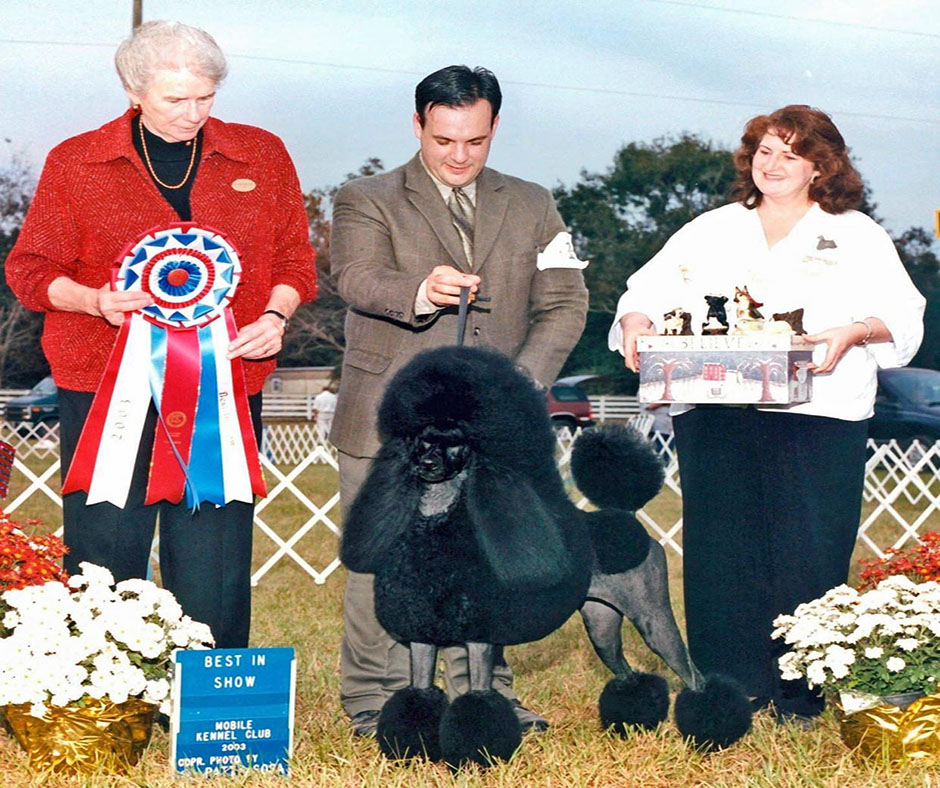 Poodles, Professional Handlers and Public Image
Christian Manelopoulos is back with host Laura Reeves for more Pure Dog Talk on Poodles, Professional Handlers and the sport's Public Image.
"I think really great people are very generous with their time and advice," Manelopoulos said. "In the end, the thing we all struggle with is having time to do things. And so when people are generous with that time, you really have to soak that in. But the really great people are willing to do that.
"People think of handlers in one way and breeders another way and that they are two separate things. But they're very dependent upon one another. I do think people don't realize how much professional handlers actually influence breeds positively. We always get the negative….
"We've seen a rapid decline in big breeding kennels. There's still a lot of people that breed but when you breed one litter a year or one litter every two years, it's really not enough. As dog show people, we need to pay a little bit more attention to these kinds of things. We do need people to breed litters of dogs. There's just not enough dogs out there for the people that want them, especially purebred dogs. But we need to market ourselves correctly and we need to promote the breeds, the dogs, in the correct way.
"I mean, we can't be elitists. When people come to dog shows and you're rude to people and you talk to them like they're idiots, they're not going to want to come back. We need to be encouraging to people about the dogs. We need to breed healthy dogs. People buy purebred dogs because they want dependability. It's like what Apple is. You buy an iPhone because it works. You buy a purebred dog because you want to get a poodle that looks like a poodle, acts like a poodle, has a temperament and then is hopefully healthy.
"The first poodles that I bred, I have none of that bloodline in my lines today because of health reasons. So you can't be afraid to start over. You have to eliminate dogs from your breeding programs and move on. That doesn't mean you need to eliminate all of them. You have to be diligent in what you do and examine correctly 'what I can work with, what I can't work with.'
"We need to promote a positive image of the sport. We see people flying with their fake service dogs and they post videos on Facebook and people talk about how cute it is that you are committing a federal crime. I don't think that that's the right message we should send people. You could see why that would come off the wrong way to the general public. We need to self-examine."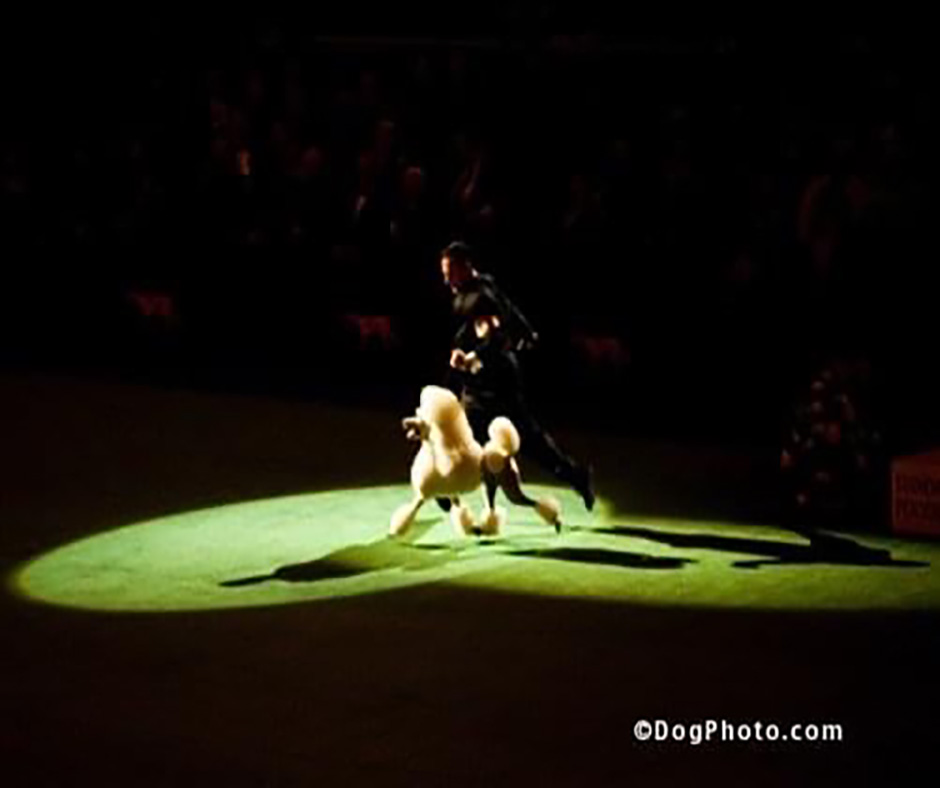 Christian Manelopoulos: "I'm Going to America"
Professional handler Christian Manelopoulos joins host Laura Reeves for part one of a wide-ranging conversation about professional handling, working as an apprentice, the toughest dogs to trim and the challenges of moving to America to begin his career.
Manelopoulos started in purebred dogs as a teenager in Australia after a knee injury ruined his cricket game. He eventually worked his way up to earning expense money showing dogs for the president of the Victorian Kennel Association.
But what he really wanted to do was move to the US and show dogs like the pictures he saw in Kennel Review of Frank Sabella's poodles.
So, when he had a chance to work for Joe and Pauline Waterman in Southern California in the early 1990s, he jumped at the chance.
"Going to Joe and Pauline was fantastic because being in Los Angeles, Dick Beauchamp and Frank Sabella would call the kennel. At that time (the Watermans) were still breeding Bichons a little bit. I would study the pedigrees of all the Bichons and all the dogs. I knew their pedigrees better than they did. I was so eager to learn at that time and so that was a tremendous experience.
"The dog show world in Los Angeles in the early '90s was a world of its own in that sense. Corky (Vroom) was like the king and then Bruce and Gretchen (Schultz), and then Joe, so it was a tremendous learning experience.
"I tell people it was different also because we didn't have as many dog shows. Most of the shows were only Saturday and Sunday shows. So, all of the assistants, Woody's assistants and Bruce and Gretchen's and Corky's, we would often get together on Tuesdays and go and do things. So it was a very communal thing.
"Pauline, Sue (Vroom), Gretchen and Bergit Coady, they were very motherly influences on a lot of the (dog show) kids in the LA area. Especially someone like me, I came from another country, my family was thousands of miles away, so in many ways these women replaced my parents for me. I'm very appreciative to all of them. Sadly most of them have passed away now, but it was definitely a different time.
"I groomed all the time. I mean, that's the story of my life for 30 years. I tell people that I started working 15 hours a day and here I am 30 years later, I still work 15 hours a day. Everyday. It hasn't changed.
"You're very much an entrepreneur in this business. You're self-employed, so the businesses is you. When you start out, you go out from being an assistant, you go out to become a handler, you're literally saying 'for the next 15 years of my life I am gonna work every waking minute of every day. I am going to forego going to people's birthday parties and weddings and things like funerals and baby showers. I will regret many of those things.'
"But those are the compromises you make to be really successful. Now people can say 'well, I want a work life balance.' Those people either generally come from wealthy families or they're not that successful. The most successful people, time and time again, that is their story. If you think it's going to be different, then you should probably try something else, 'cause it's not.
"You have to run it as a business. A lot of kids, they think 'oh, I wanna get a big winning dog and then they travel around (in) a big truck, with a big mortgage for that truck, and make no money. They do some winning and then it's all over. The most common issue dog handlers run into is tax issues. You're self-employed, you don't save enough money for taxes and things like that. Probably lesson number one I tell everybody get a great accountant."