530 – Poodles, Professional Handlers and Public Image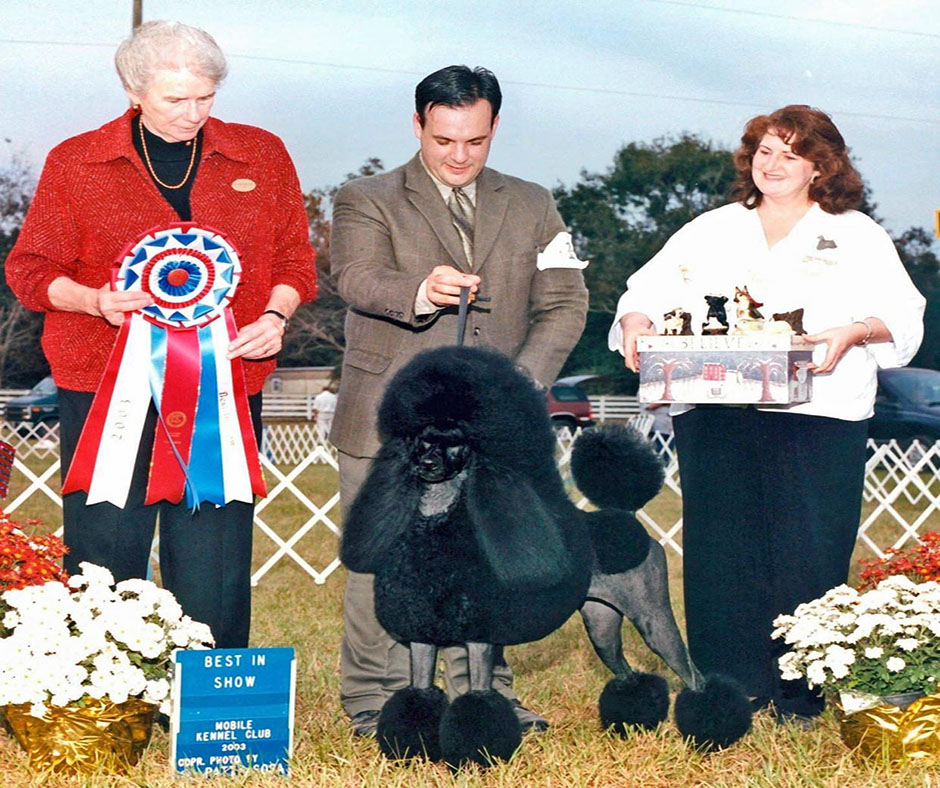 Poodles, Professional Handlers and Public Image
Christian Manelopoulos is back with host Laura Reeves for more Pure Dog Talk on Poodles, Professional Handlers and the sport's Public Image.
"I think really great people are very generous with their time and advice," Manelopoulos said. "In the end, the thing we all struggle with is having time to do things. And so when people are generous with that time, you really have to soak that in. But the really great people are willing to do that.
"People think of handlers in one way and breeders another way and that they are two separate things. But they're very dependent upon one another. I do think people don't realize how much professional handlers actually influence breeds positively. We always get the negative….
"We've seen a rapid decline in big breeding kennels. There's still a lot of people that breed but when you breed one litter a year or one litter every two years, it's really not enough. As dog show people, we need to pay a little bit more attention to these kinds of things. We do need people to breed litters of dogs. There's just not enough dogs out there for the people that want them, especially purebred dogs. But we need to market ourselves correctly and we need to promote the breeds, the dogs, in the correct way.
"I mean, we can't be elitists. When people come to dog shows and you're rude to people and you talk to them like they're idiots, they're not going to want to come back. We need to be encouraging to people about the dogs. We need to breed healthy dogs. People buy purebred dogs because they want dependability. It's like what Apple is. You buy an iPhone because it works. You buy a purebred dog because you want to get a poodle that looks like a poodle, acts like a poodle, has a temperament and then is hopefully healthy.
"The first poodles that I bred, I have none of that bloodline in my lines today because of health reasons. So you can't be afraid to start over. You have to eliminate dogs from your breeding programs and move on. That doesn't mean you need to eliminate all of them. You have to be diligent in what you do and examine correctly 'what I can work with, what I can't work with.'
"We need to promote a positive image of the sport. We see people flying with their fake service dogs and they post videos on Facebook and people talk about how cute it is that you are committing a federal crime. I don't think that that's the right message we should send people. You could see why that would come off the wrong way to the general public. We need to self-examine."
KNOWLEDGE IS POWER — FRANCIS BACON
Pure Dog Talk is grateful to all of the mentors in our sport who support us with their knowledge, their kindness and their generosity. JOIN us today in providing access to this invaluable "watering hole" for anyone who is thirsty for knowledge. Your pledge of as little as $5/month helps guide the next generation of dog fanciers. Click the "Be My Patron on Podbean" button to join our "listener supported" team at Pure Dog Talk.