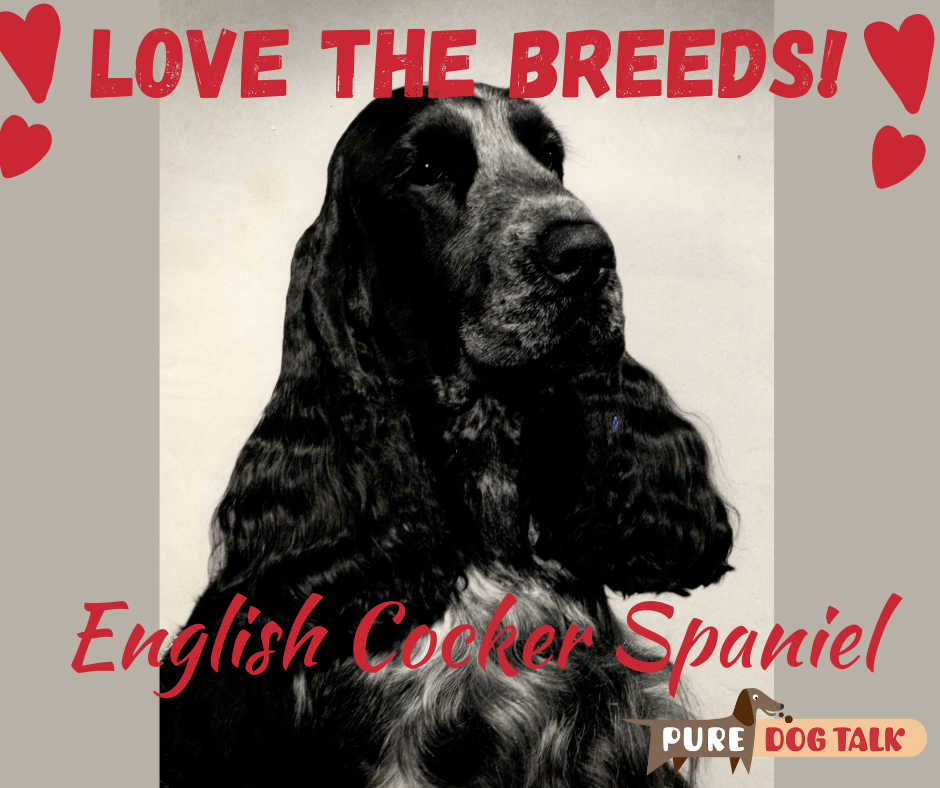 Virginia Lyne on Merry and Expressive English Cocker Spaniel
Virginia Lyne joins host Laura Reeves for a Love the Breeds episode on the merry and expressive English Cocker Spaniel.
A resident of British Columbia, Lyne has been breeding the Ranzfel English Cocker Spaniels since 1960. Her passion and undying love of the breed is evident in this wide ranging and thoughtful discussion.
"You have to be prepared for a companion that's going to follow you everywhere," Lyne said. "(One that) likes to go to the bathroom with you. It likes to wander outside with you if you get up and go somewhere. He or she doesn't seem to make any difference. They have to be with you. They're not prepared to sit on the couch and say, 'I know where you're going, I'll be here when you get back,' which we have whippets as well, and that's more their style most of the time. So, this is a Velcro dog generally, they love to go in cars, they love to ride with you. They adore going for walks. One of their pitfalls (is that they are) inclined to be very greedy. Most of them will steal with no conscience table counter if they can reach it.
"(They are) very, very easy to live with (and) most of the time relatively healthy.
The grooming maintenance for a pet home is "just average," Lyne noted, "where you have to accept hair, definitely is manageable if you're prepared to do your brushing and combing."
"They love hunting when you're walking with them. If they're unleashed, you have to make sure that you've taught your comeback and come back and retrieve. They will retrieve. They love to carry balls. Generally they like to fetch. They're not big water dogs, which is not part of their history.
"(The breeds) were originally separated (by how they hunted) …. springing spaniels and "cocking" or field spaniels. It was a height, weight and how they hunt that made the difference … the cocker was developed by hunters because they wanted an animal that could go into any one of those hedges that run across the fields. Those are thick, dense and they're wonderful hiding places for birds, Woodcock in particular, which is where the name came from.
"Geraldine Dodge was very instrumental in her work with the breed. If you ever come across a Geraldine Dodge copy of the English Cocker book, it's quite fascinating, with early pictures, color plates and breed standard descriptions, and so on. Anyhow, in 1946 the AKC recognized the separation of the American Cocker."
"He will, on the slightest invitation, leave the cream cakes to follow the guns."
Lyne shared the following excerpt to describe the breed:
"In Sport, as in ladies' hats, fashions have changed with each decade… Though fashions may change, we find that the merry little Cocker has always maintained his place in the esteem of the public and sportsmen alike, by dint of his extreme adaptability and courage and, let us face it, also by his hardiness to withstand the rigors of our English climate. He should never have been allowed to become a pampered pet, although the vast majority are, nowadays just that. Again, blame his adaptability and lovable nature: but anyone who has ever seen these game little dogs working in the field must admit that this is their rightful heritage and the place where they are truly happy. A Cocker that has once tasted the delights of bustling in and out of the hedgerows and thickets and has had the scent of hare, pheasant, partridge, or the humble rabbit in his nostrils is lost forever to the drawing room. He will, on the slightest invitation, leave the cream cakes to follow the guns."
Quote from "The Dual Purpose Dog" by A.W. Collins, circa 1950 (Collinwood Cockers, Kent, England)
Watch the entire discussion, including expanded comments on judging the breed, HERE.