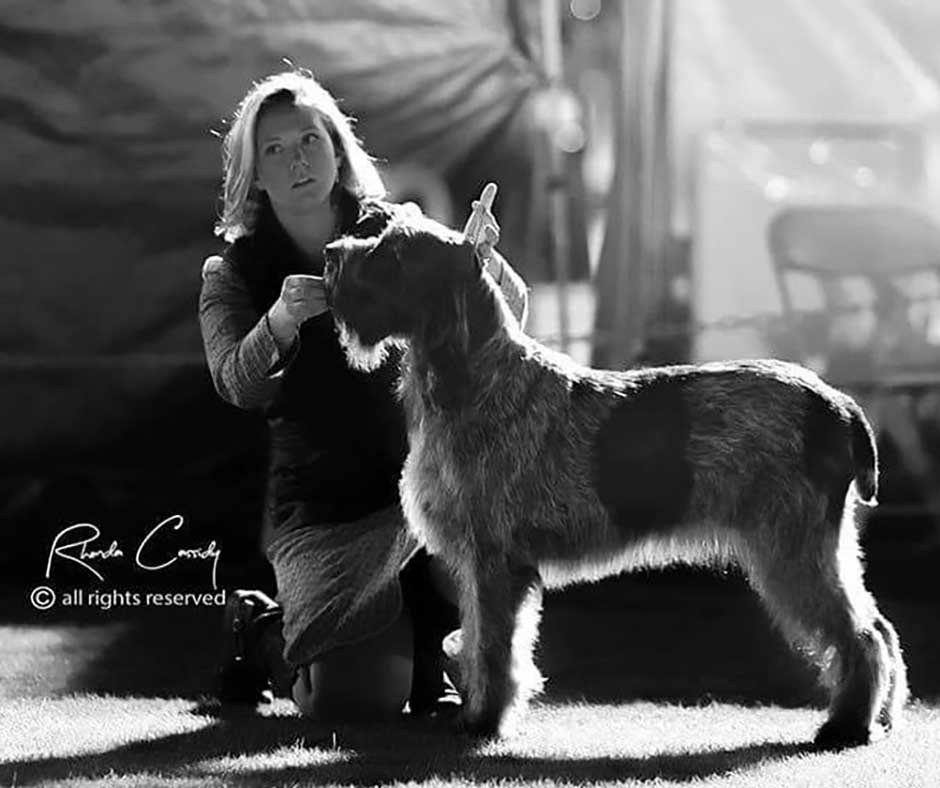 Kelly Shupp on Campaigns, Rare Breeds and Generational Change
Kelly Shupp, Professional Handler, joins host Laura Reeves for a deeply insightful conversation about running a show campaign, the challenges of competing with rare breeds and the generational change happening in her circle.
Shupp grew up with purebred dogs owned by her mom, AKC judge Claire Wisch Abraham. Starting with Chesapeake Bay Retrievers and transitioning early to German Wirehaired Pointers, the mother-daughter team competed in shows, field events and obedience.
In 2012, Phil Booth showed their homebred GWP Oakley, GCH CH Mt. View's Ripsnortersilvercharm, owned by Victor Malzoni, to #1 All Breeds.
Shupp was mentored by top professional handlers in the US and Brazil, including Booth, Damara Bolte, Angela Lloyd and Jane Myers, before launching her full-time handling career. In 2022, she showed the Spinone Italiano Josie, GCHG CH Collina D'Oro Solo Un Bacio, to a record- breaking career, capped with winning the Sporting Group at the AKC National Championship.
"It is a special thing to run a rare breed," Shupp said. "They're not always in the placements. There's judges that will point to rare breeds and judges that won't. It's a game. We learn certain chess pieces that fit and ones that don't. With a rare breed they're very specific (pieces) for sure."
Generational change is taking over in the handling ranks, Shupp noted.
"This year we had so many young people in the group ranking competitions," Shupp said. "Blake and Arial in the terrier group, me and Joanne in the sporting group."
Planning a campaign includes evaluating a budget, competition and geographical location.
"The conversation I typically have with a client the start of the year is you go hard through March, see how it goes. Are you placing a lot in groups? Winning 75% of your breeds? You see if you can start placing more.
"You never go into a year saying I'm going to be #1 sporting dog. You see how it goes. Those are things you don't really say. Those high-end top dog races just kind of happen."
Flashback episode on planning a campaign.
More pro tips:
Ask the right questions to find the right handler for you.
Have those sounding boards to talk about judges and shows with experience-based knowledge.
You can't be better if the people around you don't want to help you be better.
Know your standard. Know about the breed you're presenting. It's such an important part of our job. To be an ambassador for the breed. To honor the breed.
Flip flops are deadly….
Everything happens for a reason.
The greats never stop learning.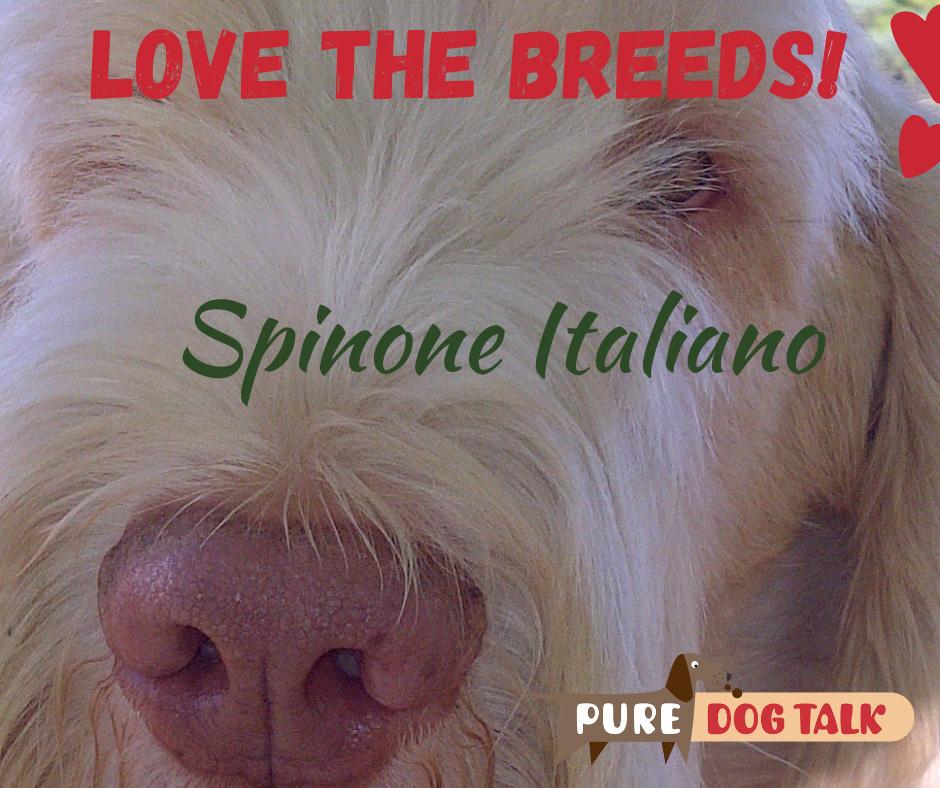 Spinone Italiano: Storied Bird Dogs of Gentle Character
Long time breeder Allison Schultz, of del Caos Spinoni, joins host Laura Reeves for a Love the Breeds month discussion of the fascinating history and empathetic nature of the Spinone Italiano.
Schultz acquired her first Spinone in the early 1990s, long before they were officially recognized by the American Kennel Club. The breed dates back thousands of years in Italy, to when birds were hunted with nets.
"(It) probably started 2,500 years ago. Long before there was a gun, there was a hunting dog in Italy. They were known as the pointing griffon, rough coat griffon, because they have a wire coat.
"Interestingly enough, when you go to Italy and you go to some of the palaces as a tourist, you'll see the Bracco in the mosaics and in the paintings, because they were the dogs of the Lords. The Spinone was really the dog of the peasant.
"When they first started hunting, it was either maybe slingshots, but mostly nets. So, they had to be really quiet in the field. (The dogs) had to be intuitive because you couldn't yell at them because the birds would fly away. So, they really became very close working, silent hunters.
"They work at a trot so that the human can keep up. They're not one to bolt a half a mile away looking for a bird because it's so ingrained into them and so intrinsic that they had to hunt close (so) the hunters could throw nets over the flocks of birds.
"They developed a really thick skin, which is really, really important to the breed. And the thick skin is as thick as a cow. It's called the skin of the bull in Italy. And the name Spinoni means thorn. They can go through any kind of cover without even noticing it.
"They have this ability to move quite silently through even the hardest cover, and even though they could break through easily. They just don't do that. They're very, I hate to say, careful because that implies slow, but they're very, very careful about how they move.
"And the other thing they did is that they naturally flush. So, they point and let the human being know where the birds are. Then if the net gets thrown or they throw the net up in the air, Spinoni will then flush the bird into the nets. That's how they provided food long before there were guns and bows and arrows or anything, actually.
"The first thing in the original standard, which the Italians still hold today, is they must be of the sweet temperament. So that means in 1,500 years of record keeping there was never a bite in Italy from a Spinone. One of the reasons their temperament must be so sweet is that they have to live with other dogs. Because the Italians usually had Segugios to hunt and take care of the rats and the vineyards and the gardens, and that's what they depended on for living.
"So, the Spinoni had to be a dog that got along well with other dogs, always. But the first thing in that standard is character. And the most important thing about Spinoni is the character has to be  sweet. Dolce, they call it, gentle character. That's very, very, very important.
"And a little interesting point about World War Two, in the Italian resistance, which one of my mentors was in… They used the Spinoni when they went on things because the Spinoni could tell the difference between Italians coming to meet them and Germans. That was by the diet, we believe, because the Germans ate mostly German food and smelled differently than the Italians did. They could identify the Germans quite readily.
"And remember, the resistance in Italy, after Mussolini fell, were a lot of teenagers 15, 16, 17, 18 year olds, it wasn't necessarily the old guard. But many of those men were in families that were fifth, six, 7th, 8th generation Spinoni breeders. A lot of the old breeders… would have seven generations of their parents' records, as Spinoni breeders."