574 – Kelly Shupp on Campaigns, Rare Breeds and Generational Change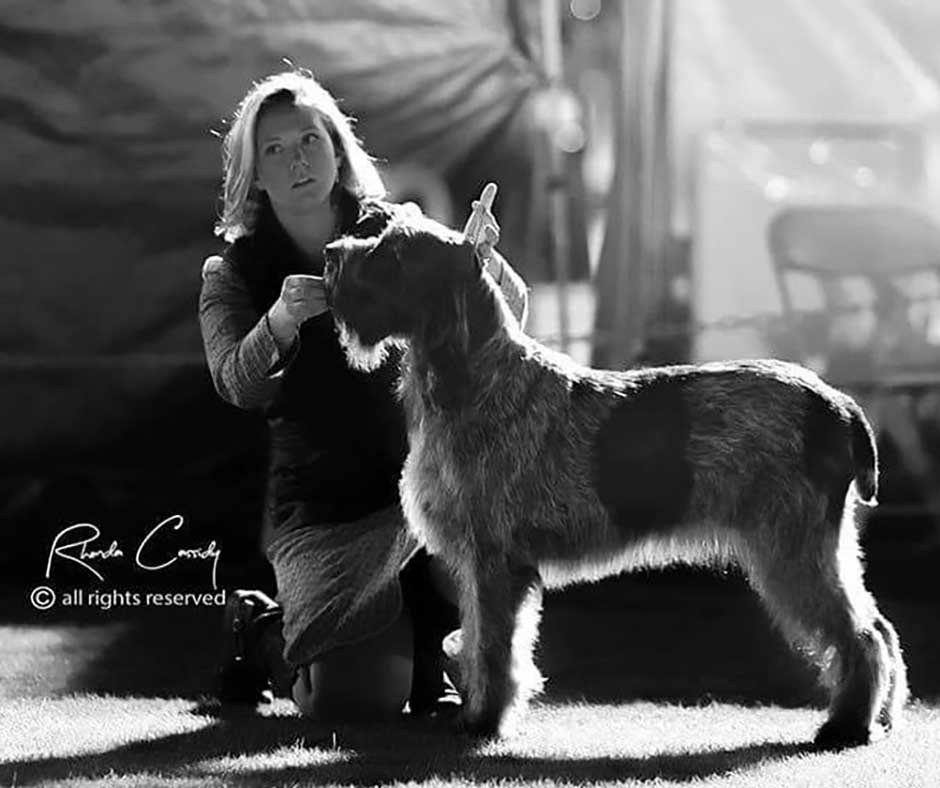 Kelly Shupp on Campaigns, Rare Breeds and Generational Change
Kelly Shupp, Professional Handler, joins host Laura Reeves for a deeply insightful conversation about running a show campaign, the challenges of competing with rare breeds and the generational change happening in her circle.
Shupp grew up with purebred dogs owned by her mom, AKC judge Claire Wisch Abraham. Starting with Chesapeake Bay Retrievers and transitioning early to German Wirehaired Pointers, the mother-daughter team competed in shows, field events and obedience.
In 2012, Phil Booth showed their homebred GWP Oakley, GCH CH Mt. View's Ripsnortersilvercharm, owned by Victor Malzoni, to #1 All Breeds.
Shupp was mentored by top professional handlers in the US and Brazil, including Booth, Damara Bolte, Angela Lloyd and Jane Myers, before launching her full-time handling career. In 2022, she showed the Spinone Italiano Josie, GCHG CH Collina D'Oro Solo Un Bacio, to a record- breaking career, capped with winning the Sporting Group at the AKC National Championship.
"It is a special thing to run a rare breed," Shupp said. "They're not always in the placements. There's judges that will point to rare breeds and judges that won't. It's a game. We learn certain chess pieces that fit and ones that don't. With a rare breed they're very specific (pieces) for sure."
Generational change is taking over in the handling ranks, Shupp noted.
"This year we had so many young people in the group ranking competitions," Shupp said. "Blake and Arial in the terrier group, me and Joanne in the sporting group."
Planning a campaign includes evaluating a budget, competition and geographical location.
"The conversation I typically have with a client the start of the year is you go hard through March, see how it goes. Are you placing a lot in groups? Winning 75% of your breeds? You see if you can start placing more.
"You never go into a year saying I'm going to be #1 sporting dog. You see how it goes. Those are things you don't really say. Those high-end top dog races just kind of happen."
Flashback episode on planning a campaign.
More pro tips:
Ask the right questions to find the right handler for you.
Have those sounding boards to talk about judges and shows with experience-based knowledge.
You can't be better if the people around you don't want to help you be better.
Know your standard. Know about the breed you're presenting. It's such an important part of our job. To be an ambassador for the breed. To honor the breed.
Flip flops are deadly….
Everything happens for a reason.
The greats never stop learning.
KNOWLEDGE IS POWER — FRANCIS BACON
When you become a patron of Pure Dog Talk you'll tap into an exclusive community of experts to help you and your dog be blue-ribbon best at whatever you do with your purebred dog! Your support helps keep the MP3's rolling at Pure Dog Talk!
As a supporter, you'll immediately gain access to the weekly Pure Pep Talk SMS, Pure Pep Talk private Facebook group, and priority emails. Patrons can choose to level up to the After Dark Zoom and a Patrons Digital Badge for their website— even a private counseling session with Laura on any topic.