117 – Desi Murphy: AKC Judge, Breeder Showcase and Grooming Tip of the Week with Allison Foley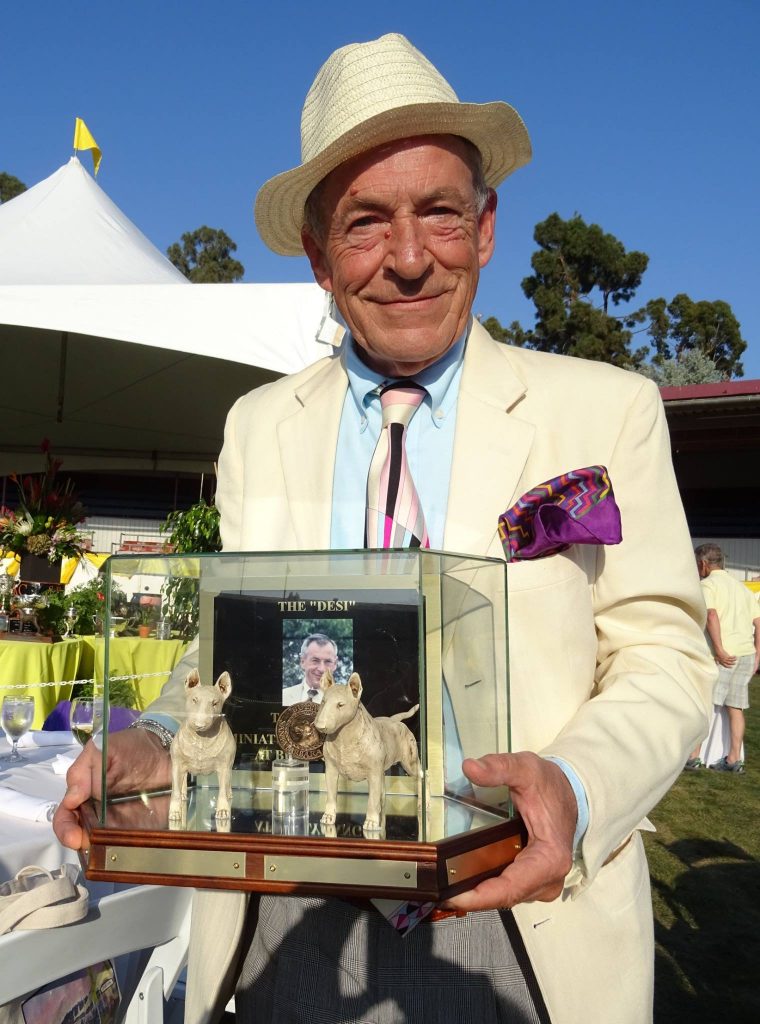 AKC Judge Desi Murphy – 3rd Generation in Dogs
Desi Murphy was born into the sport of dogs.  His grandfather managed kennels in Scotland, his father managed a whippet and greyhound kennel in the U.S.
While surrounded in his youth with 125 sighthounds, Desi's found a love of terriers, bully breeds and Chows.
Bullies are different…
Desi, now a legend in the sport, is licensed to judge the sporting, terrier, and toy groups.
Santa Barbara Breeder Showcase
Desi Murphy  is co-chair for Breeder Showcase at Santa Barbara Kennel Club, and event in it's ninth year.
Now an in-demand event, the Breeder Showcase is extremely competitive.  Dogs are often brought out of retirement for the competition or young dogs held out just for their debut.
A perk for the exhibitors is dinner and wine at the event.
Desmond Murphy – The AKC Judge
Laura Reeves asks Desi what he first looks for in the breed ring.
Evaluate breeding stock…What was the dog bred to do?
For example, the three setters work in different terrains, so their structure must meet their function.  In bicycles, you have a mountain bike, road bike and beach cruiser – each are built to work in different terrains.
Some breeds are getting carried away, and showiest is not always the best.  Basset Hounds in Mexico, for example, are getting too big.  Remember, if a Basset Hound meets a fence on the trail, the hunter has to pick him up and place him on the other side of the fence.  You can't lift an 80 lb basset.
Condition is second…
Dogs need to be fit and in good health and condition.
Movement is a test of structure
The structure standing should be seen and confirmed in a dog moving.
Advice to Exhibitors
Have the best dog.  Often exhibitors ask what they can do to win with a dog… have the best dog.  Ask other breeders and professionals to evaluate your dog against the breed standard.  Know your standard.
Future of the Dog Sport?
As an international judge, Desi see younger exhibitors, and younger breeders in other countries than the U.S.
Russia is strong in most breeds, and Korea and China are close behind
Some handlers started showing at eight years of age, and have bred multiple litters by the time they are 21.  We need youth willing to be breeders.
AKC Biography of Desmond Murphy
Desmond Murphy, of Monroe, New York, is a third-generation dog man¿his grandfather, father, and two uncles all having been handlers. Born in Scotland, he was reared among Greyhounds, Whippets, and terriers at his family's Mardormere Kennels in upstate New York.

He began handling in 1958, working under his uncle John Murphy, a distinguished handler and judge. Mr. Murphy, known as Desi, points to his handling of seven different Best in Show Chow Chows as his proudest achievement.

Mr. Murphy has been an AKC judge since 1976 and is approved to judge 93 breeds. He last judged at the AKC/Eukanuba National Championship in 2003.

Mr. Murphy is a member of the Tuxedo Park Kennel Club, the Santa Barbara Kennel Club, and the Saw Mill River Kennel Club, and is treasurer of the Non-Sporting Group Club of the Garden State. He considers "learning the value of preserving breed type" to be the most valuable lesson he has learned in dogs.
Allison Foley's Tip of the Week:
How to Use Bath Products Properly
Shampoos and Conditioners need to be used properly to achieve results.  The best scissors, training and handling can't compensate for poor cleanliness or coat condition.
Listen to Episode # 107 How To Properly Bathe Your Dog for more on how to bathe properly.
Use your shampoo according to the directions. It's formulated for a reason so measure it out!
Leave the product on the dog long enough to work. 5 minutes for shampoo and 7-10 minutes for color or deep conditioner.
Allison's Conditioner Trick
Conditioners don't mix well with water.  Use a cheap immersion blender to mix thoroughly and smooth out all the globs.
More tips and courses are available at Leading Edge Dog Show Academy.
KNOWLEDGE IS POWER — FRANCIS BACON
When you become a patron of Pure Dog Talk you'll tap into an exclusive community of experts to help you and your dog be blue-ribbon best at whatever you do with your purebred dog! Your support helps keep the MP3's rolling at Pure Dog Talk!
As a supporter, you'll immediately gain access to the weekly Pure Pep Talk SMS, Pure Pep Talk private Facebook group, and priority emails. Patrons can choose to level up to the After Dark Zoom and a Patrons Digital Badge for their website— even a private counseling session with Laura on any topic.