148 – Sue Huebner on Breeding Basics|Cordmaker Pulik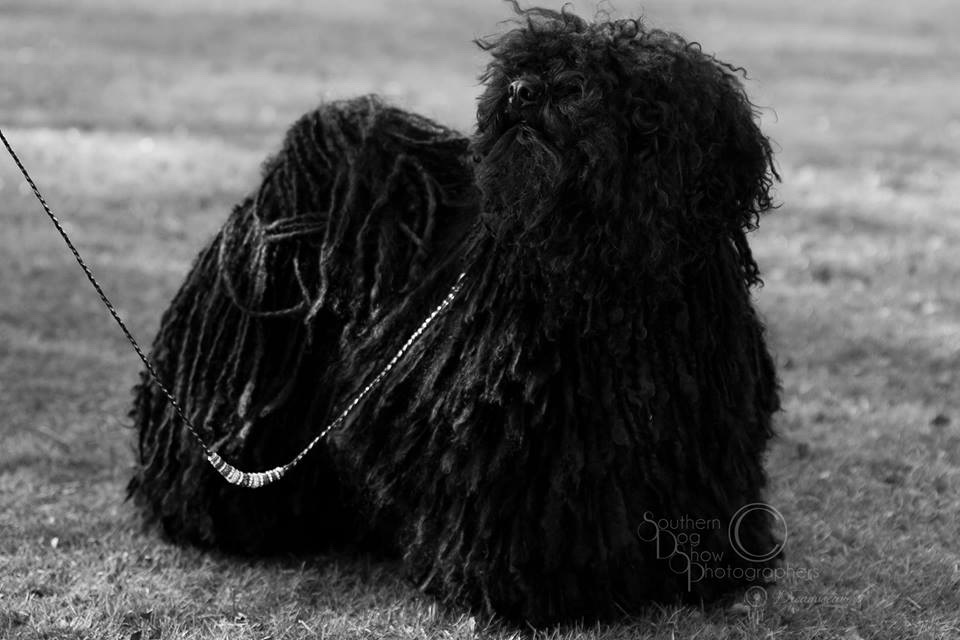 Sue Huebner and Cordmaker Pulik
Sue Huebner is the legendary breeder of Cordmaker Pulik, including Preston, the winner of the 2016 AKC National Championship.
In 1978, Sue Huebner and her husband were looking for a family dog. They researched carefully and chose the Puli, acquiring their first dog from a litter near their home in Melbourne, Australia. Little did the Huebners know that they had never seen a fully coated Puli until after they acquired their new puppy.
Huebner laughs about that now, noting all of the ways people have to research their new dog these days.
"There is no excuse for ignorance (today)," Huebner observed. "Accessing information, pictures, videos of dogs working is easy. I'm still growing in understanding the breed standard 40 years later. I love the research."
The surprise of a corded dog coated to the ground notwithstanding, the Huebners stuck with the breed, attending obedience classes and competition. Her first conformation competition was sparked when an acquaintance told her that first dog would not be "good enough" to show.
"He wasn't a great show dog," Huebner said. "But he finished his championship. He was a good learning dog for me."
Shortly thereafter, she bought two more Pulik, keeping the better of the two after "running them on" in order to make a decision after they had matured. That dog "didn't have what I consider a good temperament. Because he was difficult, I had to learn. I didn't breed from him. It's why temperament became paramount for me," Huebner said.
Temperament is Job #1
She strongly believes a dog's temperament is the result of both nature and nurture.
"As a breeder you need to keep certain key things in your mind. It may not be the most beautiful dog you have. But if you have a very clear goal, temperament must always come first. Then as time goes on, I believe, you are now genetically breeding temperament."
Huebner also encourages new breeders to understand that family homes are a critical part of a breeding program. "Not because they are necessarily going to breed those animals. You need companion homes. If you produce five puppies in a litter and only one suits the goal you set at the time, there are four others there (who need homes)."
Preservation breeding is a primary focus for Huebner. She calls it a "focus we desperately need to have."
But she describes a "tension" between preserving the "historically correct temperament" which in some breeds is going to be very different than the societal pressure to have dogs which are all "like Golden Retrievers."
"Does preservation breeding include temperament when temperament seriously impacted on the purpose of a breed. Or do we have to take account of the fact that our dogs go into family homes (that may not be suited to that temperament)," Huebner asked rhetorically.
Huebner's advice for breeders whose breed's historically correct temperament may or may not fit into today's society?
"I do think the first step is awareness (of the breed's correct temperament)," Huebner said. "Understand it. Experience it. We have a strategy in place, particularly with dogs going into companion homes. The amount of time we spend educating them before they get the dog is significant. We try to help them understand they've bought his temperament, because that's what you have to live with. And we have life long involvement with our companion families."
Successful assessment and selection of puppies, in terms of which dogs go to which homes, Huebner suggested, should be a clear process of really watching them as they develop.
"I want you to sit and I want you to watch," Huebner said. "I want you to do what we ask judges to do. Develop an eye. So that when you're looking at those puppies and your eye keeps going to one puppy," one understands it is a combination of temperament and structure that makes the picture.
"All of those puppies are perfect for something," Huebner noted. "It's only the purpose that makes them imperfect. Our purpose is to breed a dog with the genetics we want to produce a beautiful dog that will enhance or further the breed. Every one of those little puppies is perfect for something."
Developing an "Eye"
Creating an identifiable family of dogs goes back to developing an eye, Hubner observed.
"You need to research and intimately understand the breed," she said. "It's not just the simplistic understanding of a breed standard."
Getting started with her breeding program after owning a couple "starter" dogs, Huebner said, "I basically looked at dogs that I loved. I did a lot of research and came up with specific kennels in various countries. I was lucky enough to get to visit them. The most influential kennel behind Cordmaker is Wallbanger. I loved the breeding program behind the dogs. I wanted a pedigree that looked like this for my first outcross."
Breeding Programs and Dog Shows
Dog shows, Huebner noted, will test a breeding program, but one can't depend on that exclusively. New folks, she added, will rely on the results of the dog show because it's the only information they have.
"The danger (of dog shows) is, it's not about the winning dog," Huebner said. "That's not the way the breeding program works. It's not about that you've done well. In the end, the champion part doesn't matter. The number one all breed doesn't matter. It's the capacity of having dogs that can carry the gene pool through and continue to produce the type that you have in your mind's eye that's come from research and understanding the breed.

"If you want to be called a preservation breeder, you have to earn the title. The title will be about how you breed."
Breeding Basics Part 1 and Pedigrees Part 2
Listen to Sue and Laura talk breeding basics today and tune in on Monday when they continue the discussion of building great pedigrees.
KNOWLEDGE IS POWER — FRANCIS BACON
When you become a patron of Pure Dog Talk you'll tap into an exclusive community of experts to help you and your dog be blue-ribbon best at whatever you do with your purebred dog! Your support helps keep the MP3's rolling at Pure Dog Talk!
As a supporter, you'll immediately gain access to the weekly Pure Pep Talk SMS, Pure Pep Talk private Facebook group, and priority emails. Patrons can choose to level up to the After Dark Zoom and a Patrons Digital Badge for their website— even a private counseling session with Laura on any topic.