149 – Pedigrees Produce Top Winners|Sue Huebner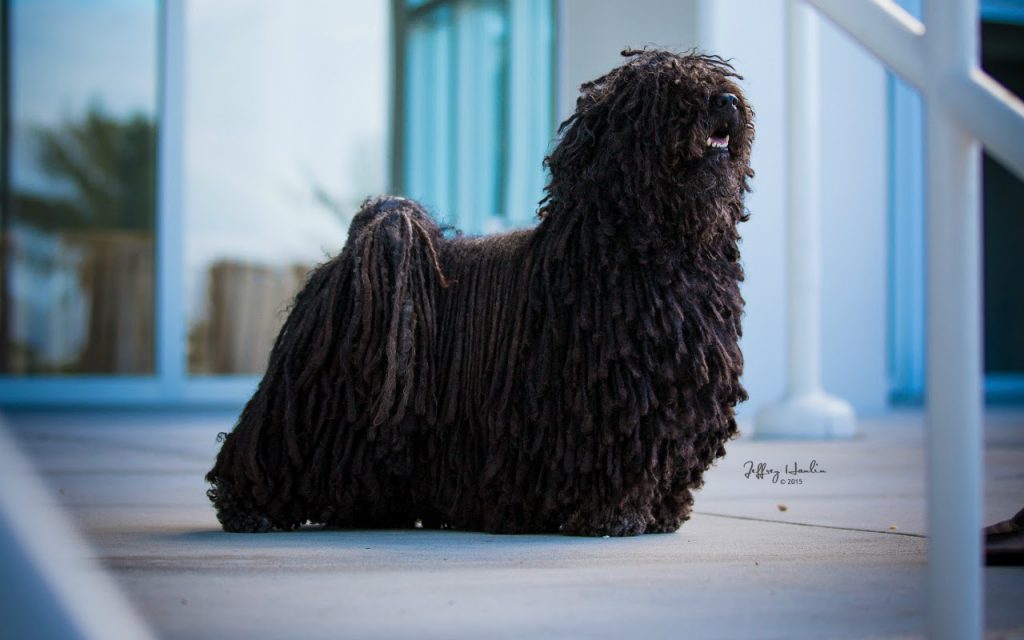 Pedigrees That Built Cordmaker Pulik
Sue Huebner of Cordmaker Pulik, shares how she built the pedigrees that consistently produce top winners, including Preston.
"Breeding dogs is as much about luck and trust and interacting with other people as it is about the dogs in front of you," Huebner said.
Huebner describes a 40 year process that started with wanting a dog to show. This journey was not without bumps in the road and a lot of learning along the way.
In 1988, she leased a bitch on the recommendation of her mentor in Australia.
"(Moppet) was primarily UK bred, with a slight Swedish outcross on one side," Huebner said. "She was a beautiful make and shape. I can see Moppet in almost every bitch we breed."
Shortly after Huebner's first breeding, a sister of Moppet's was bred to the same sire and produced a blind puppy.
"At that time, I think I had too much knowledge and too little understanding," Huebner said. She was worried about potential health consequences with her foundation bitch, so consulted with a veterinarian who evaluated the puppy as not having a genetic disorder, but the only way to really prove it was to do a "close mating."
Huebner decided to heed this advice and bred a son from her first litter back to the dam as a rough test of the genetics. "We had no blind puppies," Huebner said. "And so I understood inbreeding very early in my career."
"I never really had the same barrier to inbreeding that others do (as a result)," Huebner said. "It can be a useful tool in certain situations."
"At this stage, all I'm selecting is for my show dog," Huebner said. She decided she needed to go see more dogs, so she attended the U.S. National to look at dogs from Ann Bowley's Wallbanger kennel.
Her research led her to "draw up the pedigree I'd like. If I had my choice of dog, this is what I'd like its pedigree to look like," Huebner said.
She proceeded to contact breeders asking if they had a dog with a pedigree similar to the one she created.
Bokar Artful Dodger, bred by Carolyn Nusbickel, was the dog Huebner selected. "(Today) he is the dominant sire in our kennel," Huebner said.
"This dog clicked with the English lines I had," Huebner said. "It was a full outcross, but it clicked."
Breeding is Art, Science and Luck
Breeding is a little art, a little science and a little luck, Huebner notes she's seen Dodger bred to other lines where it didn't nick.
At this point, Huebner decided she didn't want to waste time, "I wanted to get what I wanted quickly." So she bred Dodger to two half sisters.
"One of the difficulties preservation breeders face, where close breedings are not condoned, where we've applied almost a human incestuousness measure against what we do with dogs," Huebner noted. "It makes those close matings difficult. To accelerate quality has become more difficult."
Huebner then bred Dodger back to one of his daughters.
"I was cementing what I want," Huebner said. "(These breedings) are telling me genetically what I can get. I've always believed if you have constant outcross matings, you may prevent seeing the problems, but the problems are still there."
Cordmaker Mississippi Mud
One of Huebner's most successful dogs was Cordmaker Mississippi Mud, "Amish," a Dodger son. Amish was bred to an outcross bitch with predominately English lines, allowing Huebner to begin the development of two separate lines, one American and one English, allowing her to cross one to the other.
Listeners might remember a discussion on this topic with AKC judge and renowned Corgi breeder Bill Shelton. For folks who missed it, listen here.
"I had a simple objective," Huebner said. "In every litter I wanted a higher percentage of dogs I believed were of true quality. … I focused in on a particular dog, a type, a way of evaluating what I wanted."
Top Winning is not Top Producing
Huebner noted that relying on the dog show exclusively to evaluate your breeding stock means  "you're standing on moving sand."
"When people start breeding they think 'if I go to the dog that's won the most then I must be guaranteed that that dog is going to work for me.' I don't think you have that guarantee at all. All you have is a dog that's won a lot," Huebner said.
"People ask me what is the secret of your success…. it depends how you measure success. I still think I have a long way to go in the breeding program. Until I have five puppies in the litter and they all get 8 of 10 then I might say aha."
CORDMAKER PULIS THAT TRACE SOME OF THE BREEDING PROGRAM
AMISH  a son of Bokar Artful Dodger (my first import semen from the USA).  Sire of Cordmaker Field of dreams 'Conrad' ranked # 3 All Breeds in the USA.
PHILBY  also a son of Bokar Artful Dodger mated to a UK line produced Denzel.
DENZEL sired by Philby mated to a UK bitch who carried some of the top Puli lines in the UK.
CHARLOTTE  a daughter of Bokar Artful Dodger out of a UK imported bitch. Litter sister to Camila and Ziggy. Dam of Preston and Paddy.
CAMILLA a litter sister of Charlotte and Ziggy.
ZIGGY  a brother to Charlotte and Camilla. Sire of our latest litter of puppies out of Cordmaker Mellow Yellow 'Saffi' (full sister to Preston and Paddy).
PRESTON   a son of Charlotte and full brother to Paddy and Saffi  (pedigree attached). Denzel is his grandsire.
BUDDY imported from the UK to cement the UK lines we had introduced in the Charlotte, Camilla, Ziggy litter.  Mated to a Denzel daughter, he produced our current young show team being exhibited in Australia, New Zealand and the USA (pedigree attached).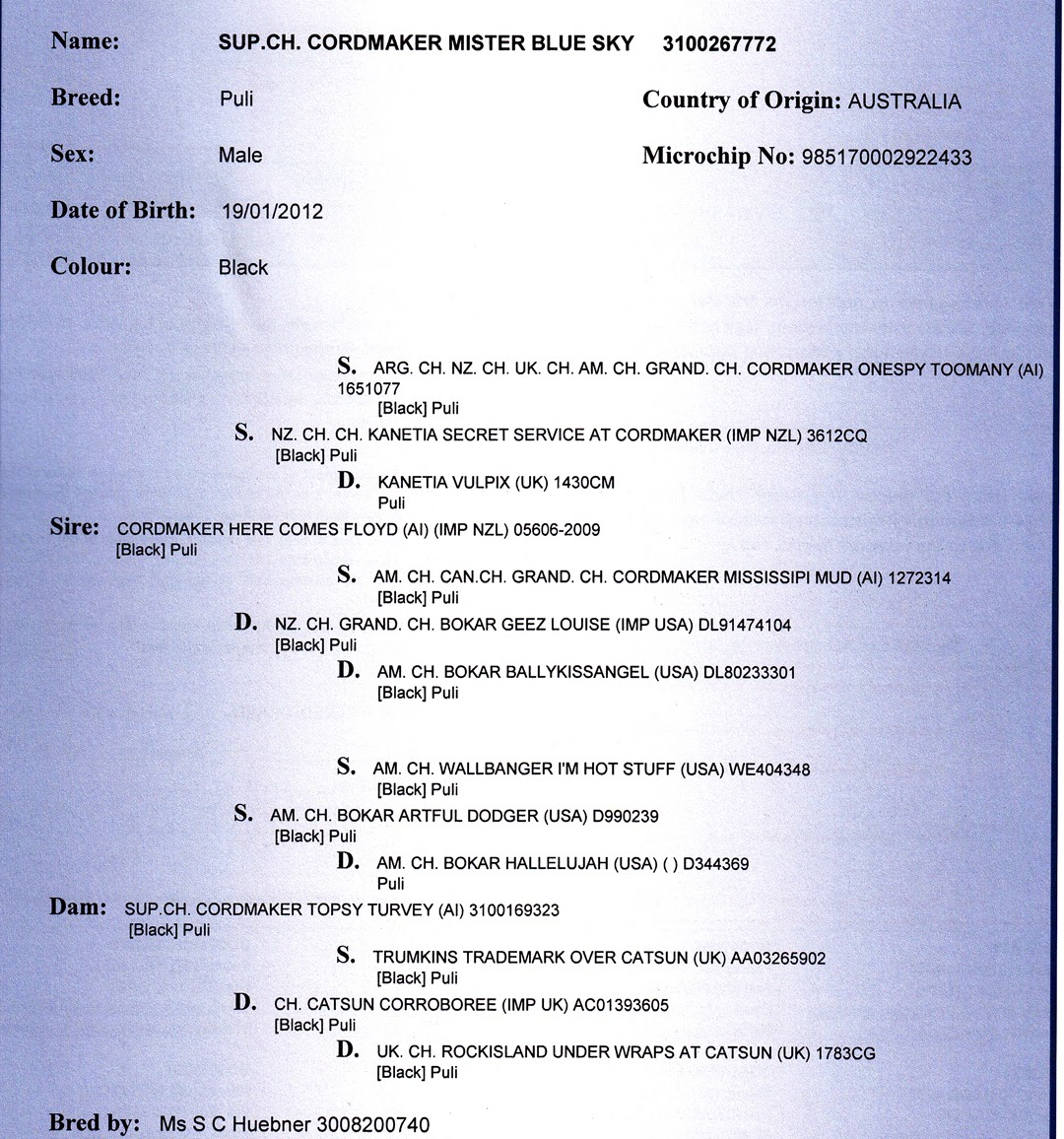 KNOWLEDGE IS POWER — FRANCIS BACON
When you become a patron of Pure Dog Talk you'll tap into an exclusive community of experts to help you and your dog be blue-ribbon best at whatever you do with your purebred dog! Your support helps keep the MP3's rolling at Pure Dog Talk!
As a supporter, you'll immediately gain access to the weekly Pure Pep Talk SMS, Pure Pep Talk private Facebook group, and priority emails. Patrons can choose to level up to the After Dark Zoom and a Patrons Digital Badge for their website— even a private counseling session with Laura on any topic.