150 – The Dog Healers – a Novel by Mark Winik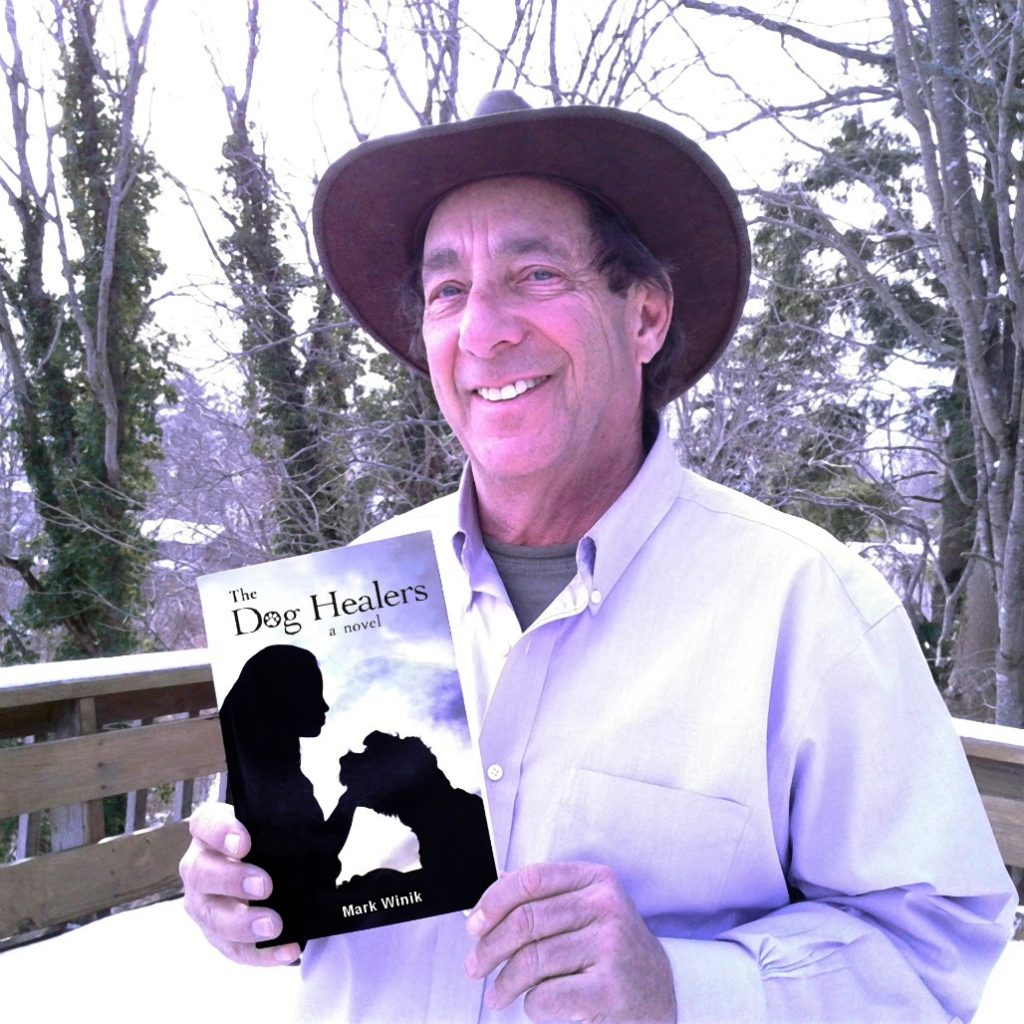 The Dog Healers – Dogs Healing the Human Spirit
Mark Winik's novel The Dog Healers tells the story of Carlos and Isabella and the art of Tibetan massage which brings healing to both dogs and humans. The book is part fact, part fiction; part love story and part adventure.
The book's message and passion are both powerful and persuasive. Throughout the novel, the reader encounters innumerable ways in which the human-canine bond literally heals all parties involved.
Inspiration in Argentina
A lifelong dog lover, Winik discovered the inspiration for his novel while visiting his wife's family in Buenos Aires, Argentina.
"I was captivated by the dog walkers there. They walk 5 to 20 dogs at one time. It's a profession. And I noticed people massaging the dogs. I wanted to talk with the dog walkers, but nobody spoke English," Winik said. Finally, he was directed to Carlos, who was also called the dog healer.

"I ended up spending two and a half days walking through neighborhoods and going to the park with (Carlos)," Winik said. "I got to know him and his philosophy. His idea is that dogs heal humans in so many ways."
Winik's story is based on those days spent talking to Carlos. It shares Carlos' vision of dog healing and the love of his life, "Isabella" in the novel. The ancient kum nye Tibetan massage technique described in the book is practiced on people around the world. Carlos' application to dogs, and even a racehorse in the book, allows for greater energy flow and a sort of mutual healing.
The fictional novel talks about the dogs of Tibet including what Winik dubbed "chowstiffs." Clearly Tibetan Mastiffs by the description, Winik's book talks about the bond between the dogs and the monks of Tibet. One key character in the novel is a Tibetan sherpa, Jamyang, who befriends the young Isabella while guiding climbing parties in South America, foretelling her connection with animals.
Winik also describes a number of other breeds in the novel, including Dogos Argentino. Isabella uses her special skills to rehabilitate a Dogo in the book.
Currently in the miscellaneous class in AKC, Dogos are used as guard dogs in Argentina, where they were originally developed to work as big game hunting dogs. The breed has developed a very fierce reputation, particularly in Argentina, due to their work guarding very wealthy estates there.
The Dog Healers Project
The dog healers project is Winik's current passion. He is creating a documentary on therapy and service dogs with a message of how important dogs are in our lives.
"Dogs heal the human spirit and soul," Winik said.
Listen today as Mark Winik joins Laura Reeves for an interview to talk about the profound bond we all share with our dogs.
KNOWLEDGE IS POWER — FRANCIS BACON
When you become a patron of Pure Dog Talk you'll tap into an exclusive community of experts to help you and your dog be blue-ribbon best at whatever you do with your purebred dog! Your support helps keep the MP3's rolling at Pure Dog Talk!
As a supporter, you'll immediately gain access to the weekly Pure Pep Talk SMS, Pure Pep Talk private Facebook group, and priority emails. Patrons can choose to level up to the After Dark Zoom and a Patrons Digital Badge for their website— even a private counseling session with Laura on any topic.