440 – Successfully Collecting, Shipping and Freezing "Swimmers"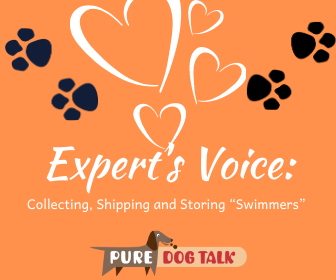 Successfully Collecting, Shipping and Freezing "Swimmers"
Shannon and Sydney Stone from ICSB NorCal join host Laura Reeves for a detailed and educational conversation about collecting, shipping and freezi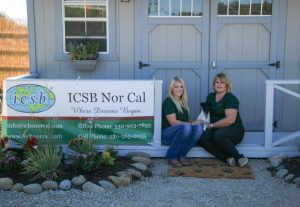 ng a stud dog's semen, aka "swimmers."
Mother and daughter share their vast experience with different extender media, freezing methods and tips and tricks for a successful collection of the stud dog.
Test drive extenders
For fresh chilled collections, Shannon strongly advocates for collecting a potential stud dog and doing a "chill test." This enables the practitioners to save the semen in a variety of available media in order to be sure which one works best with the specific dog. Dogs are individuals and not all semen will survive in every media. It is critical to know this *before* that super important, exciting breeding that has been planned for years.
"It just basically boils down to finding the best media for your dog," Shannon said. "There's so many good medias on the market right now, it's just what's the best fit for your dog and what works best for you as a stud owner.
"Some of the best collections we see are ones where either the owner has a centrifuge or they took the dog to the vet and the collection is centrifuged and we're only getting that sperm rich fraction added to the media.
"Kind of a rule of thumb that we've seen is, no matter what media you're using, you can expect that … the loss of integrity to be about 20% per day that you're holding a sample. So say you get a sample in on Friday or Saturday but the bitch really isn't gonna be ready to breed til like Monday or Tuesday. We can check the semen and if we need to add a little bit, as long as we know what media was sent in, you can sometimes add a little fresh media to perk it up.
"What we say to our clients that are going to be shipping basically … a sample is always better in the bitch than in the box."
Pellets vs straws
Frozen semen is stored in one of two methods. As "straws," the original method developed by cattle breeders, often called "cattle straws" and "pellets" the method developed originally by ICSB. Sydney recommends, again, a freeze test to be sure which method is best for the individual stud dog.
The primary importance, Shannon noted, is to work with a veterinarian who is accustomed to the type of freezing method chosen. Thawing pellets and straws is two completely different processes. Using the wrong thaw method for the type of frozen semen will kill it immediately.
Collection Tips and Tricks
Technique, a teaser bitch and a relaxed stud dog are the keys to success, the team agreed.
"You have to know your dog and kind of change things up to accommodate him," Shannon said. "It's not one size fits all."
Listen to our previous stud dog series with Shannon and Sydney here, here, here and here.
KNOWLEDGE IS POWER — FRANCIS BACON
Pure Dog Talk is grateful to all of the mentors in our sport who support us with their knowledge, their kindness and their generosity. JOIN us today in providing access to this invaluable "watering hole" for anyone who is thirsty for knowledge. Your pledge of as little as $5/month helps guide the next generation of dog fanciers. Click the "Be My Patron on Podbean" button to join our "listener supported" team at Pure Dog Talk.