48 – Mike Pitts: Teaching the Next Generation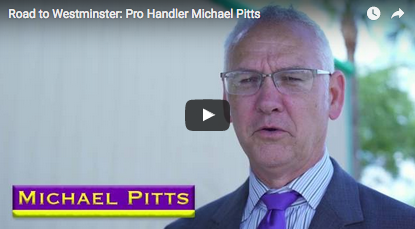 From Apprentice to Master Handler to Mentoring the Next Generation
Mike Pitts, along with his wife Linda, are among the top tier handlers in the country, having run multiple top dogs over the years. Most recently, Linda piloted the Puli, Preston, to number one all breeds all systems in 2016.
Back in the day, they studied under top handlers, including Linda's time working for Houston and Toddie Clark, now well-known and respected AKC judges, and Mike's apprenticeship with top Cocker handlers of the day.
But they also carried their knowledge forward to the next generation, mentoring other aspiring young dog people. One of those folks you heard from last week when we talked to Jason Lynn about his second win at Crufts in the last few years.
Mike and Linda live in Knoxville, Tenn. Mike's recommendation for new and hopeful dog people (handlers or breeders) is to bring your passion, your determination to succeed and a willingness to embrace brutally hard work. And, most importantly, to ask for help. "We will help anyone who has a legitimate desire to learn," he said.
The operative phrase there is "desire to learn"… Mike expresses frustration with folks who don't want to put in the effort to get ahead. "We had a kid, he was always on his phone…. With my dog on the table…" His expression spoke volumes about this lack of attention and focus on the number one priority… The dogs.
"It isn't about politics, it isn't about who you know…. It's about doing the work, putting in the time, paying your dues," Mike says.
KNOWLEDGE IS POWER — FRANCIS BACON
Pure Dog Talk is grateful to all of the mentors in our sport who support us with their knowledge, their kindness and their generosity. JOIN us today in providing access to this invaluable "watering hole" for anyone who is thirsty for knowledge. Your pledge of as little as $5/month helps guide the next generation of dog fanciers. Click the "Be My Patron on Podbean" button to join our "listener supported" team at Pure Dog Talk.